Estonia Piano: New manufacturer establishes high quality

by Wah Keung Chan / December 1, 2015

---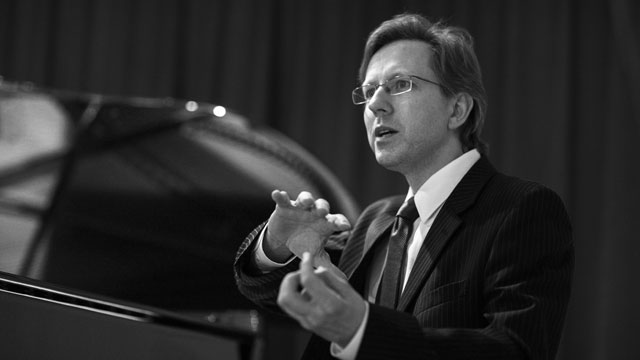 In the long tradition of piano making where great piano brands take decades to establish themselves, it has taken the once obscure Estonia Pianos just 20 years to be among top choices in the high-end grand piano market, with its rich, warm sound, at almost half the cost of a Steinway. Even pianist Marc-André Hamelin has unofficially endorsed the piano by buying one.
The person behind the success is soft-spoken Estonian, CEO and pianist Indrek Laul. In 1994, while a doctoral student at Juilliard, Laul heard that Estonia Pianos, a brand he grew up with, was in financial trouble, and he decided to bring the piano to North America. Laul approached the company and started to invest in it, gradually buying up shares until he owned the company.
The 47-year-old Laul's love of the brand goes back to when he was six, when his parents bought their first Estonia piano. "It sounded so amazing," said Laul. "I wanted to play that piece my mother was playing, Chopin's Etude No. 1 op. 10, so it inspired me to practice and learn all of Chopin's etudes." It certainly helped that Laul's parents were musicians; his mother Reet is a concert pianist and his father Venno is a conductor and the founder of the Estonian Boys' Choir. When Laul was 13 and a student at the Music School of Tallinn, he won First Prize performing Rachmaninov at the International Competition in Czechoslovakia. After studying with Kalle Randalu at the Tallinn Conservatory, he continued with Arbo Valdma in Belgrade and learned the Serbian language. Valdma encouraged Laul to go to Juilliard, where he completed his master's and doctorate with Peter Serkin and Martin Canin.
Laul traces his first Estonia piano to a used model from the early 1960s, one that was built before the death of founder Ernst Hiis, in 1964. Hiis had honed his craft at Steinway-Hamburg before forming his own company in 1903, and at the turn of the 20th century, he joined nearly 20 independent piano manufacturers in Estonia alone. However, by the end of WWII, most of the independent companies had closed and in 1950 Hiis founded Estonia Pianos. As luck would have it, in 1951, when Stalin turned 70, Estonia presented him with Hiis's piano as a gift, and Stalin so loved the sound, he ordered Estonia Pianos to be the sole manufacturer of concert grands for the entire Soviet Union. After Hiis's death, the quality started to go down. "As a closed society, the company couldn't order better parts and supplies," said Laul. When Estonia regained its independence in 1991, the factory was privatized but its fortunes began to wane to the point where it was producing only 50 pianos a year.
When Laul took over, in 1995, he started to make changes. First, as Estonia Pianos only produced grands, he focused his attention on the North American market, where 90% of his 200 annual pianos are now sold. "We wanted to come to an area where there are large homes that can fit a grand," said Laul. Next, Laul wanted to make a piano that pianists would love, and he began with improving the quality. In his first years, Laul attended trade shows, consulted experts and even collaborated with the Estonian Institute of Cybernetics. "We changed suppliers, materials and other details – we left the 88 keys and changed everything else. From 2000 to 2003, we made hundreds of changes per year. We worked on the sound board, ribs, strings, rims and overall craftsmanship."
Laul can proudly say that his piano is 100% European as he sources all his materials and parts such Renner action from Germany and resonant spruce from the Swiss Alps for the soundboard and ribs. "Perfect sound is a combination of a lot of elements. First, we have really thick rims and the highest quality soundboard material, treated with many more layers of lacquer, so that it can freely vibrate, and not be suppressed by the liquid lacquer cover. We use first-class iron plate that does not resonate with the sound but lets it flow freely. We have good construction of the braces underneath that are dulled in the rim, a soundboard that goes into the rim as well, the double duplex complex system on both sides, as well the base trims that are hand balmed at our factory. Many elements played into this."
If it sounds like Laul injected his needs as a pianist into the construction, he follows in great footsteps. "My dissertation was on the topic of how pianists had influenced the development of the instrument," said Laul, citing how pianist Jan Ladislav Dussek influenced piano maker John Broadwood to expand the five octave keyboard to six octaves in the 18th century. As a final step in quality control, Laul also makes sure that each of the hand-made pianos is tested by his parents before they leave the factory.
What is the secret to making pianos in Estonia? "Music in Estonia is very important, especially choral music," said Laul, who cites and demonstrates composer Arvo Pärt's works. The country's singing tradition and how sound lingers are essential to the sound of the piano: "It's a beautiful singing sound that hugs you; the sound that you can fall in love with and that loves you."
Piano Vertu
In 2012, pianists and piano teachers Maxime Séguin and Helen Gumanti, founded Piano Vertu, the new kid on Montréal's piano retail scene, on Decarie, south of Queen Mary. Their experience in sourcing pianos for their students, attention to customer service and opening their showroom to private concerts have filled a niche in the Montréal scene. Estonia, Kawai, Blüthner and Fazioli are among the brands they carry. To date, they have sold 600 pianos. Piano Vertu also runs a music school and a piano bookstore. A concert series is being planned. www.pianovertu.com
---
Version française...