This Season in Visual Arts

by Lina Scarpellini / December 1, 2015

---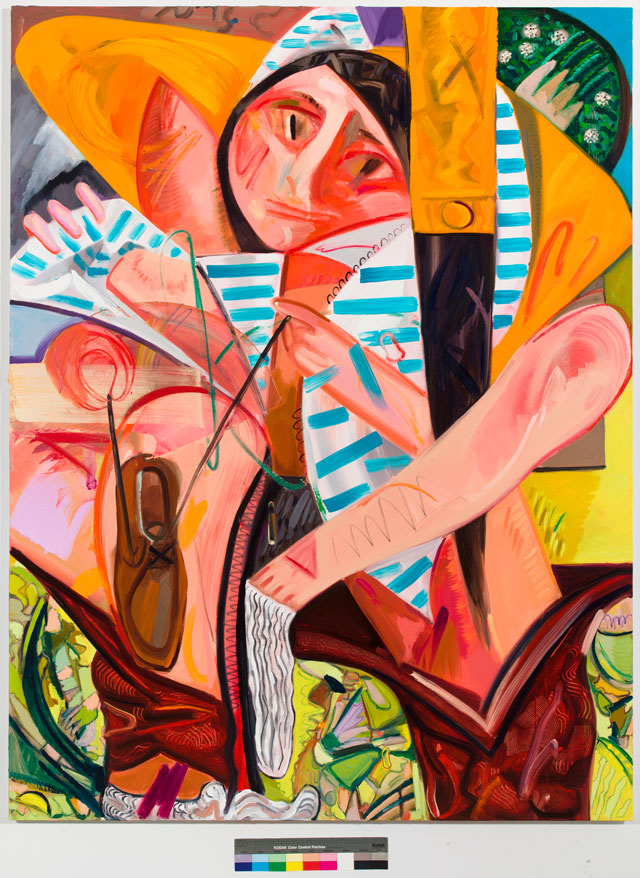 Dana Schutz, Getting Dressed All at Once, 2012 Huile sur toile 186.7 x 142.9 cm
Collection particulière Avec l'aimable permission de l'artiste et de la galerie Petzel, New York
At the Montreal Museum of Fine Arts, discover a long unknown part of Canadian and Montréalaise history with the exhibition "Une modernité des années 1920" about the artists of the Beaver Hall Group, on display until January 31 2016. Read our text about the exhibition here. www.mbam.qc.ca
Until January 10 2016 the Musée d'art contemporain (MAC) is hosting an exhibition on the career of American artists Dana Schutz, whose work in the last ten years has had a profound impact on contemporary painting. Drawing on the avant-garde movements of the early 20th century, synthetic cubism, and German expressionism, Schutz's very colourful art is a fusion of figuration and abstraction. www.macm.org
Also at the MAC is Grosse Fatigue, a 13-minute long video installation by Camille Henrot, winner of the Silver Lion for promising young artists at the Venice Biennale 2013. This French artist presents a history of the universe combining elements from the history of science to stories about the creation of the world from various traditions and cultures.
Until January 10 Patrick Bernatchez will present an exhibition about works taken from two main collections of his repertoire, Chrysalides and Lost in Time. The public will discover the essence of his work, which deals with issues of life and death, decomposition, entropy, and the four seasons as well as the multiple dimensions of time. www.macm.org
Until April 10 2016 see the exhibition "Montreal through the eyes of Vittorio: 50 Years of City Life and Graphic Design" at the McCord Museum. This exhibition deals with Italian-born artist Vittorio Fiorucci, whose career spanned 50 years. Arriving in Montreal in 1951, there he discovered his vocation through comic books, photography, decoupage and collages. Through the career of this humoristic creator the exhibition traces the cultural history of Quebec from the 1950s to the 2000s through 125 posters, photographs, illustrations and comic strips. www.mccord-museum.qc.ca
Need an idea for something to do with children between 3 and 9? Take them to see Mister Rabbit's Circus at the McCord Museum. In this exhibition, inspired by the best-selling Mister Rabbit books (published by Les 400 coups), children will be able to follow an investigation to find the missing circus equipment on opening night and in doing so discover the 200 toys and objects in the museum's collections. www.mccord-museum.qc.ca
For the first time in Montreal, there will be an exhibition about Pompeii and Herculaneum, two of the Roman Empire's most flourishing towns. From February 6 at the MBAM you will be able to see more than 200 archaeological artefacts revealing the private and public lives of their inhabitants as well as the scientific and human aspects of the volcanic eruption. www.mbam.qc.ca
Translation: Scott Emblen-Jarrett
---
Version française...