Higher Education News

November 1, 2015

---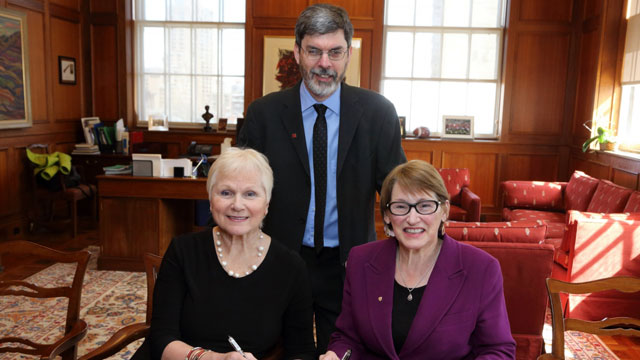 Elizabeth Wirth recently gave $7.5M to McGill's Schulich School of Music
Mount Allison University Department of Music
The Department of Music Mount Allison University has appointed Dr. Vicki St. Pierre as Assistant Professor of Voice. Dr. St. Pierre brings her wide range of performing and conducting experience, especially recognized in the area of early music, to Mount Allison's strong program of vocal and operatic studies.
The Department also looks forward to the appointment in 2016-17 of the Bell String Quartet-in-Residence, in celebration of the 100th anniversary of Mount Allison's first Bachelor of Music degree, and the 50th anniversary of the opening of the Marjorie Young Bell Conservatory of Music on its beautiful Sackville, New Brunswick, campus.
McGill University Schulich School of Music
After Elizabeth Wirth's latest and very generous gift to the faculty of music – $7.5 million – McGill University has decided to name the New Music Building on Sherbrooke St. in her honour. McGill alumna Wirth, BA'64, is a self-described "opera groupie" who has pursued a successful career in business. She is the current President and CEO of Wirth-Brand Inc. and Wirth Trading Inc. She is a familiar face at Schulich School of Music concerts and operas. This past month, the new letters were added to the building, finally christening it Elizabeth Wirth Music Building / le Pavillon de musique Elizabeth Wirth.
McGill also added five new faculty members to the Schulich School of Music. New hires are Jean-Sébastien Vallée, Assistant Professor of Choral Conducting, Richard Stoelzel, Associate Professor of Trumpet and Chair of the Brass Area, Jean-Michel Pilc, Associate Professor of Jazz (piano), John Hollenbeck, Associate Professor of Jazz (drums and composition), and Stephen Hargreaves, Opera Coach and Conductor.
University of Calgary School of Creative and Performing Arts
The recently formed School of Creative and Performing Arts (SCPA) at the University of Calgary has hired distinguished coloratura soprano Laura Hynes as Assistant Professor in Voice. Hynes has performed throughout Europe and North America with repertoire ranging from baroque opera to "classical cabaret." She has earned degrees from the University of Minnesota, the Paris Conservatory, Cincinnati College-Conservatory of Music, and Miami University. Also added to the SCPA faculty this year is Montreal native Marie France Forcier as Assistant Professor in Dance.
NUMUS Student Curator Competition
NUMUS is seeking submissions to its first annual Student Curator Competition, open to all undergraduate students currently enrolled at accredited Canadian universities or colleges, up to a maximum age of 25. The winner will curate a concert in NUMUS' MIX Music Series in the 2015-16 concert season, to be presented on Sunday, April 10, 2016, at The Block 3 Brewery in St. Jacobs, Ontario.
Winners will receive financial support from NUMUS (up to a maximum of $500) to cover programming costs such as artist fees, tech fees and equipment rentals if applicable. Winners will also receive advertising and marketing support from NUMUS and mentorship from NUMUS's artistic director. Submit your application by or before November 27, 2015.
University of Alberta Department of Music
The University of Alberta is delighted to announce that William H. Street has been appointed Chair of the Department of Music. His five-year term began July 1, 2015. Bill is a long-standing member of the Department of Music and a world-renowned saxophonist. He returns to the U of A after a brief sojourn at San Jose State University, where he was Associate Dean of the College of Humanities. The U of A is very pleased to welcome Bill back. He is a dynamic voice of advocacy for Music and for the Arts in general.
---
Version française...