Irving Guttman and his Legacy

by Richard Turp / November 1, 2015

---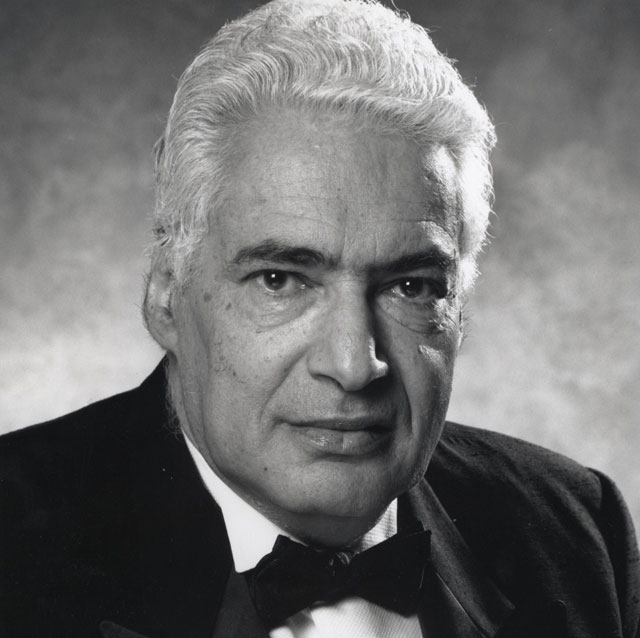 It is difficult to overestimate the importance of Irving Guttman to the history of opera in Canada. His death in December 2014 brought those accomplishments and his legacy into sharper focus. Today, all of Canada's major cities have opera companies, and more than a handful of them owe their very existence to Irving Guttman.
Born in Chatham, Ontario, Irving Guttman was raised in Blackville, New Brunswick before settling as a teenager in Montréal, a cosmopolitan city that could give his artistic and musical leanings direction and focus. After studying singing, acting, oboe, piano, conducting, and stage direction at Toronto's Royal Conservatory of Music, he became an assistant to Herman Geiger-Torel at the Canadian Opera Company's forerunner, the Opera Festival, and assistant stage director at the New Orleans Opera. His official directorial debut was in 1953 in Cornwall, Ontario, with Menotti's The Consul, in a cast that included the young Maureen Forrester.
Irving Guttman was in at the beginning of televised opera in Canada. In 1953, he returned to Montréal and upon the recommendation of the legendary soprano, Pauline Donald (who ran the Montréal Opera Guild), he directed a complete Faust, the first of some 65 operatic programs for CBC/SRC TV over the next six years, including many complete operas for "L'Heure du concert/Concert Hour". It was during one of these programs that he worked with my father, the tenor André Turp, on excerpts from Massenet's Manon with bass-baritone Denis Harbour.
Montréal remained at the centre of his activities; in 1956 he directed Le Nozze di Figaro for the Festival de Montréal before directing seven productions of six operas between 1963 and 1969 for the Opera Guild of Montréal. He also directed Faust during Expo '67. His Canadian Opera Company debut, La Traviata, in 1964, led to seven productions for that company by 1975.
One of the defining moments of his life occurred in 1960, when Guttman became founding Artistic Director (1960-74) of Vancouver Opera, which put the city on the map in the international opera community. As he said in an interview, "The more I thought about it, the more I liked the idea of building an opera company from scratch. It seemed like such a great chance to expand Canada's artistic horizons." Guttman quickly demonstrated his vocal instinct and acumen in engaging Dame Joan Sutherland and Marilyn Horne for their first Canadian appearances in Bellini's Norma, performances that have attained somewhat of a legendary status in the annals of Canada's operatic history.
Following Vancouver Opera's lead, Edmonton Opera named Guttman Artistic Director in 1965, a position he retained until 1991, when the Irving Guttmann Young Artist Fund was established. He became Artistic Director of the Manitoba Opera Association in 1977, although his association with the company dates from its first production in 1973. In 1991 Guttman became Artistic Director of Saskatchewan Opera, where he remained until 2001 while also working as artistic advisor to Calgary Opera from 1998-2001. Little wonder then that he was widely known as "the father of opera in Western Canada".
All the while Guttman worked throughout Canada, the US and Europe as a stage director.
Another defining dimension of the man was his work with young singers. His influence and mentoring of more than a generation of Canadian singers was fundamentally important – to him as much as to the artists involved and the opera companies that benefited from Guttman's innate vocal knowledge. In 1974 he was appointed head of the opera school at the Courtenay Youth Music Centre and worked for l'Atelier lyrique at l'Opéra de Montréal. In his later years, Guttman was heavily involved with the opera program at the University of B.C., and a rehearsal hall was named in his honour at the school's Old Auditorium.
As his partner of 45 years, Robert Dales put it, "He was a very passionate man, very dedicated to his art form, and he was gifted with a very unique instinct. His great gift to the opera world was his ear for voices. He instinctively would cast an entire production with the right voices for the right roles that would create magic on the stage." As well as directing international operatic stars, Guttman fostered the careers of such Canadian singing legends as Maureen Forrester, Judith Forst, Richard Margison, Victor Braun, Ermanno Mauro, and Claude Corbeil – especially in repertoire that helped them evolve as singing artists. In the social arena, Guttman co-founded the AIDS and cancer charity Friends for Life in 1992. He received a horde of official honours for his work for opera and its artisans in Canada.
At a time when the operatic industry in Canada and its infrastructure is under considerable pressure – especially from financial cutbacks and the erosion of its audience base associated with the "opera in the cinema" phenomenon, it is important to recall Guttman's own words: "Throughout my career, I have believed so deeply in opera and its great power, in the careers of the young singers I mentored over the years, and in that magic which occurs when the curtain goes up, I feel it is always worth the struggle and the work, and will always be worth it. This, more than anything else, gives me the strength to overcome any fears, weaknesses, or uncertainties I may have about my own part in the process." As his partner Robert Dales explained, "His whole life was opera, he lived and breathed it."
Such humility is admirable but what is especially important is Guttman's vision and determination, which helped build an operatic network throughout Canada. His efforts and his life should serve as an example to current and future administrators and politicians. It is the least his accomplishments deserve.
---
Version française...