Other Competition Winners

by Shira Gilbert / October 1, 2015

---
Violinist Yolanda Bruno is the winner of this year's Virginia Parker Prize, a $25,000 award from the Canada Council for the Arts, recognizing an outstanding young classical musician who has been a recipient of previous grants from the Council. With the prize money, Bruno intends to study with renowned violinist David Takeno in London, England.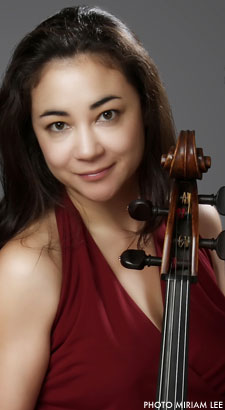 The Canada Council has announced a new crop of winners for its Musical Instrument Bank. Thirty-five emerging Canadian musicians competed for a 3-year loan of one of the 22 legendary instruments, valued at a total of $41 million. Among the cellists, repeat winners include Rachel Mercer (1730 Newland Joannes Franciscus Celoniatus cello) and Se-Doo Park (1824 McConnell Nicolaus Gagliano II cello). Earning the use of a Musical Instrument Bank cello for the first time are Noémie Raymond-Friset (1769 Joannes Guillami cello, Spanish); Thomas Chartré (1841 Charles François Gand "Gand Père" cello); and Cameron Crozman, who will have the use of the extraordinary 1696 Bonjour Stradivarius cello, valued at $12 million, along with the Shaw Adam cello bow, ca. 1830.
The lucky violinists include:
Andréa Tyniec (1689 Baumgartner Stradivari violin);
Emmanuel Vukovich (ca. 1700 Bell Giovanni Tononi violin);
Yolanda Bruno (1700 Taft Stradivari violin);
Jonathan Chan (1715 Dominicus Montagnana violin);
Aaron Timothy Chooi (1717 Windsor-Weinstein Stradivari violin);
Blake Pouliot (1729 Guarneri del Gesù violin);
Matilda Kaul (1747 Palmason Januarius Gagliano violin);
Nuné Melikian (ca. 1750 Carlo Ferdinando Landolfi violin);
Aaron Schwebel (1753 Joannes Baptista Guadagnini violin);
Boson Mo (1757 Carlo Antonio Tononi violin);
Byungchan Lee (1768 Miller Januarius Gagliano violin);
Amy Hillis (1820 Joannes Franciscus Pressenda violin);
Joshua Daniel Peters (ca. 1869 Jean-Baptiste Vuillaume violin with Vuillaume model bow);
Timothy Brennan Steeves (1871 Jean-Baptiste Vuillaume violin);
Christina Bouey (1900 Stefano Scarampella violin);
Jeremy James Potts (1902 Enrico Rocca violin).
More competition winners:
• Queen Sonja Voice Competition: First, Lise Davidsen, soprano (Norway)
• Tchaikovsky Competition, Grand Prize Winner: Ariunbaatar Ganbaatar, baritone (Mongolia)
• Cardiff Singer of the World 2015: First Prize, Nadine Koutcher, soprano (Belarus); Song Prize, Jongmin Park (South Korea)
• Operalia: First Prizes, Ioan Hotea, soprano (Romania) & Lise Davidsen, soprano (Norway)
• Cilburn Junior: Alim Beisembayev, piano (Kazakhstan), 17
---
Version française...