Byungchan Lee, Winner of the Golden Violin Competition

by Michèle-Andrée Lanoue / October 1, 2015

---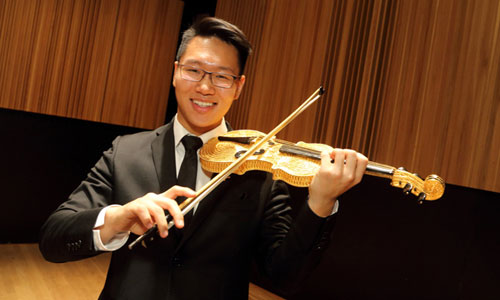 A golden violin? That's really what businessman and philanthropist Seymour Schulich gave to McGill University's Schulich School of Music in 2006, just one year after a $20M donation. Meet violinist Byungchan Lee, the 2014 winner of the Golden Violin competition.
The Golden Violin is awarded annually to a string musician of exceptional talent studying at McGill. After a rigorous selection process, the winner receives a $25,000 scholarship, a 14-karat gold lapel pin of the actual golden violin, and several concert engagements.
On October 19, 2014, Lee, then aged 20, won the grand prize with a performance of works by Ysaÿe, Mozart, and Strauss in front of a jury including Douglas McNabney, Elizabeth Dolin, Federico Agostini, Stéphane Lemelin, and Felicia Moye.
Born in South Korea, Lee began learning the violin at the age of 6 in his country of origin. After moving to Vancouver, where he studied with Taras Gabora, the violinist enrolled at McGill University under the tutelage of Denise Lupien and André Roy. He is currently pursuing an Artist Diploma with Felicia Moye, André Roy, and Axel Strauss.
This promising young musician has appeared as a soloist with the Vancouver Symphony Orchestra as well as with the McGill Symphony Orchestra. Lee is also a member of the Jeanne Mance Quartet, with whom he performs regularly in Montréal, notably as part of the McGill International String Quartet Academy (MISQA) last August.
The Golden Violin is the most important Canadian musical scholarship granted by a private donor. The violin itself is made from pewter and gold plate. Valued at an estimated $100,000, it is on display at McGill's Marvin Duchow Music Library.
Past competition winners have included Emmanuel Vukovich, Lambert Chen, Chloé Dominguez, Aaron Schwebel, Ewald Cheung, Isaac Chalk, Baptiste Rodrigues, and Victor Fournelle-Blain.
In addition, the Canada Council for the Arts recently lent the 1768 Miller Januarius Gagliano violin to Byung Chan Lee. The Canada Council maintains a precious bank of 22 instruments valued at $41 million dollars. Every three years, talented musicians have the opportunity to compete for the loan of an instrument through a rigorous national competition.
This year, the Golden Violin Competition takes place on October 25 at 7:30 pm at Tanna Schulich Hall. Entry is free.
Translation: Rebecca Anne Clark
---
Version française...