Jazz: Two New Arrivals at McGill

by Marc Chénard / October 1, 2015

---
In June, the Schulich Music School hired two musicians of international standing to join its teaching staff in the jazz studies program: native French pianist Jean-Michel Pilc and American expat drummer John Hollenbeck. This development is most welcome, and Sean Ferguson, Dean of the school, is quite excited about this. While the former is known to local audiences for having played here before, most recently at this year's jazz fest, the latter, in contrast, is not, never having set foot here until this year. But both artists pursue successful careers on stage and as recording artists, even as teachers, Pilc in New York and Hollenbeck in Berlin. Their presence in town bodes well, as it signals the school's will to be in tune with the realities of jazz in this new century.
Jean-Michel Pilc: More than a jazz educator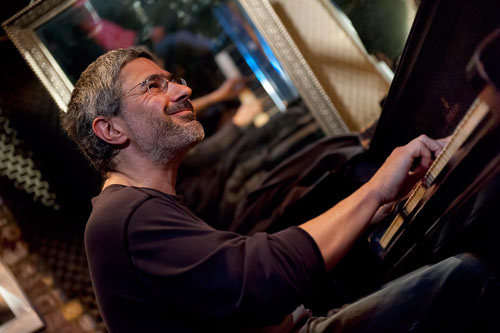 When one looks over Jean-Michel Pilc's bio, he seems like an unlikely candidate as a music educator. Totally self-taught, he grew up in a family of music lovers, with an ear for the classics and jazz. At six, he started tickling the ivories and kept it up by himself till he was 20, when he decided to play with others. But he waited another seven years to take the plunge, working instead as an aerospace engineer in telecommunications till 1987. After cutting his teeth in Paris, his home-town, he left for New York in 1995. Working his way into that all too unforgiving scene, his currency would increase with the support of high-profiled jazz labels like Dreyfus Jazz, Motema and now Sunnyside Records. Like a host of freelancers, he supplemented his income by teaching privately first, then taking up a posting at NYU (New York University) in 2006. Nine years later, he headed north to Montreal. But why would anyone fully established in the epicentre of the jazz world want to leave it for the cozier confines of our big provincial village?
"I'm the kind of person who periodically needs a fresh start," he states during a recent conversation at his Sherbrooke Street office. "That's why I left Paris. Spending 20 years in New York is a lifetime in itself. It's not easy and it's stressful, so I felt it was time to look elsewhere. Having played here on several occasions, I always enjoyed myself, so I said why not?"
But his coming to the city is also the result of a bit of happenstance. A colleague of his in New York actually tipped him off about the opening at McGill: In February, he sent in an application, was called for an interview a month later, at which time he was asked to give a teaching demonstration and play for the hiring committee. By May, the deal was signed, sealed and delivered.
For Pilc, music is above all a deep commitment rooted in that magical force called improvisation. "The role of the teacher is to impart that passion, to awaken the desire and love for music. If a student doesn't feel that after my lesson, I've failed," he says. A free spirit by nature, he shirks all forms of rigid teaching routines, preferring to be a coach who eggs people on than an academic with a set agenda. "Music is not a discipline but an art," he states emphatically. "And all art is born out of passion. But it is also a language that is acquired first by imitation, not by its rules. A child for instance learns from listening to his parents, not by studying rules of grammar." Ditto for music in his view: instead of feeding technical exercises and theoretical concepts, emphasis should be put on the perception of sound and the ability to reproduce it, all of which leads to the development of a personal language. These ground rules have enabled him to formulate a wide-reaching personal view, expressed in both print and visual media (see references below). Jean-Michel definitely has his own take on things, and we can only hope that his new students will also acquire the passion he embodies.
» On the net: www.jeanmichelpilc.com
» Off the record: What is this thing Called? (Sunnyside Records, 2014).
» Reading material: It's About Music – The Art & Heart of Improvisation (Glen Lyon Books, 2012) ISBN978-0985903909 / www.glenlyonbooks.com
» Instructional material: Piano Playing: Transcending the Instrument (2009)
» In concert: Off Jazz Festival–October 9, 8 PM (Solo) Chapelle historique du Bon-Pasteur. (Opening act: Marianne Trudel)
Jean-Michel Pilc
What is this thing called?
Sunnyside SSC1349
Everybody knows the old saw about those who wind up teaching because they can't play. Jean-Michel Pilc, however, makes a mockery of that statement, because his teaching and his playing are two sides of the same coin, and a well polished one at that. For his third solo outing on record, he has taken a somewhat different tack than in previous efforts by squeezing in no less than 31 tracks within 60 minutes and specks, notwithstanding bonus video clips of him performing two takes of another piece. Concision then is the name of the game here, as there are but four tracks that run over four minutes, while eight others clock in under 60 seconds. Jazz fans will immediately recognize the Cole Porter evergreen that lends its title to the album (omitting the 'Love'), which serves as basis for several variations among the remaining tracks. Another standard alluded to is the closer of the album 'You Know What Love Is' (this one minus the 'don't'). But there is more than word play intended here, for the album bespeaks the artist's personal convictions about music. Along the way, he tips his cap to two guiding spirits, both on jazz as a whole and himself in particular: "Martial" (track 16) refers to Mr. Solal, the Master French pianist who Pilc considers his first 3-D music revelation, an impression gleaned after seeing him for the first time in a Parisian club; the following track "Duke" needs no explanation, and the pianist has the wherewithal to eschew any of the Maestro's stylings. That said, some might bemoan the brevity of the cuts–and jazz fans really like it when players stretch out, but listeners may well benefit by giving a read to his book or view his instructional DVD (see references at end of feature article). In effect, this album is a natural extension of his writings and teachings, presented in a condensed way, but with no didactic intentions lurking behind it. By checking out those sources, the appreciation of this recording will surely be enhanced, and this writer can vouch for it, too.

John Hollenbeck: Different Drummer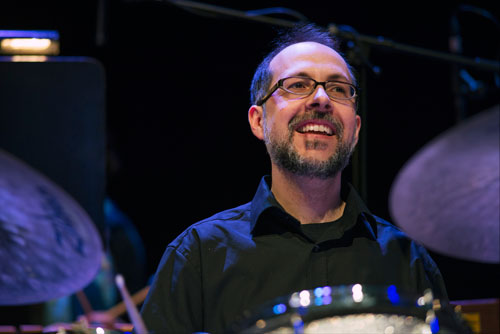 On the face of it, drummer John Hollenbeck and pianist Jean-Michel Pilc share little in common in terms of life history, even if they are both devoted music educators, performers and recording artists with recent albums on the same label, Sunnyside Records. Self-taught and a late-bloomer, the latter left his native Paris for the Big Apple; the former, in contrast, is a product of the school system who made his way from the Jazz Mecca to Berlin a decade ago to take up a teaching position. A consummate improviser, Pilc is an avowed interpreter of jazz evergreens (originals notwithstanding) who deftly takes them apart before putting them back together again in fresh and surprising ways; Hollenbeck, conversely, has established himself as a skilled composer with an original conception that belies easy categorization. A case in point is his large ensemble (see below), even his small group, the Claudia Quintet, two vehicles than enable him express his singular musical vision.
A New York State native, Hollenbeck was first encouraged by his older brother, also a percussionist. "Pat was my advisor," he notes during a recent conversation. 'When I was 12, he'd bring me all these LP's, and got me started. But he insisted I take a year of piano before going to drums." Like his elder sibling, he enrolled at the Eastman School of Music, in Rochester, where he got "a good foundational education", first as a classically trained percussionist, then on to a Master's in its jazz program, completed in 1991.
With respect to music education, Hollenbeck sees its purpose as follows: "To me, the foundational things are what you can get at school. Not the creative things, those come after hours. You learn history, theory, the basics, and from there you can go in different directions. Even if you go into jazz, it's important to be able to get those foundational skills together."
This formal knowledge has carried over into his teaching. When Hollenbeck got the call in 2005, the Jazz Institute Berlin was actively searching for a successor for its retiring drum teacher, Jerry Granelli. Once on faculty, he enjoyed his new job and also found much stimulation in the city's thriving music scene. Which leads us again to the question of his reasons for leaving that dynamic cultural hub for the Montreal hinterland.
"I wasn't really looking for a change until Christine Jensen got a grant to study composition with me," he admits. "At first, we planned to do it in New York, but she came to Berlin when we failed to hook up. So I got the inside story on McGill from her, which made me think. I then met Anna Webber, another McGill graduate who I now play with, and she told me that Montreal had a creative music scene similar to Berlin's. In France, I also met Guillaume Bourgogne for a project with Cairn, the contemporary music ensemble he heads. He happens to be in charge of the Contemporary Music Ensemble at McGill, and he too was very keen on the situation. So I tested the waters early in the year, first by applying, then being invited for an interview and finally being offered a full professorship."
In this new school year, Hollenbeck will be teaching drum students and a composition class, the latter to be shared with Joe Sullivan. But this will be a transitional year for him. "For the fall, I will be here for half the term, the semester in Berlin starts in October, its second one runs from April to July, which allows me to teach here over the winter."
With respect to his own music, luck has it that his 20-piece New York orchestra performs here on October 21, as part of a four-city tour, sandwiched between concerts in Rochester and Ithaca and a last one at National Sawdust, a brand new space opened in New York's borough of Williamsburg. For those who think big bands (or jazz orchestras) are all cut out of the same cloth, here's one aggregation that threads its music unlike any other.
» On the web: www.johnhollenbeck.com
» Recent recordings:
Songs We Like – Sunnyside Recordings (2015) [Orchestral arrangements of contemporary pop tunes performed by the Frankfurt Jazz Radio Orchestra]
September – Cuneiform records (2014) [Original music composed and performed by his small group, the Claudia Quintet)
» In concert: John Hollenbeck Orchestra, October 21, Pollack Hall, McGill University.
John Hollenbeck
Songs We Like a Lot
Sunnyside Records SCC1412
In this brand new release, John Hollenbeck has taken on a special project, one where he has arranged seven American pop tunes of more-or-less recent vintage, performed here by the Frankfurt Jazz Radio Orchestra. With such hits as "Up, Up and Away", "Close to You" or "True Colors" (made famous by the Fifth Dimension, Burt Bacharach and Cindi Lauper, respectively), most jazz fans might raise a skeptical eyebrow. And for good reason, given the less than satisfactory results gleaned from such jazz meets pop encounters and the inevitable questioning of motivations (artistic vs commercial) that arise from these. But those familiar with the drummer's œuvre are well aware of the fact that his music is cast at the outer rims of jazz, with far more shadings of repetitive minimalism and pop sensibilities than toe tapping riffs and bent blue notes. Described by some as lyrically experimental, his music does not so much surge ahead as float along on a silver-lined cloud. Also along for the ride are pianist Uri Caine as guest soloist and the twin voices of Theo Bleckman (a quasi-inseparable partner of the drummer) and Kate McGarry intoning the lyrics with their ethereal voices. And that last term applies as well to the overall mood of this recording, where the ensemble sound takes prevalence over the individual voices. Yes, there are improvising soloists in each of the pieces, but these do not dominate the proceedings so much as they are heard in filigree, or as counterpoint to the orchestral textures. Describing this music is no easy feat, but the following analogy may convey the idea: imagine looking directly at a set of familiar images with your naked eye, then watch what happens when they are put in front of a number of deforming mirrors. As mentioned previously, this is not music to trip the light fantastic, and because of that some may well consider it as 'cerebral' (put-down implied); yet there is no denying Hollenbeck's unique ability to reshape basically mundane materials far beyond their original forms and easy listening purposes.
---
Version française...