Infusion Baroque, EMA Baroque Performance Competition winner

by Camilo Lanfranco / October 1, 2015

---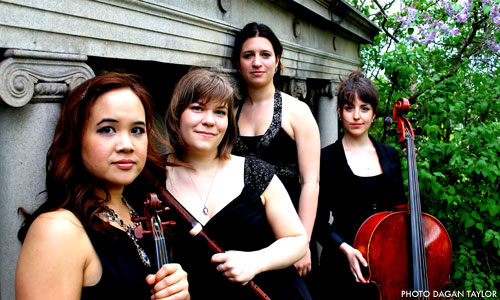 Grand Prize and Audience Award winner of the 2014 Early Music America (EMA)'s Baroque Performance Competition, Infusion Baroque is a Montréal-based ensemble that brings the spirit of Baroque music right into the 21st century. Ensemble members Alexa Raine-Wright (baroque flute, recorder), Sallynee Amawat (baroque violin), Camille Paquette-Roy (baroque cello), and Rona Nadler (harpsichord), highlight the creative side of Baroque performance by adding games, theater, and visual arts to their music.
Infusion Baroque was founded in spring 2013 and by fall it gave its first performance. A year later it would win the EMA. Sallynee recalls, "We found our rhythm as a group through the preparation for that competition, in terms of how precise and detailed, and how much of a team we could be."
Members of Infusion Baroque have played in different orchestras and ensembles including Ottawa Baroque Concert, the Chicago Symphony Orchestra, and the Bangkok Symphony Orchestra. But what fuels their passion for Baroque music?
As Andrea Stewart (baroque cello) explains, "Experimentation, exploration and discovery; it seems to be almost like you are encouraged to find more wildness." Alexa adds historical context, "In more recent music, composers were seen as gods, the most important part of music, writing every single dynamic... but in Baroque music the composer was often as much the performer as the person who wrote the music." Rona explains the collaborative process, "We prepare very thoroughly and we really explore all possible options and come up with interpretations that we all feel really confident and good about."
It is this sense of exploration and discovery that links Infusion Baroque with its audiences, as Sallynee comments: "With our games and our acting, we just want to make the audience feel like they are connected to us and that we are connected to them." For Rona, beyond the abstraction that music can be for some, "having some other elements in the performance helps people to feel the experience more strongly."
Infusion Baroque is recording the Trio Sonatas by C.P.E. Bach this winter and will tour the San Francisco Area next spring. As part of the EMA prize they will be touring the US in 2016-2017. Their next Montréal performances are March 6 and May 19. www.infusionbaroque.com
---
Version française...