Off Jazz festival 2015: A generation affair

by Marc Chénard / September 1, 2015

---
"All festivals grow up and come of age, but should never do so by getting bigger."
- Bernard Lubat
A decade after its inception (in Y2K), Montreal's Off Jazz Festival moved its dates from June to October. Five years later, its organizers seem to have grasped the value of the opening statement. This pearl of wisdom stems from a French drummer and pianist who surely knows what he is talking about, he being the director of a similar event in the community of Uzeste, south of Bordeaux, which he founded in 1977. Similarly, the Off has grown up in terms of maturity while remaining faithful to its emphasis on local talent, with a few guests brought in from the rest of Canada, some from south of the border, occasionally from across the Big Pond. Though it did expand in size at one time, it quickly learned the value of small is beautiful, to whit in artistic terms, but also financially, given the continual pinch on public funding of cultural activities.
This year's event, its sixteenth, differs slightly from its recent predecessors in that it will not be broken up between two long weekends, but run straight through in the first ten days of October. All told, 27 shows are slated, spread over nine venues, some familiar to festival goers (Lion d'or, Casa del Popolo, Café Résonance), two Maisons de la culture and a couple of new ones (La Vitrola on Jean-Talon and the Club Soda, taking over from Cabaret du Mile End for its closer.)
The Orchestre national de Jazz – Montréal kicks things off this year on the first day of the month, which happens to be International Music Day. This ensemble will reprise the music issued on its debut release on the Atma label, and performed twice last summer (in Montreal and Orford). In it, composer and pianist Marianne Trudel has penned a new movement entitled "Plein Ciel", written as a vehicle for one of its star soloists, tenor saxophonist André Leroux.
Generations of Jazz
In keeping with years past, the program cross cuts several strands of jazz music, with equal respect given to established figures and new voices. Saxophonist Jean Derome, for one, is a household name who needs no introduction. On Wednesday 7 at the Lion d'or, he will lead his flagship band les Dangereux Zhoms in a quasi-band setting, his unit bolstered by nine more musicians. A Montreal mainstay as well, vocalist Karen Young will offer her wistful musings with long-time associates Normand Guilbeault (b.) and Sylvain Provost (gtr.) on Sunday 4 at the Maison de la culture Côte-des-Neiges.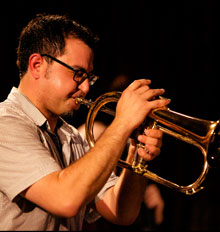 On the flip side of the coin, the Off remains a tireless promoter of fledging talent. Last year, trumpeter Andy King received the François-Marcaurelle Prize, awarded annually to a standout newcomer band, for what was a thoroughly riveting performance. Thus a return engagement to the festival, occurring on Thursday 8th at La Vitrola. In the same spirit, the festival has accommodated a collective of mainly young musicians revolving around the Multiple Chord Music imprint, a.k.a. MCM records. Founded in 2011 by the Parc-X trio, the year following its own win at the Montreal Jazz Festival's competition, the label is now home to several groups. Nine bands will go at it for 20 minutes each on the 6th at the Casa del Popolo, in a showcase of ambitious proportions. Of note here will be the appearance of trumpeter Rachel Therrien, she being the winner of the most recent jazz fest competition last July.
Special Guests and Headliners
This year's event is bolstered by a somewhat larger contingent of visitors. Of these, guitarist Joe Morris is a leading light in today's American jazz/free improv scene. Currently teaching at the New England Conservatory in Boston, he will be in town on Sunday 4 and Monday 5, the first a 2PM workshop at la Passe (1407 de la Montagne), the second at 8PM at la Vitrola, as guest of the Grill, a collective of improvising musicians hailing from Rimouski. Guitar heads take note.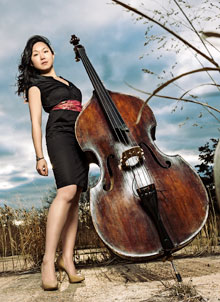 Its closing act (Saturday 10 at the Club Soda) will be a double bill presenting a veteran bassist (Miroslav Vitous) and a hightly touted newcomer on that same instrument (Linda Oh).
With a long and distinguished career on the international stage, Miroslav Vitous is not only an outstanding musician but one who stands out as well, measuring a little under two meters. A charter member of the now legendary fusion band Weather Report, he left it early in its existence to pursue more personal projects, one being a distinguished quartet he shared with saxophonist John Surman in the late 1970s. In 1985, Montreal vibist Jean Vanasse was egged on by a colleague bassist to get in touch with him. Thus ensued a collaboration that lead to two successive annual tours in the province, then to a 1987 recording on the Justin Label (Nouvelle Cuisine). Some three decades later and eight years since a cross-Canada festival gambit, they embark on another round of live shows, the opener at the Off with others to follow both in town and elsewhere in Quebec.
Linda Oh, for her part, is yet another good example of the diaspora of jazz. Born in Malaysia, raised and educated in Australia, this thirty something newcomer made her way to the United States to pursue her studies, only to settle in the Apple to launch her career in earnest. An association with Dave Douglas in his latest quintet has certainly raised her currency, and she is well on her way to become the most talked about bass player since the emergence of Esperanza Spalding a few years back. To her credit, Oh has three albums as a leader, the most recent, Sun Pictures, will be played that night. Her quartet with drums, guitar and saxophone will be manned by different players than the record, her sidemen all part of a new crop of players. If one show is to remind us that jazz truly transcends generations, cultures and styles, then this is the one.
Program online on September 8: www.lofffestivaldejazz.com
MCM showcase program: www.multiplechordmusic.com
Info, tickets: 514-524-0831 (info@lofffestivaldejazz.com)
---
Version française...