The Azrieli Music Project: Part of Extended Arts Philanthropy 

by Wah Keung Chan / April 1, 2015

---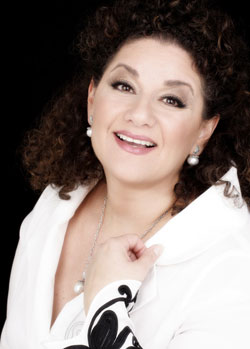 Since we last met soprano Sharon Azrieli in October 2007 on her comeback trail as a musician, a lot has happened. Azrieli obtained her doctorate with a thesis showing that Verdi used fragments of Jewish prayer modes in many of his operatic melodies. Significantly, she has also complimented her active performing career with philanthropy in music and the arts.
Azrieli's quiet behind-the-scenes work has recently become big news with the launch of the Azrieli Music Project, a composition award consisting of two $50,000 prizes, funded by the Azrieli Foundation whose mission is to support Canadian and Jewish causes. It's an idea five years in the making. Not only are the amounts remarkable, but the idea behind it laudable. On the 70th anniversary of the liberation of Auswitz, the project aims to promote the creation of Jewish music and stimulate a debate on what is Jewish music.
The Azrieli Prize in Jewish Music is an international prize to recognize a recently composed work (10 years or less) with a Jewish theme by a living composer (Deadline: Jan 1, 2016). "It's meant to exalt music that has already been created, but hasn't gotten its day," said Azrieli. "The jury will listen and decide." The Azrieli Commissioning Competition, for a Canadian composer of any age and faith, is meant to stimulate the creation of new Jewish works. For the April 15 deadline, all the composer contestant needs to do is submit a proposal plus a CV and previous works, and the jury, including renowned composer Ana Sokolović, will make the selection. The recipient will initially receive $25,000 , with the remaining $25,000 awarded after the performance by the OSM directed by Kent Nagano in October 2016. Once the competition has established itself, Azrieli would like it to be a biannual event and also have a prize for Canadian music.
Since joining the board of her family's Azrieli Foundation several years ago, Azrieli has slowly steered some of the annual giving to music and the arts, starting with the creation of the Arts and Music wing at Lower Canada College, where her two boys studied. The Azrieli Foundation has since contributed to the Jeunesses Musicales Canada, Domaine Forget, and the McGill Chamber Orchestra, all causes related to music and education. Azrieli is excited about bringing the kind of mentoring done by Boris Brott's National Academy Orchestra, matching professional orchestra players with students, to Montreal. An after-school program for children is also high on her list.
Just last fall, she took on the presidency of the board of the McGill Chamber Orchestra. No idle participant, she came up with two novel fundraisers: a Valentines dinner/dance (the second year doubled the attendance of the first) and a Halloween Ball (the first edition a success, and second year is already booked).
"I want to convince people that music is not a luxury, but a necessity," said Azrieli. "I don't like to reinvent the wheel. I want to facilitate collaborations between different groups and organizations."
Advice to Singers
by Sharon Azrieli
As a singer who has done many competitions around the world, I have been in your shoes. I have won my share of competitions, and lost some too! And my message for you, as an artist is, Persevere! Your art needs you.
Learn your music, correctly. Memorize it.
Learn your languages, correctly. You need to learn Italian, German and the other languages, not just to sing, but to communicate with your colleagues, and to be able to live in different countries where you will be singing. An opera singer is an ambassador.
Singers have chosen a profession that helps others feel emotions when they hear us sing and see us act on stage. The audience feels more than just happiness or sadness; we also give them hope.
An opera can also have an important social significance. And, as the singers, the artists who convey the message of the composers through our interpretations, we give audiences a chance to forget their lives and the outside world, and to enter into another universe of our own making.
And so, when you go onstage, tonight and each and every time, show the waiting eyes and ears why you are there: for us! For the love of your art! For the privilege of making music to share with the world! Show why you are here on this earth, why you are here with us tonight, making beautiful music and transporting us to places in our imagination.
From Sharon Azrieli's opening speech at the 21st Gala of the Jeunes Ambassadeurs Lyriques, November 16, 2014.
Upcoming Performances by Sharon Azrieli
April 8 – "Songs of Songs" with Musicians of the World Orchestra @ The Chevra Synagogue
June 9 – Beethoven 9th with McGill Chamber Orchestra @ Maison symphonique. www.ocm-mco.org
---
Version française...