ATMA's Johanne Goyette: A Renaissance Woman

by Crystal Chan / February 1, 2015

---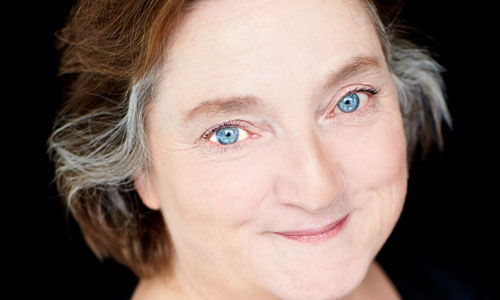 On February 1, Johanne Goyette will be honored with the Prix Hommage at the Prix Opus, and for good reason. Goyette is Quebec's Renaissance woman of recording: entrepreneur, manager, PR expert, musician, and sound engineer. In 1994, she founded the ATMA Classique record label, starting with excellent Baroque musicians such as Les Voix humaines. Today, she puts out 25 to 30 albums a year performed by the likes of Les Voix Humaines and headliners such as Yannick Nézet-Séguin and Marie-Josée Lord.
In an interview with LSM, Goyette looks back at two decades of inspiration and discovery.
"I was a trained musician, before becoming a Radio-Canada producer, while studying at the McGill sound recording program. I wanted to control the whole process: choice of the musicians and projects, how and where they recorded, and how we market them. What I like is a long-term development process with the musicians.
"At some point, many label owners have to do the administration and leave the artistic side to others. But I'm lucky: I am still involved in the artistic side, a lot of editing, and it's still a great pleasure. I've done almost 500 CDs now, and I still feel passionate about making each recording as good as it can be.
"When I go to a recording session, my aim is still to create a situation where there's no stress, and musicians give their best. It's easy now to do a recording, but doing a CD in three days is very difficult. I think I have the expertise to make it happen the best way. It doesn't happen by itself. It's difficult for me to explain how you take three days to make one hour of music. You have to put some magic into it.
New musicians, new markets
"The market is very full, so we receive three to four proposals per week, many from Italy, France, and Switzerland. Sometimes they are very interesting, but it's difficult for us to develop these musicians because we count on a strong market in Quebec. I'm very happy that we've developed something strong in Quebec, and our musicians are on the international scene. So I concentrate on the strong musicians that I have here. Sometimes the proposals are interesting and I go to their concert or rehearsal. I would say that pleasure is also part of it—if you think that you will have fun and have a great relationship with these people. The musicians have to stay active, not only on Facebook, but in concerts. You cannot just put a nice project on CD and think that it will sell itself.
"There are a lot of great new musicians. Each year I see very talented young singers, and they need to be recorded. The public wants these recordings; people are listening to as much music as before. But they buy in new formats.
The digital evolution
"We're everywhere on the web. The industry and the musicians have to adapt themselves to continue into the next century. But as a producer I do my work as best as I can, and the industry will find a way, you know? I don't cry because I don't sell as many CDs as before, I just to try to develop where it works. Now, we see ourselves as content producers.
"The stores are closing, but there are other ways to bring in money. Streaming is becoming a big part of it. With streaming, if you have 50,000 clicks on a CD, that's big exposure all over the world, in 75 countries. People are listening on Spotify, and there are near a million clicks a year for my products. It's very positive. And we have to build on this. Get on YouTube. People are also buying MP3s.
"They are also starting to buy high resolution CDs. Although, it's not yet important, it's growing. If you don't produce CDs you cannot be in this market. CDs—the object—are still necessary. For how long, I don't know, but the model is still the album. What is iTunes selling? It's selling the tracks from an album.
A nose for sound
"I started in digital, after analog. I love energy in the sound; with good digital you get it—this won't please the vinyl lovers, but what I search for is clarity and energy. The digital processes have become more and more refined, but I still love the same microphones that I've had since the beginning, and I still record with as few microphones as possible, meaning sometimes two. A good hall, a good instrument, a good player, this is the base. What you're recording is the air around the instrument. The instrument makes waves in the air, the hall interacts, and so it's where you place your ears or the microphone in this field that gives the colour. This has not changed.
"A concert and a recording are not the same thing. When you watch a concert, your ears don't work the same way as when listening alone. As a sound engineer, you need to have a nose for how you can create a space that will be intelligible for the ear alone."
---
Version française...