A Family Affair: Jim and Chet Doxas

by Marc Chénard / December 1, 2014

---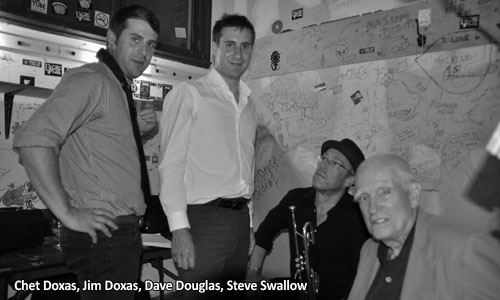 With a shared love for all things jazzy, the Doxas brothers, Chet and Jim, have been gracing our stages for a little more than a decade. Both in their mid-thirties, they're now poised to take a quantum leap by vaulting up into the big leagues. During the summer of 2012, they worked with star American trumpeter Dave Douglas on a new project called Riverside, leading to an album on Douglas's label (see review below). This past August, these three gentlemen appeared at no less than seven European festivals with the legendary electric bassist Steve Swallow in tow. Even though these siblings have played together regularly over the years, they have separate careers; in fact, no time could be found in their busy schedules for a joint interview. What's more, Chet bade farewell to Montreal last summer to go stateside, and is now makes the Big Apple his home. Yet, he has not turned his back completely on his local stomping ground, for he plans to return here at regular intervals, for both musical and family reasons.
By and large Jim and Chet's destiny seem to have been nurtured from the cradle, shaped by their parents' shared love of music. Their father, George, first played guitar, then the double bass, taught music for several years then turned to a career as a sound engineer. Their mother, an American national, has been a lifelong music fan with a broad taste in popular music. On that basis then, their offspring almost seemed predestined to a career in music.
Although exposed to music from an early age, Jim and Chet don't consider to have been pushed into it. Yet they were lucky enough to be able to try their hands at several instruments before making any choices, especially elder brother Jim. "In the summer, once classes ended, our father brought home all kinds of instruments so we could try them out as we pleased. I started with the piano, dabble briefly on violin, then turned to French horn for several years, but with no serious commitment. In my teens I picked up the drumsticks, and then something clicked." Chet, for his part, found his instrument a little faster. He too plunked away on the piano as a kid, but soon set his eyesights on the saxophone. However, his father thought it best that he begin learning the clarinet—a wise decision, because it serves as a good foundation in wind instrument playing.
In their formative years, the two of them often played together, first in high school and college, then at McGill University, of whih they are both graduates. (Jim is currently an instructor at its music faculty.) By the end of their studies, they formed the trio By-Product with their long time bassist friend Zach Lober (now a New York resident), issuing their first album under that group name in 2002. Chet has since produced three more albums under his own name, the first two on Justin Time, and the latest, Dive, on Toronto's Addo Records.
Jim, on the other hand, has been keeping impeccable time for a number of groups, most notably for Oliver Jones's trio (see the May 2014 article). Just last month, he finally stepped into a leader's role to launch in concert his debut recording (Blind Leap, also on Addo Records), an album that unites him with pianist Paul Shroffel and bassist Morgan Moore.
Last summer's European summer tour of the Riverside Project enabled Chet and Jim to perform at seven events in five countries, including one perched high in the Dolomites in northern Italy. "You can only get there by cable car and an hour-plus treck, and we even played outdoors hight up in the mountains," explains Jim, still in awe of the experience. Last June, this band could have toured our own festival circuit, but organizers didn't want to meet the fee–a fact quite probably linked to "Canadian content". But the again, this band played Quebec City and Toronto last spring, then New York and Boston, then the European tour and two fall engagements in Edmonton and Calgary. It only makes you wonder about the perceptions of some of our cultural policy makers, who seem unwilling to reward our most promising talent while paying out the high fees for foreign stars.
Now getting a foothold in the jazz Mecca, Chet Doxas is on a roll. Following a concert at Jazz Ahead in Bremen in 2012 (Germany's large annual jazz showcase), he signed an agreement to produce his next album on a British label. This project, built around his own New York quartet, will be more elaborate than previous albums, including multitrack recordings and special guests, the names of whom he is not willing to divulge at this writing. All bodes well for the Riverside Project next year, as there are more concerts in the planning stage, with a follow up recording now in the air. Please stay tuned for further developments. 
In concert : Feb 1st with Lorne Lofsky and Kieran Overs at Centre Segal. www.segalcentre.org
Review: Riverside
Greenleaf CD 1338
This studio recording from 2012 is intended as a tribute to saxophonist and clarinettist Jimmy Giuffre, whose newly discovered concerts recordings were reviewed here last month. Only one piece from the dedicatee appears among the 11 tracks: The Train and the River, his best-known tune. This album is not a customary tribute in the historical sense, but a collection of original pieces inspired by Giuffre's work. Overall, the performances are pretty restrained—it's not until the sixth track that a few sparks fly. Giuffre always iked to describe his music as "quietly intense". Dave Douglas and co seem to have trodden down the "quiet" path, and if they decide to follow up on this first outing, let's hope they can achieve a little more intensity.
Translation: Rebecca Anne Clark
---
Version française...