Alcan Quartet: The Grand Seduction

by Réjean Beaucage / November 1, 2014

---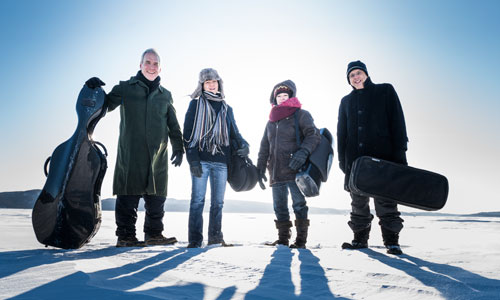 To celebrate its 25th anniversary, the Alcan Quartet tackles one of the jewels of the repertoire, issuing three full volumes of Beethoven's complete string quartets. Twenty-five years ago, the Quatuor Alcan was born thanks to an amazing synergy which continues today despite the ups and downs of time.
"It was the Saguenay-Lac-Saint-Jean Symphony Orchestra (OSSLSJ) and Alcan (in 2007, it became Rio Tinto Alcan) that decided to form a string quartet," says cellist David Ellis on the phone.
"From there, we had to audition to fill the positions in this quartet, with the four members also becoming the first chairs of the orchestra. When we arrived, we thought it was a great place to live and to give life to a string quartet." Born in Vermont, Ellis also invited his wife, Montreal violinist Nathalie Camus, to audition for the quartet and, by extension, the OSSLSJ.
In 1989, the radio landscape was quite different than it is today, especially on the airwaves of public radio, and on the side of Chicoutimi, Saguenay, one could say this created winning conditions to welcome the new formation.
Camus recalls, "At the audition, there was someone from the CBC who promised us two broadcasts per year. It was important and it was very helpful in establishing our name. Otherwise, in such a small community, it would not have been so easy. "
Ellis continues, "After our first broadcast on the CBC, the station received many requests from local stations across the country that wanted to know more about this new quartet! Just to tell you how much things have changed on the side of the CBC, at the time we thought we were doing too much radio! We have to constantly renew our repertoire. It's funny to think back to it today ..."
The quartet quickly realized that its location in an outlying area provided many advantages. "People see us as a true regional treasure," says Ellis. "You can't find this in a large center like Montreal."
Artistic ecology
Three members of the Alcan Quartet also teach at the Conservatoire de Saguenay, and the recent rumors of closure of some regional branches of the Quebec Music Conservatory have raised concerns.
"It is clear that the closure of the Conservatoire de Saguenay could have jeopardized the future of the quartet," Ellis comments. "We want to stay here and have a busy musical life, but we need to work. The quality of the arts scene is also important for most professionals who come to the region: doctors, university professors, etc. It is clear that the Conservatoire is now in the process of changing, and we certainly hope that this story will have a happy ending."
The closure could indeed have led to a host of collateral damage, possibly exiling professional musicians to larger cities. Camus says, "For example, if a member of the quartet had to take up a position elsewhere, the quartet will still continue to survive, because it is a satellite of the OSSLSJ, which should in any case find a replacement. But if the Conservatoire was to close, it would certainly be more difficult to attract someone to the area, especially with a public radio that is much less present."
Along with Camus and Ellis, the other members of the quartet are violist Luc Beauchemin, who joined the group in 1994, and Laura Andriani, who took on the position of first violin since 2003.
The Alcan Quartet has produced 15 recordings, covering a wide repertoire from Mozart to contemporary compositions.
"I believe that this is what distinguishes us," offers Camus. "When we came here to establish ourselves, it was really the quartet project that attracted us most, as working with an orchestra is something that can be done just about anywhere as a freelance musician. With the quartet, we impose a sustained rhythm upon ourselves, as well as a lot of repertoire. With the OSSLSJ, there is a series of six Tuesday concerts and we are responsible for their artistic direction. We perform in four of the concerts, which accounts for four different repertoires already."
There are also new works, like Andrew MacDonald's, which the quartet will perform in February as part of this series.
"We haven't yet seen the piece," says Ellis, "but he's preparing something to celebrate our 25th anniversary. He composed for us before, a few years ago, and we wanted to re-connect with him for this new project. The pianist John Roney will also be writing a piece for us."
The Alcan Quartet accompanied the pianist, as well as bassist Alain Caron, during a concert given last October as part of the Quebec International Jazz Festival. They performed works created by Alain Caron, arranged by Roney.
"This type of project helps to showcase our versatility," continues the violist. "We are prepared to take on all kinds of projects and to defy the image that many people have of a string quartet. We first wanted to establish ourselves as a classical quartet, and the majority of our recordings are, in this sense, standard programs in which we play the great classics, but we have also made forays into contemporary music with a disc dedicated to three of André Prévost's quartets, for example. We rehearse every morning and we look at our situation in Saguenay somewhat as if we were a "Banff Centre" of the East. It's a huge advantage to be able to concentrate on our work without being continually distracted by other things. We have the time and the space to work as we wish and we take full advantage of it."
Beethoven
Within the repertoire of string quartets, Beethoven's quartets comprise the essential body of work that all ensembles wish to take on. These seventeen works, composed by Beethoven over a 30-year period, constitute a veritable monument to the genre. And though the Alcan Quartet is only offering a recording of his complete cycle now, they did not wait 25 years to present their take on Beethoven.
"We have already performed the complete cycle at least three times in concert," recalls Ellis. "Like every good quartet, we began to work on these works t the very beginning of our career. So, really, there are 25 years of work behind these recordings. The Orford Quartet recorded Beethoven's complete cycle thirty years ago, but no other quartet in Canada has succeeded in finding the conditions required for such an undertaking. The musicians must be willing to devote themselves entirely to such a project. We started to think about it five years ago in anticipation of our 25th anniversary. We are very happy that ATMA was willing to embark on this adventure with us. Of course, it's natural to wonder if we really need another recording of Beethoven's cycle, but I believe that it is still a highly important event for musical life in Canada."
What are the features of Beethoven's quartets as performed by the Alcan Quartet? "I think that it's mostly our sound," replies Camus. "We have a personality that has become defined over time and I think you can hear that."
Ellis adds, "We are four people with very different histories. I come from the USA; Laura, our first violin, comes from Italy, while Nathalie and Luc are from Quebec. I think perhaps that gives us each different ways of seeing music and a special energy that isn't there, for example, with an ensemble in which the musicians all come from the same school."
The first volume of the cycle will be launched this month, while the second one will appear in January and the third in April. "We spread the recordings out over five years," notes the violinist. "It ended up being almost as if we produced two recordings per year, which isn't bad! We decided to release them all together once they were all recorded, but that's a difficult strategy, because during that time, if you're not releasing any albums, you are less visible. We have still been able to record other projects, so these last few years have been pretty intense!"
Two albums actually came out in 2011, one on ATMA (Carte postale with works by José Vieira Brandão, Alessandro Annunziata, José Evangelista, Miguel del Aguila, Dimitri Nicolau, Paquito D'Rivera, and Aïrat Ichmouratov) and the other on Analekta (with pianist Alain Lefèvre and works by André Mathieu and Ernest Chausson).
The sleeves of the three albums reflect the three periods in which the quartets were created. The first is young Beethoven (the first six quartets, 1798-1800), which is closer to Haydn's model, but nevertheless succeeds in asserting his personality. The second period (quartets nos. 7 to 11, 1806-1810) is more mature, showing a composer who has come into his own. Finally, the last of the quartets (the Grand Fugue and quartets nos. 12 to 16, 1825-1827), which according to Camus, "really pop!"
"One of the things that is important to us," says Ellis, "is promoting our region, and for that reason, the photos on the album sleeves were taken in Saguenay … at least 40!" Camus explains, "We wanted a spectacular setting to illustrate Beethoven's music – not a photo taken in some hall, but in a big space, the kind we find right here at home."
Upcoming Concerts
Since its creation, the Alcan Quartet has given hundreds of concerts at home and abroad, and although it doesn't limit itself to the Beethoven repertoire, the release of the complete cycle will allow the ensemble to add many more concerts on the road in the coming months. On November 4, as part of the OSSLSJ's Mardis-concerts series, the first volume of the Alcan Quartet's Beethoven cycle will be launched in their part of the country. On the 12th, the ensemble will appear in Montreal at Bourgie Hall, and on the 16th, at Salle Rolland-Brunelle, in Joliette. The concert series continues until 2015, as with the releases of the other volumes of this great musical adventure.
Translation: Wah Keung Chan, Jennifer Clark, and Rebecca Anne Clark
---
Version française...