Prokofiev and Quebec

by Claude Gingras / October 1, 2014

---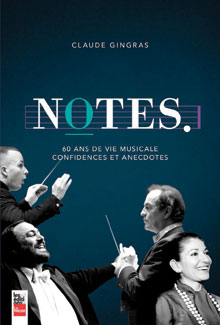 There is a link between Prokofiev and Quebec that is unknown by almost all of Quebec's classical music lovers. The Russian composer, among the most famous of the twentieth century – to whom, by the way, we owe much more than Peter and the Wolf! – stayed in Montreal for one week in 1920.To be precise, it was between January 24 and February 1, according to the dates in the journal he kept, which was published in English translation by New York's Cornell University Press, in Ithaca, N.Y.
Settling in New York in September 1918, after the Bolshevik revolution, and known primarily as a pianist, Prokofiev, who was just 27, had just given a recital of Russian music (Mussorgsky, Rachmaninoff, Scriabin, and himself) on January 25 at His Majesty's Theatre (see Cooper regarding this theatre). Prokofiev would reprise this program in Quebec City, at Columbus Hall on the 27th.
The visitor recounts his stay here in detail. He was happy to have left New York, where an influenza epidemic was raging. A friend whom he simply names Stahl introduced him to a couple in Montreal, the Fortiers, who invited him to their home on Beloeil Avenue, in Outremont. Each time I pass by, I imagine Prokofiev himself admiring the large trees that provided shade and freshness.
Some forty years later, I was put in contact with an anglophone lady of a certain age who was parting with albums, books, and sheet music that once belonged to her family. I bought some sheet music for voice and piano from her, including one, from Tristan und Isolde, bearing the dedication, "To my dear Marcel. Christmas 1932. Florestine Fortier."
Though she became an anglophone through marriage, this lady had been a little French-speaking Fortier in her childhood. She confirmed that Prokofiev had lived in their house, but remembered nothing else, saying, "I was then a little girl. My mother could inform you better … but she is dead."
Jean Vallerand (see Cooper) once told me that it was here that Prokofiev had completed the orchestration for his opera, The Love for Three Oranges. We'd like to think so … but we aren't certain. The opera would have its world premiere in Chicago in 1921, the year following his brief stay here. On the one hand, specialized works indicate that it was in New York, on October 1, 1919, that Prokofiev completed the opera for which he himself wrote the libretto, in French. On the other hand, the week that he spent here certainly didn't leave him much leisure time to reflect on one of his works: he played twice, in Montreal and Quebec City; he went to hear Alfred Cortot on the afternoon of February 1 and attended receptions; he also worked on Rimsky-Korsakov's Concerto for imminent performances.
Prokofiev recounts that he arrived from New York by train early on the morning of January 24, "blinded by the sight of the snow sparkling in the sun," he said in substance. The Fortiers dressed him for winter in boots, a hat, and a scarf. His Majesty's wasn't even half full for his recital. A reception at the Fortiers' followed, where he met the local cultural elite. In Quebec City, he also recounts, his hotel "resembled the exterior of a castle" – apparently he was at the Château Frontenac – and he saw sleds for the first time since leaving Russia.
We also learn that the impresario reduced his fee of $600 to $500, on the grounds that the Montreal recital had lost him money. The next day, he was brought to a parliamentary session, and people followed him to his hotel for an impromptu recital in his room, where they simply sat on the bed.
Interesting historical details surround the premiere of The Love for Three Oranges, on December 30, 1921. It was facilitated by Mary Garden, who, after being the first Mélisande in 1902 – from the famous Debussy opera, to be clear — became the general manager of the Chicago Opera. Prokofiev, the writer of both the music and the libretto, was at the podium for the occasion. One of the roles, that of Princess Clarice, was sung by a woman from Saint-Jean-d'Iberville, Irene Pavloska. She was born Irene Lévi in 1889 and died in Chicago in 1962; she was associated with the Opéra de la Ville from 1919 to 1934.
Prokofiev returned to Montreal in 1930, this time for a single day, on March 20. He was here for a single recital and a late reception at the Fortiers', where he recounts that he slept in the bed of Medtner, whom the family had previously hosted. He gave his recital "in the Music University," as he wrote. It was most certainly Moyse Hall, a small, hard-to-find venue at the end of McGill's grand central pathway. My colleague, Eric McLean, told me that as a piano student, he was brought to hear Prokofiev in this venue and even made to sit on the illustrious visitor's lap. McLean was 10 at the time.
Finally, Pauline Donalda, the intrepid director of the Opera Guild, organized a production of The Love of Three Oranges in 1952 at the same His (which had become Her) Majesty's, where Prokofiev had appeared as a pianist 32 years earlier.
---
A translated excerpt from Notes, a memoir by Claude Gingras, music critic for Montreal newspaper La Presse for 60 years. Les Éditions La Presse, Montreal, 2014, 216 pages, ISBN 978-2-89705-190-7.
Translation: Rebecca Anne Clark
---
Version française...