Montreal OFF Jazz Festival: Composers' Views

by Marc Chénard / October 1, 2014

---
Montreal's OFF Jazz Festival will kick off its fifteenth edition for a nine day run on the third of this month. New York bassist Michael Formanek headlines the opening show with his quartet, fronted by altoist Tim Berne. This year's program of 32 shows staged in 10 different venues will be full of surprises and musical discoveries. Three groups stand out in particular because of their leader's highly original approach to jazz composition.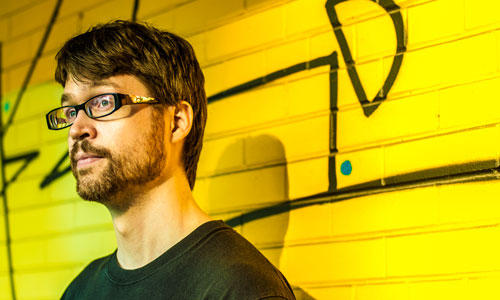 Erik Hove
Alto saxophonist Erik Hove's tentet is a bold musical proposition that came into being as part of his Master's program at McGill University. In 2011, he set his sights on integrating spectral music within the realm of jazz. Pioneered by the late Gérard Grisey and since furthered by Tristan Murail, spectral composition generates its materials from the analysis of natural overtones and their fundamentals. New York saxophonist Steve Lehman is the first to explore this venue in jazz, and currently leads an octet with two albums to its credit. Hove spent time in the Big Apple after earning his first degree at McGill in 1995, but returned to town in 2004. Since then he is one of the sought-after sideman on the scene, and has issued one album under his own name (Sound Clash, on Effendi records). Hove's musical interests are very broad, exploring a variety of writing techniques, both classical and jazz. The instrumentation of his group is quite distinctive, one that includes four strings (violin, viola, cello and double bass), four other wind instruments (trumpet, flute, oboe, clarinet) and a drum kit. The leader thus has a broad range of sound colours at his disposal, including quarter tones. But microtonality is also heard in the solos, both Hove's own and of those of fellow members trumpeter Andy King, flutist Anna Webber, violinist Josh Zubot and bassist Jean-Rémi Leblanc. While spectral composition dominates, not all pieces (nine in total) are written that way, one in fact evokes sounds of nature. Last June the group recorded the music in studio and will launch the album in concert. Rigorous in design yet open to spontaneity, Erik Hove's music is a great adventure in sound, and a must-hear for those with open minds and ears.
• In concert: Sunday, October 5, 8:00 p.m.. Sala Rossa (preceded by the duo Sainct-Laurens)
• Album: Erik Hove Chamber Ensemble, Saturated Colour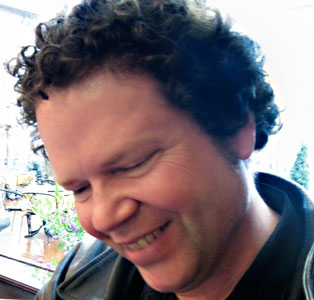 Thom Gossage
Drummer Thom Gossage's music challenges his musicians because they have to be more than performers; they must be co-composers. At times, he may give his sidemen set materials (notes on staves), or there might only be basic instructions, like rhythmic figures with unspecified tones, in sum, a variety of procedures that produce different results every time. Gossage calls his approach "open work", one which is very structured, yet very flexible. But his concept differs from traditional, collective improvisation, where musicians must listen to each other and react; instead, he wants his men to focus on their own "roadmap" in order to deal more effectively with their materials. But to make this work requires a lot of discipline. In fact this is possible when a group has been together for a long time, which is the case of his quintet Other Voices. Saxophonists Rémi Bolduc (alto) and Frank Lozano (tenor and soprano) have been on board since its inception in 1998. Guitarist Steve Reagele joined the fold seven years later, while bassist Adrian Vedady is a recent addition. At first, the band performed music in a more traditional manner, but has since found its own bag, heard to best advantage on its most recent release (see below). For the concert, Gossage has five new works on tap and may revisit others from previous albums. Of late, he has devised some new playing strategies, one of these he calls "veering": each musician is presented with a series of four or five-note cells and must gradually modify the notes of one to get to the next. Gossage is no man looking for simple musical solutions, but for him the game is well worth playing.
• In concert: Friday, October 10, 8:00 p.m., Sala Rossa
• Album: Thom Gossage Other Voices, In Other Words (Songlines)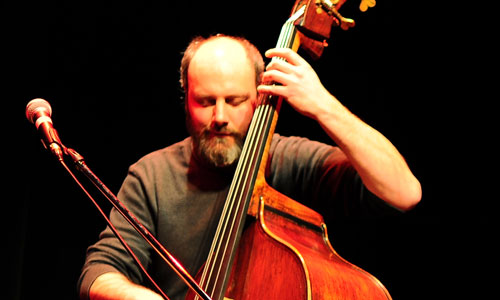 Nicolas Caloia
An eighteen-piece orchestra with five reeds, six brass, a couple of strings and a five-man rhythm section may easily pass as a jazz big band. But for the Ratchet Orchestra, this label is just too confining. Its leader, double bassist Nicolas Caloia, is at a loss in categorizing his group. For one, he does not respect the traditional arrangement of sections (saxophones, trombones, and trumpets), but divides it into three quartets of varied instruments, backed by a keyboard, a guitar, two drum sets and himself on bass. The first quartet is comprised of alto and tenor saxes, viola and violin; the second consists of clarinet, trumpet, alto sax and violin, while the third has two trombones, trumpet and baritone sax. In his composing, Caloia eschews writing in chordal blocks, as is the case of standard jazz big bands, but works in a more linear fashion, so that each instrument has an autonomous part. On occasion he'll let a couple of soloists improvise together, even allow some collective improvisation. For the show, there will be four new Caloia charts, one featuring Lori Freedman (soloing on both Eb and contrabass clarinets!), another built around alto saxophonist Yves Charuest. Also added are a couple of items taken from the band's recent album (see below) and a suite of themes drawn from Sun Ra's wild repertoire—as performed last May during a tribute concert at Victoriaville's Festival international de musique actuelle. You can be sure the Ratchet Orchestra will close this year's fest on a winning note.
• In concert: Saturday, October 11, 8:00 p.m., Cabaret du Mile End
• Album: Ratchet Orchestra, Hemlock (Drip Audio)
Other CD launches at the festival
Trio Marie-Claire Durand – Peu de mots
Sainct Laurens – Vol. 2
Andy King Group – Modern Fiction
Pierre St-Jak – Off On Quartet
Sonia Johnson – Le cœur à l'endroit
Peripheral Vision – Sheer Tyranny of Will
Online Program: www.lofffestivaldejazz.com
Translation: Dwain Richardson
---
Version française...