JAGG

by Marc Chénard / October 1, 2014

---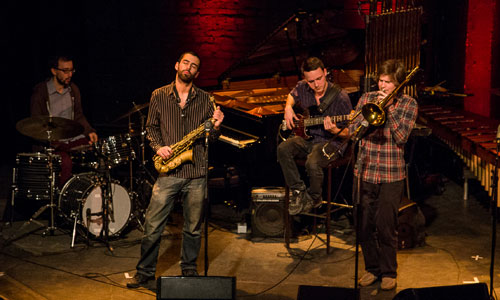 In 2006, the Jazz en Rafale festival launched a competition promoting new talent. Last March, a quartet named JAGG earned first prize at this event's 14th annual edition. While its moniker shares the first two letters of the style they play in and ends on a double consonant, the name is derived from the initials of the members first names: Jules Payette (alto sax), Antoine Pelegrin (el. bass), Guillaume Pilote (drums) and Gabriel Gagnon (trombone). As often happens, these budding musicians first crossed paths in school, three of them meeting at the neighbouring Saint-Laurent and Vanier Cegeps, the drummer joining them during their studies at McGill.
Gabriel Gagnon, the group's ringleader, notes that their musical adventure has really taken off over the last few months. "In school, we got to know each other and play a lot, and once we finished, we decided to keep with it. In January, we submitted a demo for the competition, and our bid was successful. Mind you, we entered to give it a good shot, but little did we know we'd come out on top."
Three months after their prize-winning performance, the FIJM invited these four young men to perform for an hour on one of its outdoor stages; in late August, they travelled to Rimouski for that city's Festijazz, playing a 90-minute indoor set. And as all good things come by threes, the group enters the studio at the beginning of this month to record its debut album, to be released on the Effendi label in March 2015, during the next Jazz en Rafale festival.
On a musical level, Gagnon doesn't hide his admiration for the Dave Holland Quintet, which inspires their composition work, something Gagnon describes as quite rigorous in their structures and forms. The instrumentation is equally important, as the absence of a piano or guitar allows for more harmonic freedom, as much in the writing as in their improvisations. "Initially, we saw this choice as a challenge, but in time we came to see it as an opportunity to really develop our own musical space."
At the moment, the group has some fifteen pieces in its repertoire, Gagnon and Pelegrin being the primary composers, their associates also chipping in. As the album's cornerstone, the quartet will play a four-part suite penned by the trombonist, which he calls Paysages canadiens. The composer describes it as a kind of musical fresco, inspired not by particular places but rather by the elements, the movements entitled "Eau", "Neige", "Forêt",and "Montagnes". Rest assured: we'll keep you posted on further developments.
 » In Concert: October 23, 6 pm, l'Escalier (corner of Sainte-Catherine and Berri)
Translation: Rebecca Anne Clark
---
Version française...