Andrew Haji

by Joseph So / October 1, 2014

---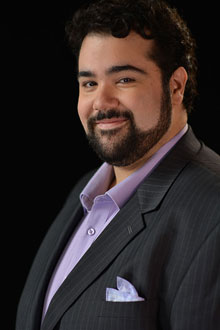 Canadian tenor Andrew Haji won the Grand Prize at the 's-Hertogenbosch International Vocal Competition in the Netherlands, and with it 5,000 Euros and a trophy. Haji is also the winner of the Press Prize (1,250 Euros) and the Jury Prize (500 Euros). The IVC (as this competition is known) may not be the richest in monetary value among the many competitions around the world, but it's extremely prestigious and this win really bodes well for Haji's future.
2014 marks the 50th anniversary of this august competition, and many of the winners of the past have gone on to significant careers. All eleven finalists have beautiful voices and abundant musicality, so it's a real feather in the Canadian's cap to be awarded the Grand Prize. It was a very high-powered jury, headed by Dame Kiri Te Kanawa, as well as the great Heldentenor Siegfried Jerusalem, contralto Anne Gjevang, conductor Kenneth Montgomery, and former Vienna State Opera Intendant Ioan Hollaender.
Haji graduated with both a bachelor's and a master's from the University of Toronto under Darryl Edwards, and he participated in COSI, Edwards's summer opera workshop. This fall, Haji continues in his second year as a member of the COC Ensemble Studio.
---
Version française...