Jazz: Trumpets in Tempo

by Marc Chénard / September 5, 2014

---
Jacques Kuba Séguin: The Traveller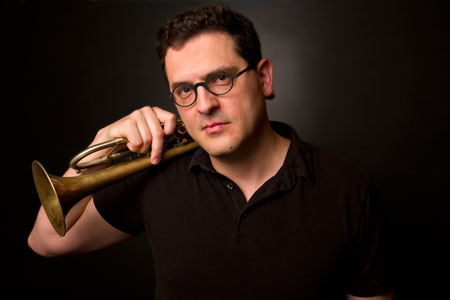 Here is a trumpeter who is clearly on a roll these days. Winner of the Prix Révélations in 2012, awarded by Radio-Canada, Jacques Kuba Séguin is certainly going places. In the year after, he was playing an indoor concert at the Montreal Jazz Festival in June, then an OFF Jazz Festival gig in October. Last winter, he toured Poland, four months before a return engagement at the FIJM. This fall, he will launch a new recording (see details below) of his band Odd Lot, with no less than Jean-Pierre Zanella and André Leroux on saxes.
While his prize was a boost to his career, his current success is no fluke but the outcome of patiently honing his craft. As a child, he seemed attracted to music, his grandfather noticed his habit of singing from a very early age. "At first, I wanted a saxophone or a clarinet, but in school they put a trumpet in my hands when I was ten. No one wanted to touch it, because it was so hard, but I didn't resist. I soon discovered I had a certain ability, so I kept on." He would then take lessons with private instructors (notably Jocelyn Couture), attend Vanier College, Humber College in Toronto on a one-year scholarship ("a marvelous year," he recalls), topped off with a B.A. at McGill ("to please my parents, because I didn't like the program at all."). As a teen, he was already working around as a freelancer, playing in reggae bands, salsa, pop, and even classical ensembles. His versatility and openness to a wide array of styles eventually landed him a job with the Cirque du Soleil, a three year engagement that brought him around the world.
But this wanderlust stems as far back as his childhood. At the age of three, he first visited Poland, his mother's native land, and even spent one whole summer as a youth. In 2010, he took charge of his own career and set out as a bandleader. Since then, he has returned to Poland four times, twice with Odd Lot (a linguistic pun, in fact, the word odlot meaning "flight" in Polish) and twice with his project Litania, graced by the presence of a young prodigy from that country, violinist Adam Baldých. This project, now documented on Séguin's label, Odd Sound, has been hailed by critics here at home and in Poland as well, where it was included as a bonus disc for subscribers of its national magazine Jazz Forum. What's more, Séguin has just signed a distribution agreement with the Polish arm of Universal Music.
The future looks bright, too. Currently, he's trying to put together a tour of his Litania project in Europe, in an expanded version including a string quartet, as premiered at the FIJM last June. If you missed it, he will perform it again on October 30 at the Maison de la Culture Ahuntsic-Cartierville!
In concert: Oddlot, Oct 25, Astral, 8 pm. Concert and record launch of his new album: L'élévation du pointe de chute
Online: www.jacqueskubaseguin.com
Craig Pedersen: The Explorer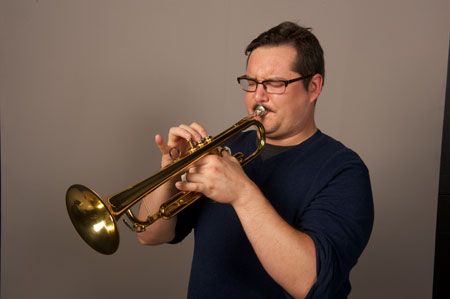 If Jacques Kuba Séguin discovered his musical voice almost naturally, his colleague Craig Pedersen had to labour to find his own. In conversation, this recently arrived newcomer to the Montreal scene contends that it is just in the last two years that his instrumental skills are now on a level where he can reach out and expand his musical ambitions.
Just a year ago, the trumpeter moved to town not long after earning his master's degree at the University of Ottawa. Now in his early thirties, this B.C. native grew up in a music-loving environment, his parents very much interested in vocal music and singing in choirs. Not denying this family influence on his career choice, he attributes it more to the good musical education he received. As for the trumpet, he took to it for no particular reason nor with any special aptitude. In fact, he failed his audition at the University of Victoria's music faculty, but passed a second one, even if he doubted his skills. Parallel to that he picked up the bass, first electric, then acoustic, and reached a point where he began performing on them in public. Yet he didn't give up on trumpet; in fact, he decided to pursue it as his main instrument.
Interestingly enough, jazz did not figure too highly on his musical radar. "In Victoria, I played very little of it, it was pretty well all classical. Once in Ottawa, I got a scholarship to take private lessons in New York, with Laurie Frink for purely technical matters, and John McNeil, who really made me discover jazz." This lead Pedersen to delve into the contemporary jazz idiom, and his participation in a recording by a mainstream band. From then on, he would veer off that beaten path and venture into less familiar territories, commonly known as creative musics. Currently he's not that interested in blowing on chord changes and standard song forms, but is actively investigating sound and more abstract concepts.
In 2010, he put together his own band, a quartet comprised of alto saxophonist and bass clarinetist Linsey Wellman, double bassist Joel Kerr, and drummer Eric Thibodeau. With four recordings to the band's credit, the group cut a fifth one early in the year, but the leader is unsure about releasing it. In October 2013, the band pulled off two scintillating sets during the OFF Jazz Festival. Starting this month, the quartet will play every four weeks till year's end at the Café Résonance (5175-A Park Avenue, just by Fairmount, see dates below). As important as his band is, Pedersen has other irons in the fire, notably a duo with cellist Mark Molnar and a solo recording project, in which he plans to further his sonic investigations, which will also be the object of a book to be published in the months to come.
Craig Pedersen Quartet: Sep 10, Oct 15, Nov 12, and Dec 3 (6-8 pm) Café Résonance
Album: Craig Pedersen Quartet – Days Like This (Self-produced)
Online: www.craigpedersen.com
---
Version française...