Ben Heppner: A Retrospective

by Joseph So / September 1, 2014

---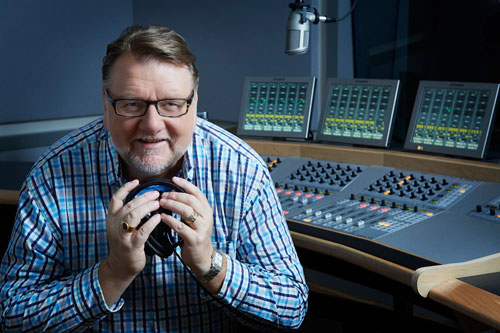 All good things must come to an end, as they say. For tenor Ben Heppner, his singing career drew to a close last April, when he announced his retirement. His last opera performance was as Peter Grimes in Toronto. His final stage appearance was in a Mendelssohn Choir Christmas Concert at the Yorkminster Baptist Church on December 16, 2013.
Hailed as the greatest heldentenor since Jon Vickers, Heppner thrilled audiences worldwide for a quarter century, from 1988 to 2013. A native of Murrayville, BC, Heppner had his first success when he won the CBC Talent Festival in 1979. From 1982 to 1984 he was a member of the first COC Ensemble.
Further success, however, proved elusive until he reworked his voice under the tutelage of his teachers Bill and Dixie Ross Neill, from a "run of the mill" tenor to one with the heft and brilliance for the dramatic tenor repertoire. In 1988, he won the Metropolitan Opera Auditions and the Birgit Nilsson Prize. Subsequently Heppner sang in all the great opera houses as Idomeneo, Tito, Otello, Peter Grimes, Lohengrin, Walther, Florestan, Calaf, Enee, Siegfried, Kaiser, Bacchus, Prince (Rusalka) and Hermann, among others. In its prime, the Heppner voice was noted for its beauty, and his stage presence was imposing.
Onstage and off, Heppner is beloved by the public as a great artist and an "all round nice guy" devoted to his family and his Christian faith. Having known him since the beginning of his "big career," I have had the opportunity to interview him several times. His retirement offered a perfect time to sit down with him and reflect on his career. We met in June near the CBC, where he had taped a segment of his Saturday Afternoon at the Opera, in his new role as a broadcaster. In a long and wide-ranging interview, Heppner fielded my questions with candor and a healthy dose of his inimitable humour:
Now that you have retired from singing, what are you busy with these days?
BH: As you know I'm hosting CBC's Saturday Afternoon at the Opera. We just taped a program today for airing later this summer. In August I'm going to Helsinki as a member of the jury in the Mirjam Helin Vocal Competition.
What made you decide to retire?
BH: I'd been thinking about it for a long time. I wasn't singing the way I wanted to…the writing was on the wall. So I did it!
You went out on a high with Tristan and Grimes in Toronto, your adopted hometown, where you've had your ups and downs…
BH: There was all that talk about "Heppner's Toronto Curse" – I think the Leafs have a curse, I don't! (chuckle)
Who was instrumental in your having the big career?
BH: My voice teacher and coach, Bill Neill and Dixie Ross Neill, were really important, particularly Dixie. People my age had had a lot more experience on stage than I at that time. Dixie was able to fill in the gaps. Here's a funny story. Before I did my second Bacchus in Ariadne auf Naxos in Santa Fe in 1990, I took it to her and told her John Crosby was conducting. She said, "Oh, OK, here are your new tempos." She dragged everything out until it would almost break. I had to learn to do it at that tempo, and when I got there I was prepared. The other person was my wife Karen. She put up with my absences, looking after the kids, keeping house and home together. In 1991 she gave up teaching piano. We were in Switzerland in 1991-92. When we came back, we decided we would keep the kids in one place so they would have as normal a life as we could provide. I missed birthdays, concerts and sporting events with them – a big regret of my life. In 1996, I decided to make a change and be home more.
Did Karen travel with you?
BH: She traveled a lot less than other singers' spouses. It was kind of a sacrifice for her to be home but she didn't like being away for so long.
When you decided to stop, did you consider going into another fach, like a character tenor?
BH: No…. or become a baritone? I don't want to be Herod or Aegisth. The Met asked me to look at Mao in Nixon in China, a shrieky role. The character thing never occurred to me, frankly. I like performing, but I don't need to be onstage. Now I do it through the radio.
I notice that in Europe, former heldentenors often take on character roles.
BH: I might have done it so as not to use up my retirement savings. But it's stupid to do something just because of the money. I don't have an overwhelming urge to be a performer. But I did love the fabulous roles, the ones that suited me – Tristan, Grimes, Walther, Lohengrin, with their great, rich music that I adored.
Do you have an all-time favourite role?
BH: It's Meistersinger. I did my first Walther in Seattle in 1989. It came at the right time in my career. I had the set of skills that suited Walther. He's an outsider, and I felt somewhat like an outsider too - people in New York didn't know me. There was a story I heard, when I made it through the first semi final round at the MET Auditions: Margo Bindhardt (COC patron) came down to the Met. Everybody there knew her, as her mother was on the board at the Met. Somebody said to her that I hadn't sung that well in the semis, and she answered, "Get ready - he's going to do just great in the finals." The orchestra seemed to gather under me, and I was one of the eleven winners, and I won the Birgit Nilsson Prize.
Which Italian role is your favourite?
BH: Maybe Turandot. All of a sudden I think of the fabulous music of "Dio! mi potevi" in Act 3 Otello. I love the drama of Otello but I love the beautiful melodies of Turandot – I'm caught on that one!
Tell us about your experience as Siegfried at Aix-en-Provence. Did you sing the full cycle?
BH: No, I sang them one at a time, over two separate years. I enjoyed it, but it's really hard. As the young Siegfried, Act 2 is really Mozartian, and Act 3 is tough but doable. The problem is Act 1, where you use up all your vocal resources for the evening smacking that sword! For me, the role that suited me better is the mature Siegfried of Gotterdammerung..
You sang lots of Lohengrins but very few Parsifals…
BH: I did it one time at the Met, and it never came again. Then I was the choice for Meistersinger, Lohengrin, Florestan and a few other roles. By the time I got to Parsifal, there were several handsome, young baritones moving up into heldentenor.
Tell us why you never sang Tannhauser. Is it for the same reason as Jon Vickers? [Note: Vickers was quoted as saying he found the role offensive and it contradicted his Christian beliefs. He cancelled his Met contract of Tannhauser in the 1977-78 season]
BH: No! (laughs) I think Vickers made that up to cover for the fact that he didn't have what it takes for the role – I'm only speculating. I would have sung Tannhauser if it had been offered to me.
Any roles you wish you had sung? How about Siegmund?
BH: Yes, I wish I had sung Siegmund. I had an offer but I decided to retire. The last couple of years I've had a knee issue that I tried to hide onstage. You can get away with it in Grimes, lumbering from side to side, but Siegmund, no. Perhaps Paul in Die tote Stadt earlier in my career was something I could have sung.
Tell us your most memorable moment on stage…
BH: One that stands out was jumping in for Meistersinger at Covent Garden – I was covering Reiner Goldberg. They called me at the end of Act 1, and I zoomed over. They found me a costume, but the difficulty was a pair of shoes to fit. I went on in the middle of Act 2 with no announcement, the big scene where Eva and Walther sit under the linden tree. Felicity Lott was Eva, and Christoph von Dohnanyi was conducting. She turned her back to the audience and whispered "toi toi toi" in my ear, and we began our scene. I knew the staging. When we were under the linden tree, she extended her hand underneath her cape, as if to say 'Hello, my name is Felicity, nice to meet you…' (chuckles)
What was Christoph von Dohnanyi like as a conductor?
BH: He was a bit hard nosed and Teutonic, but we got to like each other. After doing Das Lied von der Erde with him at South Bank in London, we went out to dinner. I asked him if he had known his uncle, Dietrich Bonhoeffer, the Lutheran pastor, theologian and anti-Nazi dissident. I told Christoph that we were discussing his being a theologian plotting to kill somebody. The fact that we were learning about his uncle – well, that just melted von Dohnanyi, and we became friends.
What about other conductors? Who did you enjoy working with?
BH: The first one that comes to mind absolutely is (Wolfgang) Sawallisch. Levine is in there too. I had a great relationship with (Sir Georg) Solti – I was never intimidated by him. I also enjoyed Gary Bertini, but he's not as warm a personality as Levine, Sawallisch or Solti. I seldom worked with (Lorin) Maazel — he tended to be a little icy. James Conlon I worked with a fair bit – I got along with him too. You know whom I really enjoyed working with? Johannes Debus! He's someone special, and he doesn't have an ego – what a great combination. We did Tristan and Grimes together. He did everything in his power to make it work for me, and that's wonderful.
Now colleagues…
BH: Oh so many, my stars! I sang a lot with Jane Eaglen – she was a great colleague; also Deborah Voigt and Alan Held, a good buddy of mine. I got along really well with Deborah Polaski – I did Tristan and Lohengrin with her. Nina Stemme was a great colleague and fabulous to work with. She's very serious in her work, and if she ever gets difficult, it's because she wants to get more out of herself or her colleagues or the stage director. Actually I got along with pretty much everybody.
You also sang a lot with Karita Mattila…
BH: Now she could be a bit scatterbrained. She was a bit mean-spirited with me when we did Pique Dame at the Met. When Lohengrin came on, the shoe was on the other foot, as she wasn't as comfortable with the role of Elsa. At the party afterwards, she apologized for the way she had treated me in Pique Dame. We finally really connected when I was singing with the LA Philharmonic in Paris and London and she was doing some Finnish music there. It came up in my calendar that it was her husband's (Tapio Kuneinen) birthday. I sent him a note. When I next saw her, she said she was moved by this. After that we became a lot closer.
Stage directors whom you've enjoyed working with? Your thoughts on Regietheater, the so-called "concept productions"?
BH: I enjoyed most of the directors I've worked with, like Peter Sellars and Francesca Zambello. I worked with Sellars three times, in Tannhauser in Chicago in 1988, and Tristan in 2005 and again in Toronto. I don't think he's as wild and as disconnected as some of the other directors. I enjoyed working with Jurgen Flimm. We worked only once, the Fidelio at the Met. It was a modern updating, and I appreciated the fact that he took seriously what the composer and librettist had in mind. I also enjoyed Robert Altman in McTeague (Chicago 1992). He trusted us as actors to generate the ideas and he would shape those ideas. It's quite a different way than most opera directors – others tend to say 'hold your pinkie finger this way…' I really don't mind updating the time period of an opera; what I don't like is when they mess with the relationships of the characters. It feels like some directors are creating controversy for its own sake.
I've always been curious why you never sang in Bayreuth…
BH: I actually sang for Wolfgang Wagner and Daniel Barenboim in Bayreuth, in an "information audition" back in 1988, when I was just starting out. In 1999, I was asked to sing Lohengrin there. I had the routine of one summer on and one off, trying to be home with my family. And 1999 was my summer to be off. But once you say 'no' to Bayreuth, they are very upset and they won't ask you again. That didn't bother me in the least, although it's known as the Holy Grail of Wagner singing. I'm not the type to sit around and second-guess the decisions I've made.
What sustained you through all the ups and downs of your career?
BH: I'd consider myself a man of faith. The world is bigger than my career. There were hard times – let's not whitewash it. My wife Karen helped me to come to grips with what was going on and encouraged me to continue. I rest on those two pieces of foundation…
During the down periods, what was it like not being able to do what you are trained to do?
BH: I loved being a father and a husband which was more natural for me than going away for months on end singing. I don't have to sing on the opera stage – my life is not defined by my career. A lot of people didn't understand. I felt bad, but that's not the entire story and only part of me.
Are you enjoying broadcasting? What do you think of CBC cutting back broadcasts of Canadian performances?
BH: To answer your first question – yes, very much so! We've got a great team. The show's produced out of Vancouver. Denise Ball is my producer there and she's got a team working together. And I have a local producer here in Toronto, Carole Warren, and Steve Sweeney is the engineer. They're amazing, producing so much with little resources, and they really care. I am absolutely honoured to be working with them.
As for the cutbacks, it pains me. The budgets have been badly cut back, and opera sits low on the list of priorities. They used to record 800 performances each year, including a few operas. Now they record about 50 performances a year of all genres.
Do you plan to teach? You've already given masterclasses in conservatories…
BH: Coaching would be a more natural fit for me than teaching voice.
What advice would you give to aspiring singers who want to follow in your footsteps?
BH: (laughs) When I was singing, chorus guys would come to say they wanted to study with me. If they are already studying with someone, I tell them to stick with their teacher. Don't flit from one person to another for advice – know who you are and stick with that.
Three favourite recordings?
BH: The Jussi Bjoerling at Carnegie Hall disc is tops on my list. Number 2 is Ella and Louis – the great Ella Fitzgerald and Louis Armstrong. And of course Pavarotti's King of the High C's album – it inspired me to practise!
Heppner's most proud recordings:
BH: My Secret Heart (BMG); German Romantic Opera (RCA); and one of the Meistersingers – I'd have to go with my first, the one with Sawallisch conducting.
If you were to do it all over again, what would you change?
BH: I might live closer to my work in Europe. But we chose to live here and make our children's lives as normal as possible.What would I change? Not much… Anything I say would sound trite – I had a great run.
---
Version française...