Keys to Success: Pianos Bolduc

by Wah Keung Chan / April 1, 2014

---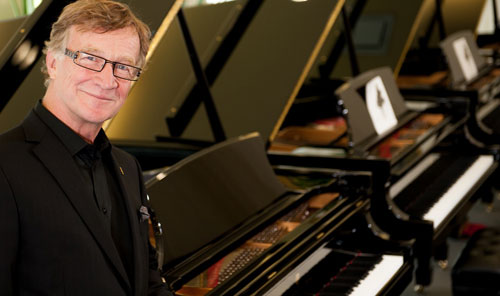 The acoustic piano is a tough business to be in right now. There is too much supply for the demand, it seems. Old upright pianos are being given away across Kijiji and Craigslist for the cost of delivery (about $150), and the unclaimed ones are finding their ways to landfills. In new pianos, cheaper Asian-made models are flooding the market. Last year saw the closure of two of Europe's long-standing piano manufacturers. So it's noteworthy that in Montreal, the five-year-old Pianos André Bolduc store is thriving.
Andre Bolduc, president of Pianos Bolduc, says that it was part luck and part instinct when he decided to open a Montreal retail location in 2008, as the recession hit. Traditionally a manufacturer of piano parts based in Quebec's Beauce region, three hours from Montreal, Bolduc began to see his business slump as the rising Canadian dollar (from $0.70 to $1.05 USD over a four year period) decimated Canadian exports. One day, Bolduc turned to his business manager and wife, Michelle Lord, and said, "We are going to open a Montreal store." The opportunity came when Baldwin, Bolduc's biggest customer for piano parts, mentioned that they were interested in expanding into Montreal. "With the high dollar, it was cheaper for me to buy the finished pianos and resell them than it was to sell parts," said Bolduc.
Within six months, the Montreal location on St. Lawrence Boulevard near Jarry Park was opened, and it started to find a loyal clientele based on Bolduc's attention to customer service and repair. "Unfortunately, Baldwin went bankrupt just after the store opened, and we had to scramble to find other piano marks to carry. We would nevertheless send the repairs to Beauce to keep the team working there."
Three years later, Bolduc's good reputation in preparing and tuning pianos led to another opportunity, when Steinway came calling. The venerable prestige brand of pianos was going through its own crisis in 2008, and part of the restructuring meant a shakeup in Steinway's local retailers. Since then, business has increased for Pianos Bolduc. As Bolduc put it, "97% of concert halls have a Steinway."
Growing up in a family of carpenters—Bolduc's father bought and sold wood logs—André gravitated to the furniture business, specializing in varnishes. When André married Michelle at age 22, he discovered the piano, as Michelle loved playing the instrument. "I bought that first piano, an Ivers & Pond, and while refurbishing it, I fell in love with the process," said André, who immersed himself in his new passion by taking a one-year correspondence course from the Aubrey Willis School of Piano Tuning, followed by another 5-year course in tuning. Bolduc then went to study in the US, splitting his time by taking courses in tuning, and teaching others furniture repair and vanishes. This then led to internships in Germany on building and repairing pianos.
Back in the Beauce, Bolduc started making piano parts from his basement, graduating to a full workshop and employing a full team. His best seller is the pin block made with Quebec sugar maple. Piano bridges and soundboards are his other products. Before the Montreal store, the parts business accounted for 80% of revenues, but now it makes up only 15%, as the sale of Steinways account for the rest. With prices starting at $54,000 and going up to $210,000 for the 10-foot concert grand, it's no wonder. The Steinway client is typically a musician who wants a Steinway to practice at home, or professionals, such as lawyers and doctors who have studied music when they were younger. "We've increased sales of Steinways by 25% over the first year," said Bolduc proudly, who has recently split the business, with his children running the workshop in Beauce while he and Michelle run the Montreal retail store.
This has given him the chance to return to his 40-year passion of tuning pianos. His store is now responsible for tuning practically all Steinways in Montreal, and he gets to do most of the usual one-and-a-half-hour tunings before each concert.
So we asked Bolduc the age-old question: Hamburg or New York, what's the difference? Bolduc explains, "The manufacturing methods and procedures are essentially the same. Several parts, including the cast iron plate are manufactured in the United States, for the two plants. The difference lies in the mechanism. One is manufactured in Germany and the other at the New York plant. The sound differs mainly because of the quality of the hammers. The American hammer is less dense, which gives it a rounder sound, fuller and very powerful. The German hammers are more dense, providing a brighter sound. The Hamburg piano may be better suited for chamber music. The touch of New York is lighter, less durable. In both America and Germany, the rim is made of maple."
And what makes Steinway so good? "Part of the durability is its double rim," says Bolduc as he demonstrates the thickness of the underside of a model in his showroom. In the future, Bolduc hopes his relationship with Steinway will open the door for his parts business to supply the Essex brand, Steinway's budget line. 
---
Version française...