25 Years with the Nouvel Ensemble Moderne

by Réjean Beaucage / April 1, 2014

---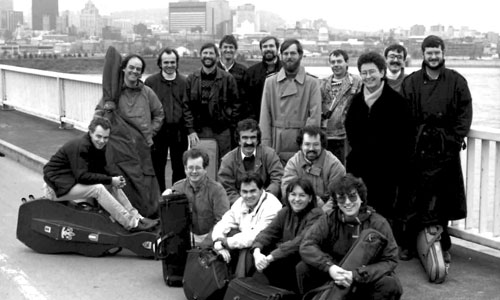 The NEM on the Pont de la Concorde in 1989
On the eve of its 25th anniversary, the Nouvel Ensemble Moderne (NEM) is no longer the newcomer that it was in 1989, but its programs are still full of new discoveries.
We weren't even surfing the Internet in 1989, that's how much time has passed! Lorraine Vaillancourt had been directing the Atelier de musique contemporaine at the University of Montreal since 1974 and was fresh from the experience of les Événements du Neuf (1978-1989) when she threw herself into the adventure of artistic and musical direction of the Nouvel Ensemble Moderne with a group of young musicians who, like herself, were avid to promote the best of what contemporary composers everywhere had to offer. When I asked her what memory surfaced first when thinking back over the last 25 years, her answer was immediate: "The first photo … When we found ourselves on the Concordia Bridge for our first official photo. The excitement that was in the air at that moment. Or during our first rehearsal, at the beginning of January 1989, for the Chamber Concerto (Kammerkonzert) of Ligeti. It was thrilling, because I was surrounded by people who had a real desire to go somewhere with this project. I had the feeling of living something utopian, because the time that we wanted to take for the rehearsals, of course that has financial consequences … so we set our sights on the first concert without thinking too much about what would happen after."
The NEM had a great start with its first concert on May 3, 1989, at Salle Claude-Champagne before an audience of 500. Lorraine Vaillancourt remembers: "We had started by over-reaching a bit, without financial support. I imagined that it would probably continue, but I had only thought up two programs … Someone  knowlegeable about fundraising convinced us that we shouldn't do two concerts, just one, and so we put everything into that one concert! Except George Benjamin's piece At First Light, but we played it as an encore … and it's twenty minutes long!" The other works on the program were by Ada Gentile, Mauricio Kagel, György Ligeti, Steve Reich and Kaija Saariaho. I was never too uncomfortable about the absence of Canadian music," she explains, "because first of all, I had already done a lot of it, and also because I wanted to form an ensemble of performers, and that changes the deal a bit. In this case, the Canadian productis the NEM itself. That being said, we did subsequently commission and create a lot."
400 concerts later
In 1989, the first concert of a contemporary music ensemble was covered in almost all the daily newspapers in Montreal, in both French and English. Today, how would it be? "In the media, information about new music hasn't gained much space in the past 25 years," observes Lorraine Vaillancourt. "On the contrary …  It doesn't just concern music … It's a vicious circle: it has to interest a lot of people for us to talk about it … and if it doesn't interest a lot of people, we don't talk about it."
Nevertheless, there is always a new generation, as evidenced by programs such as Les Rencontres de musique nouvelle at Domaine Forget (where the NEM holds its summer residency) and the Forum des jeunes compositeurs (organized regularly by the ensemble since 1991.) "In effect, we organize these concerts with young performers, and yes, they exist, and they want to hear this music. Not everything is negative. Some critics obstinately refuse to leave their comfort zone and say that no one is interested in this music, but that is of course false. We are often presented as specialists, with all the pejorative sense that the term can carry, which implies that one must be a specialist in order to come hear us … That whole line of argument is completely contrary to our purpose. But we resist!"
And after 25 years with the Nouvel Ensemble Moderne and concerts in about fifteen countries, Lorraine Vaillancourt, are you where you would like to be? "Every time we play, I have that feeling. The NEM is really an extraordinary ensemble! It definitely is still relevant and things will continue to develop, with a tour of the island that we will do in the spring, but also with concerts outside of Montreal."
So, do we raise a glass to 25 more years? "I certainly do think about what will happen after me in the more or less short term," says the founder. "I want to continue to direct, that's for certain, but not necessarily to take on all the artistic direction. I am also a professor at the University of Montreal, where the NEM is in residence, but I will not be there for decades to come, so things must be prepared. We must pass the torch, of course, but I would also like the ensemble to keep its special spirit."
To be continued!
Translation: Rona Nadler
GRAND CONCERT – 25th ANNIVERSARY
May 9, 7:30 PM, Maison symphonique
Nathalie Paulin (soprano), John Fanning (baritone), Guy Nadon (narrator)
Claude Vivier: Bouchara
Walter Boudreau: Solaris (premiere)
Alban Berg: John Rea, Wozzeck, 21-musician version (6 excerpts)
Meeting the NEM
Discussion with composer Walter Boudreau about the creation of his piece Solaris for the NEM's Grand Concert.
Chapelle historique du Bon-Pasteur, May 3, 2:00 p.m. Free admission.
---
Version française...