Music in the Cold: The Remarkable R. Murray Schafer

by Michael L. Vincent / November 4, 2013

---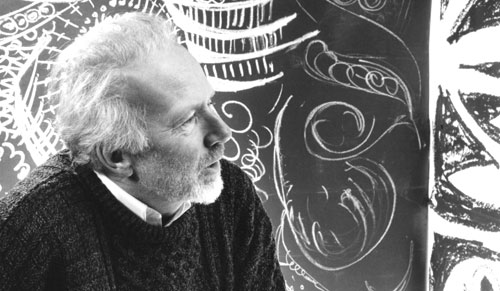 Canadian composer R. Murray Schafer and his long-time partner, mezzo-soprano Eleanor James, live in a farmhouse located in the rural outskirts of Peterborough, Ontario. Upon pulling into the driveway, a pastoral landscape frames Schafer, who is standing in the doorway with slightly dishevelled hair and an oversized sweater. James follows outside to greet me with a warm smile and asks, "Did you find the place okay?"
The 150-year-old farmhouse opens into a large living room lined with what seem to be hundreds of books. Jung, Chekhov, Nietzsche and Tolstoy appear in his library. After expressing his fondness for literature, Schafer points towards what he calls his "favourite section": nearly forty books he published on topics ranging from sound ecology (The Tuning of the World, 1977), to music education (The Composer in the Classroom, 1965, Ear Cleaning, 1967), to his autobiography (My Life on Earth & Elsewhere, 2012). Marked by a large mandala hung from the ceiling at the back of Schafer's home is his composition studio. It appears to be a converted sunroom, with huge windows revealing an ideal country landscape. "This room is an obvious source of inspiration," Schafer says.  "In fact, my piece Snowforms (Inuit words for 'snow') (1981) originated from this very view."
R. Murray Schafer Trivia
• Guilty pleasure: tobacco
• Has worked with writer Ezra Pound
• Favourite author: Chekhov
• Once worked with American puppeteer Jim Henson (The Muppet Show)
• Was a close friend of violinist Yehudi Menuhin
• Was investigated as a possible Hungarian spy in Romania
• Would like to be remembered for his Patria cycle
The 1981 commission by the Vancouver Chamber Choir has since been performed many times by professional and amateur choirs alike. Upon looking at the score, Schafer proudly points out how the contours on the score coincide with the ebb and flow of the snow-covered hillside from the view outside. One can immediately appreciate the influence this room and the rural Canadian soundscape has had on his works.
Schafer's decision to live in rural Canada is not an escape from the "tumultuous sounds of the city." He has acted as artistic director of the Peterborough Festival of the Arts, transforming a modest event into an impressive national arts festival. He also created the Maynooth Community Choir while residing near Bancroft, for which he composed Jonah (1980), and continued his involvement near Peterborough, where he currently resides, by inviting locals to participate in the productions of Patria 3: The Greatest Show (1979) and Patria 9: The Enchanted Forest (1986). His role with neighbouring communities has been anything but isolationist, showing how a contemporary composer can weave a modern vocation outside of the urban context.
Entering the countryside from the city, one notices the drastic change in the sound environment. Schafer was one of the first artists concerned with this kind of variation by coining the term "soundscape". He describes is thus: "When you can listen to the music of the environment, then you can listen to any form of music."
Schafer's move to the Ontario farmhouse was provoked by his search for a truly Canadian soundscape and to further a series of environmental works such as Music for Wilderness Lake. The piece was recorded by the CBC and scored for 12 trombones playing around a country lake near Bancroft in 1979. This interest also manifests itself in situating performers within a special environment, as in the dramatic pageant Apocalypsis (1972), featuring nearly 500 performers. Later works, such as his Vox Naturae (1997) continued to explore a non-traditional placement of participants.
Schafer's interest in acoustic ecology emerged in Vancouver while he was teaching at the newly established Simon Fraser University (SFU). One of the first things he noticed about the West Coast was noise pollution, more obvious there than in the East. He comments, "When I first came to Vancouver I tried to stimulate some interest in noise pollution." But he found that it was "entirely negative and difficult to pull people together against it." Instead he chose to approach it as "an investigation of the acoustic environment without passing judgement on whether it was positive or negative." His approach to the subject of sound was "to get people listening to it, and then debating it, and then improving it."
Along with fellow composers Barry Truax and Hildegard Westerkamp, Schafer co-founded the World Soundscape Project at SFU. This resulted in his influential book, The Tuning of the World (1977), which summarizes his research, philosophy, and theories on soundscape, a concept central to the composer's thinking. For instance, the background rhythmic structure for String Quartet No. 2 ('Waves') (1976) is based on the intervals at which ocean waves crest; and the graphic notation at the beginning of No Longer Than Ten (10) Minutes (1970)was influenced by charts of Vancouver traffic noise.
Schafer first began studying music after being told at the Ontario College of Art that having only one eye would be "inadvisable" for a visual artist. He took it to heart and began piano studies with Alberto Guerrero, harpsichord with Greta Kraus, and composition with John Weinzweig. At the time, Guerrero was also teaching Glenn Gould, whom Schafer recalls seeing at his studio from time to time: "He was a little distant; he didn't seem very interested in talking to me, as I was more interested in being a composer."
Schafer spent approximately one year at the University of Toronto but "was more excited in other kinds of studies and wanted to travel to Europe." He left U of T abruptly, after getting into some trouble with the faculty. One such incident involved his writing a letter to a professor on the subject of how music education might be better taught. He concluded the essay by telling him, "It would please me greatly if he would give me zero on the exam because then, like Jean-Jacques Rousseau, whom I had been reading, I would have the distinction, if not of being better than my fellow man, at least of being different."
Before leaving university, Schafer took classes with Marshall McLuhan and Dr. Arnold Walter, whom he describes as "an excellent lecturer". "He and McLuhan were the only two lecturers who really set me thinking in those days," he adds.
Leaving formal studies behind him, Schafer spent the next three years in Europe studying languages, literature, history, and mythology on his own. He eventually landed in Crete, where he was astonished to find the ruins of the Palace of Minos. It was here that he first began thinking about creating a theatre work, which was to become a lifelong obsession for him.
Schafer began composing the first parts of the Patria cycle in the 1960's. Not necessarily opera or music theatre in the traditional sense, he describes the cycle as a 'Theatre of Confluence' or "a group of works that were created, and they are related to each other." The massive 12-part work expresses the physicality of space, and employs a number of compositional processes, including serialism, pointillism, and graphic notation, as well as multiple languages and diverse philosophies. The work is inspired not only by ancient mythology, but also by the symbolism of modern life, both embodied in a series of tableaux on 20th century urban themes of alienation and neurosis.
In reflecting on the cycle as a whole, Schafer admits to some bitterness for not receiving as much support. He confesses that he largely self-funded these projects, which "cost a great deal of money, even more than doing them in a regular theatre in Toronto because most of them are done outdoors."
The Patria cycle is also unique in that it sometimes includes the audience as active participants. An example is found in Patria 6: RA (1990), a ritualistic work that takes place from dusk to dawn and enacts the descent to the underworld and resurrection of the Egyptian sun god. During its inaugural performance at Toronto's Ontario Science Centre, the audience members (the 'initiates') were led through 29 different specific locations over an 11-hour "ritual". George Sawa, an Egyptian Qanun player who performed in the production recalls, "The audience loved the experience of being part of the prayers, music and ceremonies; only one person freaked out as Murray told the actors and singers to purposely scare people. It was all part of the initiation."
Schafer is currently working on the finishing touches for a new commission by the Gryphon Trio, which premieres December 5. Discussing the compositional process, he confides that he always writes at the piano and prefers to keep drafts private until he knows they are "getting close." Unlike some composers, he has no aversion towards revising older works, and, time permitting, he likes to rehearse with ensembles to try things out. When it comes to meeting deadlines, he sometimes "feels the pressure to complete the job", but "prefers to work at [his] own tempo without any intrusions such as traveling."
One such engagement was Shafer's 80th birthday celebrations, organized by the Stratford Summer Music Festival in July. Schafer was joined by nearly 100 friends and colleagues, and included a two-hour concert of his music and speakers such as collaborator Mary Morrison, former CBC radio producer David Jaeger, and retired Toronto Star critic William Littler.
Schafer humbly confesses that he is a little surprised by all the attention he has been receiving lately. "Within the last year there has been so much more commotion than I have ever experienced before." He jests, "Or maybe it's just my turn; it's finally Schafer's year!"
---
• Royal Conservatory's Schafer Festival continues Nov. 10, Nov. 24, April 25, May 22. www.rcmusic.ca
• The Gryphon Trio performs Schafer's latest world premiere, Dec. 5, 2013, 8pm, Music Toronto, Jane Mallett Theatre, St. Lawrence Centre for the Arts, www.music-toronto.com
---
Version française...