Frank Zappa, American Composer (1940-1993)

by Réjean Beaucage / October 1, 2013

---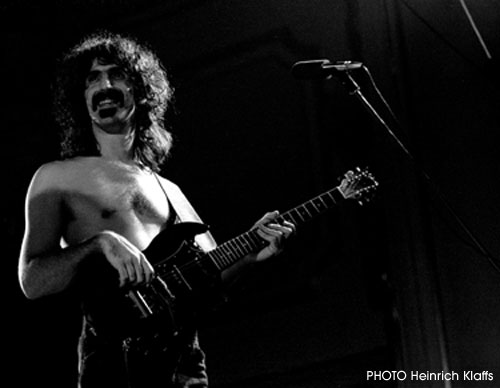 December 4th, 2013, will be the twentieth anniversary of the death of American composer Frank Zappa, born December 21, 1940.  To mark this occasion, or simply because his music is great, several orchestras and ensembles will be featuring Zappa's music in concerts this year.
Last July the Aurora Orchestra offered a superb interpretation of G-Spot Tornado and The Adventures of Greggery Peccary in a concert for BBC Proms at the Royal Albert Hall. In August, at the Edinburgh International Festival, ensemble musikFabrik of Cologne paid tribute to Zappa by featuring two of his favourite composers, John Cage and Edgard Varèse, as well as a fine selection from his catalogue. At the Ultima Oslo Contemporary Music Festival in September, Frankfurt's Ensemble Modern celebrated Zappa by dedicating their entire program to his work. On October 23 Esa-Pekka Salonen will direct the Los Angeles Philharmonic Orchestra at Walt Disney Concert Hall in the world premiere of a concert version of 200 Motels, a feature filmand double album released in 1971, considered one of Zappa's masterpieces. Finally, on October 26, Kent Nagano will direct the OSM in Bogus Pomp, a work that is in some way a concentration of the themes found in 200 Motels, and a work that Kent Nagano premiered with the London Symphony Orchestra (grand orchestral version) in 1983.
Some readers may be saying: "Wait …  are we talking about Frank Zappa?  The freak who headed The Mothers of Invention, the guitar hero who tore solos from hell out of his instrument, the guy who sang Dirty Love, I'm The Slime and Dinah-Moe Humm?!"  Yes, the very same. 
Let's go back to the early 50's.  At the age of twelve young Frank started playing drums, an instrument which he would master in a summer camp and on which he would write his first composition – Mice, a solo for snare drum.  At the same age he discovered the music of Edgard Varèse.  His musical tastes focused: when not listening to his Varèse record (The Complete Works of Edgard Varèse, Volume I), he was playing 45's of rhythm-and-blues (he would amass an impressive collection), and enjoyed the extravagances of Spike Jones and His City Slickers, whose music sounded like they were comic books.  All of Zappa is there, in the intersection between the lavish sound of Varèse, the power of R'n'B and Spike Jones's iconoclastic lucky finds.  At high school his music teacher Mr. Ballard let Zappa conduct his class orchestra, and he began to enjoy being in front of musicians rather than behind a drum kit …  Here, at age eighteen, is where he got his first guitar, which he would seldom let out of his grasp. 
Before founding the legendary Mothers of Invention in 1964 (their first album, Freak Out!, was released in 1966) Zappa had already composed two film soundtracks, presented a concert of his instrumental works – The Experimental Music of Frank Zappa (1963), and could had been on TV with Steve Allen to perform his Concerto For Two Bicycles, Pre-Recorded Tape & Instrumental Ensemble (1963).
Without a doubt, it was with the last of these accomplishments in mind that Capitol Records approached Zappa in 1967 to propose an album of orchestral music (which would become Lumpy Gravy in 1968).  It was also in 1968 that Zappa and his group gave London an explosive concert of musical theatre, using a good portion of the BBC Symphony Orchestra.  The Mothers were then a group of eight musicians, including two percussionists.  The little group had continued to grow since 1964, and soon became a real electric chamber music ensemble, numbering ten musicians.  Zappa, however, could not continue to finance such a project, and on August 18, 1969, The Mothers of Invention gave their final concert in … Montreal.
It was none other than Zubin Mehta who would induce Zappa to reconstitute The Mothers for the Contempo 70 music festival, where, on May 15, 1970, they joined the Los Angeles Philharmonic Orchestra to present the first incarnation of 200 Motels.  At the beginning of 1970 Zappa would record and film 200 Motels in England with the Royal Philharmonic Orchestra, conducted by Elgar Howarth.  In 1972 The Mothers became a "big band" of eighteen members, known also as The Grand Wazoo, after their album of the same name.  Zappa continually alternated between smaller rock groups and great ensembles of twenty musicians (for Greggery Peccary in 1975) or more, using up to forty to record concert pieces that would be released as Orchestral Favorites in 1979.
Thanks to Pierre Boulez, who in 1981 commissioned a Zappa program for his Ensemble InterContemporain (Perfect Stranger, 1981), Kent Nagano first became interested in Frank Zappa. Zappa hired the London Symphony Orchestra and then hired Kent Nagano to conduct. This recording (LSO Vols. I & II, 1983), produced by the composer, is also Nagano's first recording. 
Nagano believes that Zappa had an absolutely unique language. He recently told us, "He's not really pop, but he's a pop star; he didn't really do rock, but he's still a rock star; he's not really jazz either, but he's still surrounded by jazz musicians. In the end, he wasn't really a 'serious composer' but he studied the works of Nicolas Slonimsky, Edgard Varèse, etc. You can't really put him in any category." We could perhaps try "baroque expressionism". Zappa is essentially a storyteller who loves to show what he evokes, and his music uses every possible colour and every imaginable texture to put into sound the poetic fictions dictated by his imagination (keep in mind that the composer always worked with his own texts, whether it was for a song, musical theatre, or opera, and his imagination was as unbridled with text as it was with music).
Zappa's stylistic palette is extremely varied, and over the course of some sixty albums released during his lifetime, it was always astounding to discover the direction he chose to take, going from ultra-cynical pop to a 1950s-style doo-wop project, then a ballet full of musique concrète following a suite of "electric chamber music" before a psychedelic opera with a symphony orchestra, followed by a program of big band jazz.
In 1985 the Kronos Quartet and the Aspen Wind Quintet would both interpret works of Zappa's, and Zappa began to release his Synclavier-realized recordings.  Zappa launched his last rock tour with an ensemble of twelve musicians in 1988.  In 1991 he accepted a creative invitation from the Ensemble Modern, and wrote for them The Yellow Shark; the series of concerts for this event in 1992 were his last before he returned to his studio to complete a few final productions.
Zappa, Montreal, and Kent Nagano
Frank Zappa had a special relationship with Montreal, which was his home over the two weeks his group The Mothers of Invention were the band in residence at the New Penelope bar.  In his Gazette column for January 14, 1967, Nick Auf des Maur wrote about these concerts: "Zappa, who looks a bit like Rasputin, leads the group through a mad series of arrangements which includes Mozart's Symphony No. 40, Holst's The Planets, and a lot of Stravinsky à la Zappa."  During those two weeks, the group also found time to record a soundtrack for the short film Ride for Your Life by Robin Spry, produced by the NFB.
Zappa also recorded the song Petroleum with Robert Charlebois in a Montreal studio in June 1974, which appeared on the album Swing Charlebois, Swing.  Finally, the album Imaginary Diseases, which documents the tour of Zappa's band Petit Wazoo, contains two pieces, one titled simply Montreal, recorded during a concert at the Montreal Forum on October 27, 1972.
Considering that Kent Nagano was hired by Zappa to conduct the London Symphony Orchestra (also hired by Zappa), which recorded several of Frank Zappa's large orchestral works, one might say it was time for the musical director of the OSM to present some of this repertoire.  When I phoned Nagano he was in transit at a German airport.   He said, "You know, the amazing thing is that I haven't conducted the music of Frank Zappa since 1984.  After our collaboration I kept in close touch with him and his family, and I also visited him a few days before his death, but I haven't played his music since then."  This is therefore a double premiere for Nagano and the OSM!
When Kent Nagano contacted Zappa in 1981, it was with aim of playing his music with the Berkeley Symphony Orchestra, which Nagano had directed since 1978.  However, it was Zappa who sought out Nagano to be the conductor for a recording of his symphonic works on his own label, Barking Pumpkin Records (now on Zappa).  "We know that Zappa always enjoyed encouraging young musicians – he joked that it was because they cost less – and therefore he offered me the job with the London Symphony Orchestra." 
Of all the works in Zappa's orchestral repertoire, why did Nagano choose to play Bogus Pomp with the OSM? "For me it was one of the best pieces we recorded.  Zappa occasionally had moments of illumination, of genius, but I think that he had difficulty with large forms, which often lack conventional formal structure.  This is not the case with Bogus Pomp, which is structurally brilliant.  I hesitated about Mo & Herb's Vacation, which is really a symphonic poem and very funny.  But I feel that Bogus Pomp shares features with Beethoven's Fifth, which is also on the program." 
Of all Zappa's work that Kent Nagano has conducted, the great Sinister Footwear is the only one which has not been recorded.  "Oh, but it's unfinished," he says.  "Maybe someone should ask Dweezil to finish it." 
Let's ask him!
Translation: Joshua Lesk
Dweezil: Laval & Elsewhere
When Esa-Pekka Salonen gives the first cues for the premiere of the concert version of Frank Zappa's 200 Motels on October 23 and the Los Angeles Philharmonic shakes the stage of the Walt Disney Concert Hall, Frank Zappa's son Dweezil will be on stage at Sherbrooke's Théâtre Granada with his band, Zappa Plays Zappa*. On the phone, the musician was clearly disappointed to be missing the show: "It will probably be a fantastic event, and it will be repeated in England on October 29 [by the BBC Concert Orchestra under conductor Jurjen Hempel]. I'm sure that if it all goes well, other orchestras will want to try it."
Dweezil has long talked of a concert project combining his rock band with a symphony orchestra (like, fittingly, the ultimate version of 200 Motels), and when I tell him that Kent Nagano suggested that he could perhaps finish the score of Sinister Footwear, he's surprised: "What, it's unfinished? We've gotta look into that!" I think that maestro Nagano especially believes that the piece, even completed, deserved development that the composer, who died too soon, could not give it. "I was at the recording sessions with the London Symphony Orchestra," says Dweezil, "and they did indeed play Sinister Footwear, but we knew that my father was not completely satisfied with those recordings [a fact he clearly stated in the liner notes for the album LSO Volume II]. It's certainly one of the pieces on our list, as a rock version, for a next tour." Until then, you can go see Dweezil and his band perform Roxy & Elsewhere, another definite classic in its genre!
* This is one of seven stops in Quebec comprising the tour to celebrate the 40th anniversary of the album Roxy & Elsewhere, a concert recording by Frank Zappa with what many fans consider the best example of the Mothers (other dates include Laval [Oct 22], Saint-Hyacinthe [24], Saint-Jean-sur-Richelieu [25], L'Assomption [26], Quebec [27] and Rimouski [28]).
Translation: Rebecca Anne Clark
---
Réjean Beaucage is an expert on Frank Zappa: editor of the special issue of Circuit, musiques contemporaines consacré à Frank Zappa (Vol. 14, No. 3, 2004); author of the preface to Jean-Sébastien Marsan's book, Le Petit Wazoo - Initiation à l'œuvre de Frank Zappa (Triptyque, 2010); author of a paper on Zappa's compositions for IRCAM's website (September 2013). (http://brahms.ircam.fr/frank-zappa).
---
Version française...