Francis Poulenc: Man of Melodies

by Daniel Turp / October 1, 2013

---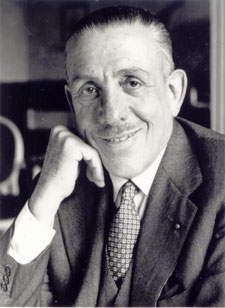 The French composer Francis Poulenc (1899 - 1963) passed away 50 years ago. Appropriately, ATMA Classique has chosen this occasion to explore his 170 songs in a new Poulenc five-disc box set.
The composer of the Dialogues des Carmélites is the last great melodist, states pianist Oliver Godin, the artistic director of the collection's project. "In his style and musical language, we don't find any system," Godin explains. "Francis Poulenc was never 'boxed in' – choosing sometimes melancholy, sometimes humor and parody, while embracing tonality." When it comes to identifying the composers who have influenced Poulenc, the Montreal Conservatory of Music professor spontaneously evokes Mozart and Bellini. In his liner notes, baritone François Le Roux cites Monteverdi and Debussy instead. He also writes that Mozart was his "great master" since Poulenc's music is "a unique blend of melancholy and joie de vivre, of seriousness and absurdity, in short, of humanity." Godin says that Poulenc shares with these composers the love of the human voice, considered the noblest instrument, bearer of emotions and truth.
What makes of Francis Poulenc a great composer of melodies? Godin answers that his great success in this musical genre probably lies in Poulenc's relationship with performers. With baritone Pierre Bernac and soprano Denise Duval, he acquired an intimate knowledge of the voice and learned its mechanism. According to the pianist, "It is also his willingness to serve poetry and great poets. Setting to music the words of Guillaume Apollinaire and Paul Éluard, and also those of Paul Valéry and Louis Aragon is, as Poulenc wrote himself, 'an act of love [rather than] a marriage of convenience.'"
Of the 170 songs to appreciate or discover in the recording, is there one for which Godin has a particular affection? Without hesitation, he names Aux officiers de la garde blanche. On a text by Louise Vilmorin, another of the composer's favourite poets, Poulenc composed a melody of extraordinary sensitivity, leaving much space to the text, which opposes tenderness and irony. It is not surprising that it is found on the first disc. Its performance by French soprano Julie Fuchs is also likely to convince anyone of Godin's choice!
A Quebec tribute to Poulenc
The new Centre lyrique d'expression française (CLEF), of which Godin is the Artistic Director, makes its debut with a major project: the complete songs for voice and piano of Francis Poulenc. The box set will be launched at the Chapelle du Bon-Pasteur on October 15 at 11 a.m. This will be an opportunity to present the Centre, of which Richard Turp is the General Director. Recorded in Domaine Forget's Françoys-Bernier Hall, this project was carried out with the support of ATMA and its director Johanne Goyette. The Classica Festival and the Association of the Friends of Poulenc are also associated with this recording, respectively directed by baritones Marc Boucher and Le Roux, who also perform on the recording. Sopranos Pascale Beaudin, Hélène Guilmette and Julie Fuchs, and mezzo-soprano Julie Boulianne also lent their voices to the recording. Godin accompanies all six performers in the 170 songs composed between 1918 and 1959.
This is a Quebec tribute to Poulenc, Godin says. "The performers are all French-speaking, which distinguishes this recording from other complete sets that have appeared on Decca and EMI Classics. And it is undoubtedly the most complete, since this includes three new songs, which are a world premiere."
The complete songs will also be performed in a series of four concerts in Tours, France, on November 12, 14, 19 and 21, 2013. At the invitation of the Centre international de la mélodie française, the same musicians will appear at Ockegheim Hall, with Fuchs replaced by French soprano Clémentine Decouture.
After this first project of CLEF, others are in the making, with the support of Goyette and ATMA. The wealth of the current French lyrical repertoire–and no doubt of new repertoire that could emerge from CLEF's initiative – will allow this new institution to stand out in the local music scene and throughout the Francophonie.
Daniel Turp is a board member of CLEF.
Translation: Emilie White
---
Version française...