2012 OSM Standard Life Competition : Xiaoyu Liu

by Marc-Olivier Laramée / October 1, 2013

---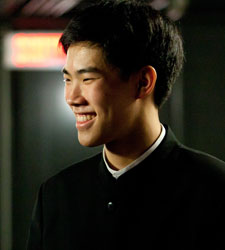 More than three hundred laureates have had the chance to launch their careers thanks to the OSM Standard Life Competition, founded in 1940.  The latest in this series is Xiaoyu Liu, a fifteen-year-old pianist studying at the Montreal Conservatory of Music. After passing through the various rounds held between November 21 and 24, 2012, this young pianist took home more than $12,000 in prize money, not to mention a large offering of concerts, tours and training programs.
Xiaoyu Liu began his piano studies at age seven as a private student.  He has been studying at the Montreal Conservatory for three years and pursues his secondary studies at the Collège de Montréal.  He currently studies at the Conservatory, where Richard Raymond is his teacher. When asked why he chose to play the piano, he replied, laughing, "It's easier than the violin; the piano is nothing but pleasure for me."
Liu decided to take part in the OSM competition (his first!) because he wanted to play before a world-class jury.  For him, such a competition is an opportunity to receive valuable feedback regarding his musical development. "The competition also allows winners to perform in concerts; these are great opportunities," he adds. Liu was also attracted by the division of pianists into two age categories: 17 and under, and 18 and over.  Players therefore have the chance to compete in their own category in a competition of international caliber.
For the final round of the competition, Liu performed Rachmaninoff's Piano Concerto No. 2.  "I chose this work because I love it and also because it really demonstrates my capabilities as a performer," he said.  "I also asked my teacher's advice." His favourite performance of the concerto is that of Vladimir Ashkenazy. His favourite composers include Beethoven, Liszt and Rachmaninoff.
Liu plans to continue his studies at the Conservatory.  Later, he would like to be a soloist and to tour; through traveling, he hopes to observe and learn from different cultures.  His success at the OSM Standard Life Competition gives him the opportunity to start just such a career.  Among the prizes that he received was giving a concert with the OSM at the Maison Symphonique last April, where he again played Rachmaninoff's Second  Concerto.  "Since childhood I've admired this orchestra – it's a dream to play with them." In March he made a recording with Radio Canada. During the summer he played a recital at the Orford Arts Centre, as well as a concert with the YOA Orchestra of Americas in South America.
Liu is currently preparing Saint-Saëns' Fifth Piano Concerto, which he will perform with the Newfoundland Symphony Youth Orchestra in February.
The next edition of the OSM Standard Life Competition, dedicated to strings and harp, takes place November 19-23, 2013. www.osm.ca
Translation: Rona Nadler
---
Version française...