Spotlight on Lakmé and the Bell Song

by Joseph So / September 1, 2013

---
Lakmé, the best-known opera by Leo Delibes (1836-1891), is the archetypal intercultural love story. Premiered in 1883, this work exemplifies western European culture's fascination with the Orient, an imagination that is Eurocentric, highly romanticized and distorted, as argued by literary theorist Edward Saïd in his seminal work, Orientalism. To be sure, it would be foolhardy to go to opera plots for historical accuracy, and surely not to Lakmé as an accurate account of British-Colonial India relations. Still, the fanciful story and perfumed score, full of divine melodies, have maintained their hold in the opera world since its premiere in 1883. It's ranked 159th in popularity based on the number of performances (19) the last five seasons. Compared to La traviata (553) and Carmen (477), 19 seems tiny, but this is due in large part to the fact that few sopranos can manage the treacherous (if extremely rewarding) title role. Opera de Montreal is fortunate to engage the services of American coloratura Audrey Luna, a fast-rising high coloratura soprano who had a stunning success as Ariel in Thomas Adès's The Tempest at the Met and elsewhere.
Focus on The Bell Song
The two famous set pieces in Lakmé are the Flower Duet and the Bell Song, the latter a spectacular showpiece for the high soprano. Given its daunting length of eight-plus minutes and non-stop vocal fireworks, it's a diva vehicle. Nearly every high coloratura soprano has attempted this piece, and there are literally dozens of performances on Youtube. Some of the best date back to the early days of the phonograph, sung by the great divas of the past the likes of Luisa Tetrazzini, Amelita Galli-Curci and Lily Pons. In fact, Pons's version is arguably the most famous of all, thanks to her appearance in the 1935 movie I Dream too Much. youtu.be/2TfddrnmvbA
Other famous versions include Mado Robin, Mady Mesple, Joan Sutherland, Natalie Dessay, Diana Damrau, Sumi Jo, Dilber, even Maria Callas. For a comparison of 10 famous renditions – including Canada's Tracy Dahl in spectacular voice - go to youtu.be/EQa2EpyKJJE.
 For a good laugh, look up American socialite and ersatz soprano Florence Foster Jenkins's version. youtu.be/w8kiMCeudLg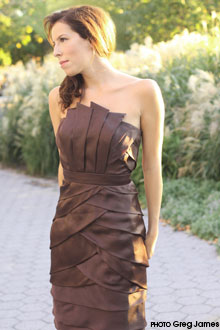 Fast-rising American coloratura Audrey Luna was catapulted to fame as Ariel in Thomas Adès's The Tempest, seen at the Met and Quebec, and soon in Vienna. I caught up with Luna by phone in Hawaii, where she was enjoying some well deserved down time after a busy season:
We look forward to hearing you in Montreal. Is this Lakmé your role debut?
AL: Yes, this will be my first. I've wanted to sing it for a very long time. So when I got the phone call, I was extremely excited to be able to finally do this role.
There's a video clip of your Bell Song on Youtube, beautifully sung by the way! Can you tell us a little about this performance?
AL: That was at a music festival about seven years ago, in an evening of arias. But I've always sung the Bell Song in auditions – for the longest time it was my opening aria.
Have you always been a high coloratura?
AL: As an undergraduate, I was just a run of the mill soprano. Then I went to a different school for my master's, and my new teacher heard in my voice something that (indicated) I could have an upper extension. We worked on it and within a week my upper register opened up and it's been there ever since. It's very easy for me to sing the high notes and the coloratura.
What is the highest note in your voice?
AL: It's a C above high C, although I haven't had to use it in performance – I'm trying to figure out how to put it in! In the Bell Song, it goes to an E in the middle of the aria, although there's an option to take it up to an A flat…I hope to do that.
This aria is often sung as a showpiece for the coloratura. How do you inject drama into it?
AL: It's actually extremely dramatic within the context of the opera. Lakmé's father is forcing her to sing against her will, so as to reveal her lover in the crowd. There's a lot of drama in the moment – I don't think you even have to try (to be dramatic)…
So many famous coloratura sopranos have recorded this aria. Do you have a favourite?
AL: I love Mady Mesple and Anna Moffo.
Do you have a favourite role?
AL: My favourite right now is Ariel in The Tempest. This role encompasses everything a performer can give. I got to dance, move my body, extend myself, do things that I've never been asked to do by a director. I love the challenge. That's what I love about a role – if I learn something from it and extend myself as a performer, it ends up being my favourite role.
Do you have other dream roles you hope to sing someday?
AL: Yes, I have a few dolls (Olympia) coming up in very exciting places. I've always wanted to sing Sophie in Rosenkavalier; and definitely Sonnambula and Marie in Daughter of the Regiment.
Have you ever thought, "What if I were a Wagnerian soprano?"
AL: No, not Wagnerian…a dream role that will never ever happen is Tosca! I just love that character, and her music. It's just never going to happen because it's not my voice type. Someday I'll probably sing a Violetta – that's the closest I'll get to something meaty. Oh, some of my favourite roles are tenor roles, but that's never going to happen (laughs).
Delibes: Lakmé, Opéra de Montréal, Sept. 21, 24, 26, 28. operademontreal.com
---
Version française...