Denis Gougeon: Happy is He Who ...

by Réjean Beaucage / September 1, 2013

---
After Claude Vivier (2007-2008), Gilles Tremblay (2009-2010) and Ana Sokolović (2011-2012), the Société de musique contemporaine du Québec (SMCQ) has chosen Denis Gougeon as the focus of their 2013-2014 Homage Series.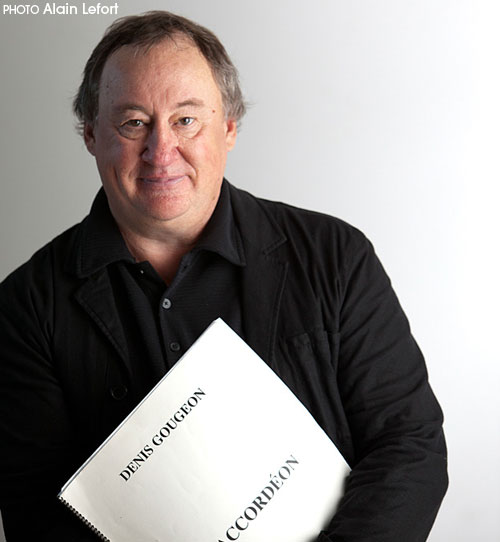 Prolific composer Denis Gougeon is constantly adding to his catalogue of works, which already numbers more than one hundred pieces for a wide range of configurations, from solo works to orchestral, from vocal to instrumental, from theatre (11 collaborations with Denis Marleau's Théâtre Ubu) to ballet and opera. Prior to accepting a professorship at the Université de Montréal in 2001, he was one of the very few Quebec composers able to live off his art. His music is admired not only by its interpreters but also by the public; he has received numerous accolades throughout his career, including SOCAN's Jan V. Matejcek Prize four times (given to the Canadian composer most often played in concert or on the radio).
The SMCQ's homage honours a composer with wind in his sails, as demonstrated by his recent works: TUTTI! (2013), a commission for the 30th anniversary of Toronto's Esprit Orchestra; Ah quelle beauté! (2012) for string quartet and actor, commissioned by the Molinari Quartet; Mutation (2011) commissioned by the Nouvel Ensemble Moderne and Opus winner for Creation of the Year 2011; and Toy (Music Box) (2010), for two bamboo flutes and orchestra, which won first prize at the Shanghai International Composition Competition. What's more, Gougeon's list of commissions shows no sign of tapering off.
Denis Gougeon was introduced to music through the guitar. "I taught myself guitar when I was 15 years old, classical guitar with Fernando Sor's music, the Carcassi method, etc. A year later I gave a full one-hour recital. I was completely captivated by the music," he explains. He studied humanities at the Cégep de Sherbrooke, but his guitar was constantly at his side, and after completing one year he transferred to the Ecole de musique Vincent-d'Indy in Montreal to begin undergraduate studies in musicology and classical guitar. "I wanted to understand the principles behind the music," he says. "My musicology studies revealed a natural talent for composition and a good ear. We were asked to create pastiches, which were so great because we had to imitate Fauré, Bach, Chopin; these imitations helped us understand their style, phrase structure, harmony, rhythm, etc."
The discovery of different ways of seeing music is crucial for the development of a composer who will create new works for such disparate ensembles as the SMCQ, les Violons du Roy, Molinari Quartet and the OSM, and who can write for the theatre, traditional Chinese instruments and elementary school orchestras with seemingly equal ease and success. "I like to work with performers," Gougeon explains. "This may be because my wife is a singer (Marie-Danielle Parent, soprano); I love the dynamic that develops with the performers for whom I am writing. Sometimes when I compose I set aside ideas that don't quite work for the composition at hand but which are good and may serve another piece down the road. Somehow I never end up using those ideas; my inspiration is always driven by my relationship with the performer in the moment."
"John Rea and Gilles Tremblay are two contemporary Quebecois composers whose attitudes and career development have influenced me a lot. Vivier is another; indeed, he has encouraged me from the very beginning of my career," says Gougeon.  There are a number of parallels between the music of Claude Vivier, which attracts a wide audience (making him one of Quebec's greatest international ambassadors of contemporary composers), and that of Gougeon. "I believe that music must be immediately accessible to the listener; we must not draw it out unnecessarily," he adds. Other characteristics can be traced to Gougeon's composition professors at the Université de Montréal: "André Prévost received one commission after another; it was extraordinary and I envied him for it; Serge Garant composed sparingly but was deeply involved in the musical community [he was a cofounder of the SMCQ] and served as a model to me in that regard." Gougeon was an organizer for the concert series Les Événements du Neuf (1978-1990): "Organizing concerts is hard work; it forces you to remain firmly in touch with international trends. It is a very rewarding experience and another way to interact with performers."
"After I found out that I was going to be honoured in this season's SMCQ Homage Series, Ana Sokolović [honoured 2012] warned me against composing this year, but I can't help myself," he exclaims.  A veritable Jack of all trades, passing from music for children (Le piano muet, with Gilles Vigneault) to music for the stage, from chamber music to orchestral works, Denis Gougeon always stays true to himself: "There is a personal stamp in what I do, but it is up to musicologists to define it. I believe there is also a certain quality, at least that's what I aim for. I try to infuse a quality in my music that keeps it from revealing all its secrets at once. I work hard to make my works seem simple while providing performers with material that excites them. That is where the joy lies for me, in that special relationship with the performers, when I see their eyes light up, or in the eyes of my composition students when something works! That, to me, is at the heart of it all."
Translation: Dayna Lamothe
Recommended Listening for Discovering the Music of Denis Gougeon
by Éric Champagne
Denis Gougeon's rich and diverse œuvre has its own signature. Here are some cardinal works for listeners to better appreciate his numerous creations.
Musical theatre and theatrical music
Gougeon is more than a composer – he is something of a theatre man in the domain of music. His taste for theatre naturally leads him to write for the stage. In his list of works are two operas (An Expensive Embarrassment and Hermione et le Temps) and two ballets (Emma B and Les Liaisons dangereuses) as well as musical fables aimed at young audiences (Le piano Muet, Planète Baobab and Alice au pays des merveilles).  Above all, it is Gougeon's work with director Denis Marleau that cements the theatrical characteristics of his œuvre. His participation in nine Théâtre UBU productions has allowed him to develop numerous tools of auditory expression: he clearly defines desired emotions, develops narrative techniques, plays with tension and release and diversifies his language to better serve the challenges of theatre.
This considerable experience with theatre is echoed in many of his concert works. By the composer's own admission, certain pieces are "instrumental tragedies", where the musical discourse feeds on an internal theatrical structure and its numerous inherent moments of tension and release. Works like Un train pour l'enfer (chamber orchestra and percussion ensemble) or even À l'aventure! (symphony orchestra) are also epics that lead the listener through a fantastical story expertly directed by the composer.
Poetry and a sense of drama
This sense of drama is transformed in different ways in other instrumental works. Take for example the short piece for solo flute, L'oiseau blessé. Toward the end of the piece, the performer must turn his or her back toward the audience. The score includes a short quotation from Papageno's air, an excerpt from Mozart's The Magic Flute. The effect is striking and surprises the audience every time! Another example: during a lecture given after the premiere of the concerto for accordion and chamber orchestra En accordéon, Gougeon stated that the final section of the work, featuring a cracking whip and "lion's roars", comes from the image of a circus with the soloist performing at its centre. If this assertion, made in a pedagogical context, was not included in the official program, it is nevertheless apparent that the idea of theatre seeps into Gougeon's instrumental music as a major structural element.
The theatrical aspect is also at the heart of his abundant and diverse vocal works. Little interested in traditional forms like lieder or mélodie, Gougeon's vocal works are full of generous lyricism and explore many dramatic paths. Le jeux des citations, for example, gives a dramatic character to various quotations and short adages chosen by the composer. Here, the music is direct and the emotional impact is real.
Other vocal works are developed as monodramas without any mise-en-scène. The line is thin between musical theatre and concert music, notably in La Femme au parapluie for soprano and clarinet, and Maouna for soprano and three instruments, two short scenes adapted from Michel Tremblay texts. Clere Vénus, a major work for soprano and ensemble, developed in the same way. Here, Gougeon set seven sonnets by French poet Louise Labé to music without necessarily making a song cycle, but rather a sort of nocturnal monodrama in which the work's poetic essence has a dramatic impact that is both structured and extremely sensitive. Gougeon's art can be described as a skillful juggling act of poetry and a sense of drama.
Playful Pleasures
Poetry is also present in unpretentious works. Une petite musique de nuit for guitar ensemble comes to mind; breaths of wind and the sound of crickets weave their way through this contemplative nocturne. Here, contemporary writing techniques are used primarily for their contribution to poetry and imagery.
Gougeon's music is essentially diatonic, consonant, and at once modal and tonal (one could say neotonal or even multimodal). The construction of sound scales, of "artificial modes", and their transformations are the basis of Gougeon's language. His writing technique is solid. It allows him to open harmonic and contrapuntal possibilities to otherwise simple, consonant material. The piece Mutation, for chamber orchestra, is a good example. It develops as variations – not traditional, but morphological – of a tonal harmonic sequence. The titular mutation transforms the musical object into an impressive kaleidoscope of instrumental colour and musical emotion.
In various chamber works (including Jeux de cordes for string quartet, Quatre inventions for saxophone quartet, and 4 jeux à 5 for wind quintet), listeners will feel a sly pleasure in the composer's constraining his writing to create a rich counterpoint and lively interaction among the musicians. Although they are expertly constructed works, these pieces posses a playful character and a sensibility that recalls the importance of the word play in the expression to play music. It's one word that this composer truly knows the meaning of – a fact eloquently proven by his music.
Translation: Rebecca Anne Clark
---
Homage Season: Some Essentials
The SMCQ will kick off the official homage season as part of Culture Days on September 22 at the Salle Pierre-Mercure (Montreal), while Walter Boudreau conducts Heureux qui comme… (Marie-Danielle Parent, soprano) and En accordéon (Joseph Petric, accordeon).
On December 8, at Tanna Schulich Hall (Montreal), pianists Brigitte Poulin and Jean Marchand present a Gougeon premiere as well as an arrangement of Claude Vivier's Pulau Dewata that Gougeon made for the occasion.
The Orchestre Symphonique de Laval (Alain Trudel) performs his music on November 5, the Orchestre Symphonique de Trois-Rivières on February 1 (David Hayes) and April 18 (Jacques Lacombe). The Orchestre 21 (Paolo Bellomia) does the same on May 17. However, the essential not-to-be-missed orchestral concert will be presented by the OSM under the direction of Long Yu on February 26 and 27. For the first time, audiences will hear the piece that won the International Composition Competition in Shanghai in 2010: Toy, for two flutes and orchestra, performed by the two original soloists, Quian Jun and Jin Kai.
---
Version française...