Industry News

by Shira Gilbert / April 1, 2013

---
 » Quebec-born theatre, opera and film director and theatrical producer Robert Lepage is the 10th Glenn Gould Prize Laureate. The biennial prize is awarded to a living individual for a unique lifetime contribution to the arts and carries a $50,000 award. Lepage has directed productions at the Metropolitan Opera, most recently a controversial Ring Cycle, as well as for opera houses in Japan, France, England, Spain and Canada.  His groundbreaking and influential productions, which often fuse diverse media, are mostly staged by his Quebec company, Ex-Machina. Nominated by the general public and chosen by an international jury, Lepage was described by Glenn Gould Foundation Executive Director Brian Levine as an "inspired selection." Lepage will name a young artist of his own choosing to receive The City of Toronto Glenn Gould Protégé Prize, worth $15,000. Lepage and his protégé will receive their awards at a gala ceremony in Toronto later this year. Past Canadian laureates include Leonard Cohen (2011) and Oscar Peterson (1993).
 » The University of Ottawa has announced that Israeli violinist and pedagogue Yehonatan Berick has been appointed Professor of Violin at the University of Ottawa School of Music beginning this summer. Berick maintains a busy career as a soloist and recitalist and has performed with the Quebec, Winnipeg, Haifa and Jerusalem Symphonies, among others. He moves to Ottawa after 11 years at the University of Michigan and 9 years at McGill University.
 » Beginning in the 2013/14 season, Robert Uchida becomes the new Concertmaster of the Edmonton Symphony Orchestra. Uchida spent the last seven seasons as Concertmaster for Symphony Nova Scotia. Uchida has held prior posts as Associate Concertmaster of the Rotterdam Philharmonic, and as Guest Concertmaster for the Vancouver Symphony Orchestra, the Royal Flemish Philharmonic, and the Radio Chamber Philharmonic of the Netherlands. 
 » A prolific conductor, composer and arranger with over 90 recordings to is credit, Charles Cozens will make his Cuban conducting debut this April, the first Canadian invited to conduct a Cuban symphony orchestra in more than 20 years. Cozens will appear with the 65-piece Villa Clara Symphony Orchestra in the provincial capital, Santa Clara, in a program titled La Danza, featuring music byChabrier, Fauré,Borodin and Bizet, along with two of his own compositions and his new arrangement, Homage a Piazzolla. Later this season Cozens will conduct the Regina and Winnipeg Symphony Orchestras.
 » Musicians in Montreal and Toronto as well as audiences the world over were deeply saddened by the sudden passing in February of oboist Washington McClain. Considered a pioneer in historically informed practice on the oboe, McLain played throughout the 90s with Tafelmusik Baroque Orchestra in Toronto, followed by Ensemble Arion in Montreal and Apollo's Fire Baroque Orchestra in Cleveland; he was in demand as a baroque oboe guest with period-instrument orchestras across the continent. An influential teacher, McLain was on the faculty of Indiana University's Early Music Institute in Bloomington.  In addition to his brilliant musicianship, McLain is remembered by his colleagues for his gregarious nature and cheerful, sunny disposition. He was 52.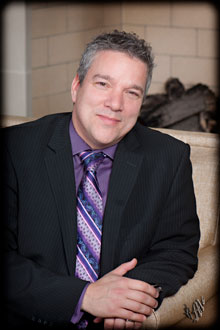 » Montrealer Jacques Marquis has now been named president and CEO for the Van Cliburn Foundation, where he has been serving as interim executive director since September 2012. Well known in music circles in Montreal, Marquis was the executive and artistic director of Jeunesses Musicales Canada from 2002 to 2012 and was instrumental in establishing the Montreal International Musical Competition as its executive and artistic director, overseeing 11 editions of the competition. He previously held the role of chief operating officer for the Orchestre Métropolitain. The Fourteenth Cliburn Competition, a quadrennial event and one of the world's most prestigious piano competitions, takes place from May 24 to June 9 of this year.  Pianist Van Cliburn, a hero of the Cold War and one of the few household names in the sphere of classical music, died in February at age 78.
 » Soprano Leila Chalfoun, founding president and artistic director of FestivalOpéra de Saint-Eustache, has been awarded the prize for the Femme Arabe en Arts et Culture at the seventh annual Gala of Arab Women of Quebec. Chalfoun also founded the Jori Meti Agency, which represents artists from the opera.
The National Music Centre (NMC) has broken ground on its new 160,000-square-foot building in downtown Calgary. Projected at a cost of $150 million and with a scheduled completion of 2015, the new Centre will house the Canadian Music Hall of Fame and the Canadian Country Music Hall of Fame Collection. It will also include performance spaces, recording studios, broadcast facilities, the Rolling Stones' mobile recording studio, and artist-in-residence programs. NMC currently reaches more than 75,000 people each year through its collections and programs.
 » Toronto's innovative Queen of Puddings Music Theatre has announced that it will conclude operations at the end of this season. Founded by co-artistic directors Dáirine Ní Mheadhra and John Hess, the company has been a leader in the creation of original Canadian chamber opera and music theatre and has maintained a deficit-free track record over its 20 years in existence. Landmark productions for the company include the award-winning Svadba-Wedding (2011), which continues to tour internationally, and Beatrice Chancy (1999, Rolfe/Clarke), the first opera about black slavery in Canada, which served as a launching pad for the career of soprano Measha Brueggergosman. Ní Mheadhra was recently awarded the Canada Council Molson Prize in the Arts in recognition of her achievements and ongoing contributions to the cultural and intellectual life of Canada.
REQUIEMS ... recent deaths in classical music
Risë Stevens
American mezzo-soprano, March 20 at age 99
Van Cliburn
American pianist, February 27 at age 78
Michael Rhodes
American opera singer, March 20 at age 89
Washington McLain
Principal Oboist of Arion Baroque Orchestra, February 24 at age 52

William Bennett
Principal Oboist of the San Francisco Symphony, February 28 at age 56
Wolfgang Sawallisch 
Formerly Principal Conductor of the Vienna Symphony, Music Director of the Bavarian State Opera, and Music Director of the Philadelphia Orchestra, February 27 at age 89