Spotlight on Dead Man Walking

by Joseph So / February 1, 2013

---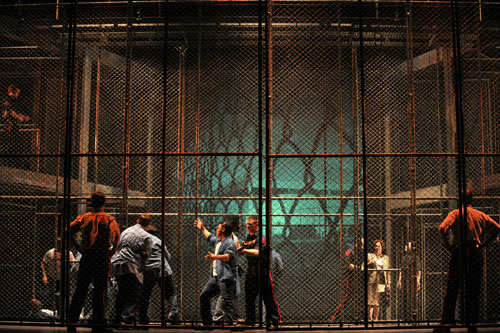 Dead Man Walking at the Fort Worth Opera.

Since its premiere at the San Francisco Opera on October 7, 2000, Jake Heggie's Dead Man Walking has become arguably the most successful of all 21st century operas. It opened to a packed house and the work received almost uniform praise by audiences and critics. There have been many revivals in the U.S and worldwide in its twelve-year history. Just in the past year and a half, DMW was staged in Dresden, St. Louis, Tulsa, and now in Montreal and Eugene, Oregon. Perhaps more than any other contemporary opera, Dead Man Walking brings into sharp relief that this art form is much more than just entertainment. Opera at its best serves as a form of social commentary, to inform, illuminate, and bring into focus contemporary issues that concern us all. Perhaps it could even play a role in social and political change. Based on Sister Helen Prejean's book of the same name, DMW tells the story of her experiences with Joseph De Rocher, a man convicted of rape and murder, who is on death row. In his final days, De Rocher reaches out to Sister Helen for spiritual advice, and she tries to persuade him to confess and seek redemption.

DMW has come to represent a powerful statement against the death penalty. Sister Helen was inspired to write the book from her experience in the early 1980's corresponding with two prison inmates on death row. After their execution, Prejean became a strong advocate for the abolition of capital punishment. She also founded Survive, an organization that offers counselling to the families of victims of violence. Her book was subsequently made into a highly praised Hollywood movie starring Susan Sarandon and Sean Penn, as well as this opera. DMW confronts us, makes us probe the dark recesses of our psyche; its contemporary resonance has never been greater, given the rise of gun violence in America today and the killing of many innocent people in the process. In an interview on PBS Frontline, Sister Helen talks in depth about the essence of her work and her belief: www.pbs.org/wgbh/pages/frontline/angel/interviews/hprejean.html

DMW is the first opera for both composer Jake Heggie and playwright Terence McNally. As the librettist, McNally masterfully reduces Prejean's book to the essentials for storytelling while remaining true to its emotional core. The text is in very accessible American English, and Heggie's musical idiom is powerful, accessible, and has a strong sense of immediacy, with elements of jazz and rock incorporated into the score. It is to their great credit that an opera with heavy themes the likes of rape, murder, and capital punishment can actually fill an opera house with cheering audiences. The real-life Sister Helen has a great sense of humour, and the opera reflects that. There are also some two dozen solo roles in the opera, and each character is finely etched.

Montreal Opera's production comes from Fort Worth Opera and it stars an all-Canadian cast, led by mezzo-soprano Allyson McHardy in the pivotal role of Sister Helen Prejean. This character is on stage during practically the whole opera, and her music is vocally challenging. Baritone Etienne Dupuis has the physicality and voice to do justice to the role of Joseph De Rocher. Mezzo Kimberly Barber, who sang Sister Prejean in the Canadian premiere at Calgary Opera, takes on the role of the mother, originally created by Barber's good friend and colleague, mezzo Frederica von Stade.

For a contemporary opera, DMW has the distinction of having not one, but two commercial recordings, both taped from live performances – the 2000 premiere from San Francisco Opera starring mezzo Susan Graham on the Erato label, and the 2011 production from Houston Grand Opera on Virgin Classics, with an equally wonderful Sister Prejean in mezzo Joyce DiDonato. The conductor for both recordings is Patrick Summers. Canadian soprano Measha Brueggergosman brings her inimitable artistry to the role of Sister Rose in the Houston production. Also significant is American mezzo Frederica von Stade, who created the role of De Rocher's mother in the SFO premiere. She is a long-time champion of Jake Heggie, who has composed several works for her. One can only speculate that if the opera were to have happened ten or twenty years earlier, von Stade might well have sung Sister Helen. However excellent these two audio recordings are, it is fair to say that given the nature of the story and the almost unbearable dramatic tension inherent in the work, one really misses the visual element. Hopefully a DVD will materialize in the future.
---