Allyson McHardy on Dead Man Walking and Sister Helen

by Joseph So / February 1, 2013

---
Flash version here.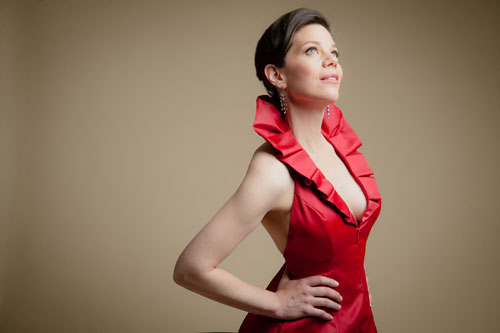 In the competitive world of opera, a singer must have a beautiful voice, exemplary musicianship, a striking stage persona, and the ability to take on any project and make it memorable. Canadian mezzo Allyson McHardy has all these qualities and more. From Handel to Honegger, she brings a gleaming voice and communicative power that have made her a standout among the new generation of singers. She's now adding an important role to her growing operatic repertoire, that of Sister Helen Prejean in Jake Heggie's Dead Man Walking, arguably the most successful operatic creation of the 21st century.
Have you sung a lot of contemporary music?
My first forays were at the beginning of my career. At the Banff Centre, there was John Metcalf's Kafka's Chimp, and I did Sirens and Mad for All Reasons with Queen of Puddings, mostly contemporary music theatre with smaller orchestras.
What are the challenges of singing contemporary repertoire?
You know, the process is the same. You start with the story, the words. In terms of singing, the vocal extremes required (in contemporary music) aren't really so different. There are lots of vocal extremes in Rossini too, that last aria in La cenerentola… whew! I would say Sister Helen is more about emotional than vocal extremes; is it challenging vocally? Absolutely. The sheer length of it, and the tessitura is high. I am on stage the whole time.
Let's talk a little about the creative process, and the character of Helen – how do you approach an extremely serious subject like Dead Man Walking?
I start with the libretto, the book, and the movie. The details are different in the book versus the opera. I understand the librettist Terence McNally gave Jake Heggie the libretto to "do what you want, cut what you like." It shows the writer's maturity, as the musical mind often differs from the literary mind. What works with spoken words doesn't always work in music. I go in with all this information from the research, learn the notes and work on memorization, figuring out how to sing effectively, understanding the journey of the character. I don't have the answers yet. It may be a silly analogy, but it's like making tea. You get the tea, put it into a tea ball, boil the water, heat up the teapot, pour it in, let it work, and in a while you have a good cup of tea! I'm trying to stay open to what it's going to tell me.
Given that Dead Man Walking is about faith, love and redemption, where do you draw your inspiration for this role?
I would say I am a faithful person. I was raised in a Presbyterian household, and as a child I had an incredibly positive experience with the church. Do I go to church? Don't tell the minister but I haven't been in awhile! Forgiveness is a big theme in this opera, and the forgiveness he's seeking is far beyond what I hope would ever be required of me. When Sister Rose asks Sister Helen, "Have you forgiven him?" her reply is, "Of course I have… how can you even ask that?" before realizing that maybe she hasn't. She says to him at the end, "I'll be the face of Christ for you; I will be the one who loves you in that moment." She thinks that's her role, but maybe she hadn't realized that she had to forgive him for what he had done.
Why do you think this opera has such contemporary resonance?
In her book, Prejean points out that you don't see rich people, and rarely do you see white people, on death row. It's about crime and punishment, and about poverty versus affluence. The scene with the mother and what she goes through – we don't see very much of that (reported) in the media; she loses her son too. We also see how the families of the murdered children suffer. Helen didn't set out to help this man through his journey on death row, she sort of stumbled into it. The parents say to her, "You never came to comfort us, to counsel us," so all she can say in that scene is, "I'm sorry…how could I possibly know what you're going through?" When the audiences leave, they're going to be thinking the many things that news reports don't provide: the suffering of the parents, the suffering of Joe's mom, Helen's struggling to help this man. Helen is still alive and talking about these issues.
With this opera, you're following in the footsteps of two great mezzos, Susan Graham and Joyce DiDonato. What made you decide to take this on? How do you find the music?
I'm excited about the challenge of learning and singing this. The music? There's so much blues in this thing – there are moments of Copland and Bernstein. It's very American, yet I hear moments of Dialogues of the Carmelites…I don't know why it is!
Would you say Jake Heggie writes well for the voice?
Yes, definitely. You know, I enjoy a jagged musical line! I think it's fun, very dramatic. His stuff is very Bernstein. There's a funny scene when they both sing Elvis Presley snippets. To me, Dead Man Walking is a very genuine, very honest work. I don't feel I'm being manipulated in my response as a musician.
You've sung many great mezzo roles already in your still young career – Rosina, Angelina, Carmen, Dalila. Do you have any "dream roles"?
I would love to sing Octavian! And Sesto – I did Annio at the Paris Opera, but I'd much rather sing Sesto. I was seven month pregnant when I sang Dalila…. I was good too. Bring it on, I'm dying to do it again (laughs)!
---
In Dead Man Walking and Jeanne d'Arc au Bûcher, OSM, May 21, 23, 28, 30.
> www.allysonmchardy.com