Industry News

by Shira Gilbert / February 1, 2013

---
Flash version here.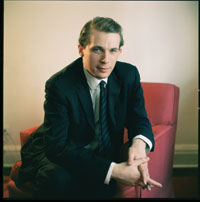 Legendary Canadian pianist Glenn Gould will posthumously receive a Lifetime Achievement Award from the Recording Academy as part of this year's 55th Annual Grammy Awards. Stephen Posen, the sole executor of the Glenn Gould Estate, will be attending the ceremonies to accept the award. The other recipients of a 2013 Lifetime Achievement Award honor are Charlie Haden, Lightnin' Hopkins, Carole King, Patti Page, Ravi Shankar and the Temptations.
At last month's Golden Globe Award ceremonies, Toronto composer Mychael Danna won Best Original Score in a Motion Picture for Life of Pi, directed by Ang Lee and based on the prize-winning novel by Canadian author Yann Martel. Danna's score features a wide range of instrumentation including mandolin, accordion, Persian ney, sitar, bowed sarangi and bansuri (reed flute) with orchestra. Danna is also nominated for two Oscars at the February 24 Academy Awards, for Best Score and for Best Original Song, along with lyricist Bombay Jayashri.
The Montreal Arts Council has announced nine finalists for the 28th Grand Prix du Conseil des arts de Montréal. The nine organizations, each of which will receive a $5,000 bursary, include: Association pour la création et la recherche électroacoustiques du Québec, 7 doigts de la main, Art actuel 2-22, Wapikoni Mobile, Les Ballets jazz de Montréal, Terres en vues, Association des libraires du Québec, the Bozzini Quartet, and Festival TransAmériques. The winner, to be announced on March 19, will receive a $25,000 prize.
Contralto Marie-Nicole Lemieux makes her La Scala debut as Mrs. Quickly in Verdi's Falstaff at the end of January. Following performances in Milan, Lemieux reprises the role throughout March at l'Opéra de Paris.
Composer Denis Dion's Presso has been chosen the winning piano work in the first edition of the CMC Music Competition Québec, presented by Quebecor. The initiative by Centre de musique canadienne au Québec aims to enrich the repertoire for young musicians and to contribute to the promotion and awareness of Quebec's contemporary music composers. The new work will be the set piece for young pianists in the competition finals, which take place in June, and will be part of CMC Québec's new collection of piano pieces distributed to young music students throughout Quebec.
Canadian tenor Marc Hervieux made news in January when he announced that he would go on "vocal-chord strike" leading up to Opéra de Montréal's new production of Johann Strauss Jr.'s Die Fledermaus, where heleads an all-Canadian cast. Hervieux was protesting Opéra de Montréal's ad campaign for the production, which features professional models instead of the company's singers. Opéra de Montréal argued that its ad campaign, in place since 2006, was responsible for a 45% increase in ticket sales in the under-30 demographic; ultimately, the company caved and produced a new poster featuring Hervieux. For an analysis of the controversy, see Daniel Turp's blog at danielturpqc.org/bloguelyrique.
International Conductor Shuffle
Simon Rattle will step down as chief conductor of the Berlin Philharmonic when his contract expires in 2018, the orchestra announced. Rattle, who came to Berlin in 2002 after 18 years as conductor of the City of Birmingham Orchestra, in England, made the announcement well in advance in order to give the orchestra time to find a new conductor. Meanwhile, Valery Gergiev plans to amicably part ways with the London Symphony Orchestra at the end of his contract in 2015. A new appointment with the Munich Philharmonic Orchestra was recently confirmed.
Send your news for inclusion in future columns to shira(at)scena.org.
---