Étienne Dupuis: the Philosopher

by Wah Keung Chan / February 1, 2013

---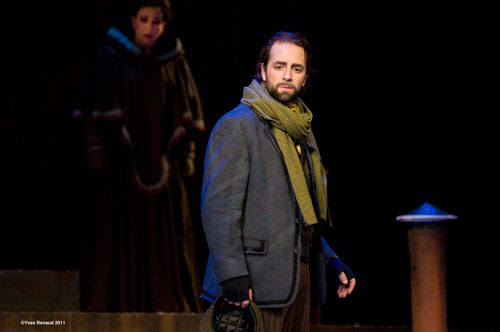 Étienne Dupuis as Marcello in La Bohème. Photo Yves Renaud.
Fortune is smiling on Canadian baritone Etienne Dupuis. Already embarked on an international career in France and Germany with a recording contract on the horizon, 33-year-old Dupuis is flying high, being tapped by the Opéra de Montréal to take on the male lead in Jack Heggie's Dead Man Walking. When you meet him, Dupuis seems happy-go-lucky and willing to talk for hours. And it must not be hard to feel lucky when, as Dupuis tells it, an audition three years ago at Monte Carlo Opera for Schaunard in La bohème led to word-of-mouth referrals to the lead in The Barber of Seville at the Berlin Deutsche Opera and then The Pearl Fishers at the Munich Opera, opposite Diana Damrau and Joseph Calleja. Now, he rarely needs to audition.
Beginnings
Being a musician came naturally for Étienne, who at age four took on the piano – to the Repentigny family's delight. "I had perfect pitch," said Dupuis, "and my mother always wanted a musician." Practicing, however, wasn't his forte, and Dupuis switched from classical to jazz and pop music. In Cegep, piano teacher Lorraine Desmarais chided Dupuis for not practicing but was amazed at how he lit up to an audience. In his second year, Dupuis changed to classical singing. "I wanted to learn to sing better, and I auditioned by imitating Pavarotti," he explained. Dupuis had easy high notes, so his teacher tried unsuccessfully to make him into a tenor. His breakthrough came at a Christmas concert, where, he said, "I felt someone had turned the light switch on and it felt so comfortable. I never doubted myself afterward."
Dupuis was still an opera novice by the time he began his studies at McGill, but he went to the music library to listen to two or three new operas every week. "By my third year, I made the finals of CBC Radio's Opera Quiz with Stuart Hamilton," said Dupuis proudly.
Dupuis was still an opera novice by the time he began his studies at McGill, but he went to the music library to listen to two or three new operas every week. "By my third year, I made the finals of CBC Radio's Opera Quiz with Stuart Hamilton," said Dupuis proudly.
"McGill was great for seeing, hearing and doing the wrong things," said Dupuis. "What is the right way to breathe, stand up, act and react with colleagues? It's a challenge to deal with colleagues, not just those on stage. As a first-year student, we had to be stage hands, and you see how it is to be treated like you are not important." Dupuis found teacher Winston Purdy well suited for him. "He is very aware of vocal health," Dupuis said. When you're young, you try to sing too loud, too quickly."
Dupuis then spent two years at Opera de Montreal's Atelier lyrique, where he studied with César Ulloa, who advised him to try out for Joan Dornemann's summer International Vocal Arts Institute in Tel Aviv. "It's intense and every singer there is talented. You really have to compete against yourself, and not others." Dupuis went to Israel twice. The following year, the Canadian Vocal Arts Institute was born, and he profited from that program twice. A 10-day coaching session with Craig Rutenberg at Vancouver Opera was another key moment. "Each of the eight singers sang everyday for 75 minutes and we learned so much," Dupuis said.
Like most singers coming out of universities and training schools, Dupuis's voice hit a ceiling. About four years ago, it started to bloom. "It's like when you train or lose weight," said Dupuis. "You move forward and then you hit a plateau and then you start losing again. We are told at school that the body changes. Women's bodies get close to a definite sound at 26 and guys at 30. Then there is that day, all of a sudden, when it works most days, with more endurance, and the reaction of others is different, but you don't feel different. You start doing things that you always wanted to do and now you know you can do it, you can soar. When I hit 30, I felt that people started to take me more seriously."
Dupuis is quite philosophical, "Insecurity is your worst enemy." His advice to students is to keep their filters on: "Don't fall in love with your teacher. Don't keep all the advice you receive. Process it and flush it. Think for yourself."
Dupuis's first big break was the role of Johnny Rockfort in the 2008 operatic version of Luc Plamondon's Starmania, which harkens back to his pop music beginnings. He's now in discussions with Plamondon for a future project. "I also write my own stuff, a bit of pop and folk," said Dupuis, who will present a concert on February 8 with guitar, piano and a little band. "There is no reason why I couldn't do both. It's a different way of singing; it uses the same breathing, but I don't push myself like in opera. It's more about the text."
A self-professed romantic, Dupuis admits to being a people person. "I look at people and I don't see the surface first, I see inside," said Dupuis. "I don't care about getting the biggest applause, I care about people being enthusiastic about the show, the effect that it has on you. If I wasn't an opera singer, I would like to write books, make movies, have conversations, and help people. My goal is to make people live and experience something."
It's that sense of artistic integrity and teamwork that gets Dupuis rehired. Montreal audiences have seen him recently as John Sorel in Menotti's The Consul, Marcello in Puccini's La bohème and Valentine in Gounod's Faust. "I like to be excited by offers I didn't think about, like working with dear colleagues or at a location I haven't been to."
Dead Man Walking
This season, Dupuis could have been casted in any of the Opera de Montreal's productions, so Michel Beaulac's offer of Dead Man Walking came as a complete surprise – and somewhat ironic, as the original live recording was among the prizes Dupuis won at the opera quiz.
Besides the challenge of singing while doing 25 pushups, requiring Dupuis to start pumping iron, the role is one fraught with emotion. "I cannot imagine myself being in that situation," said Dupuis. "It's the day of my execution and it's the last time I get to talk to my mom and she won't hear the truth. Sister Helen gets it out of him. He's broken and admits it; he finally yells it out. Every time I read that scene, I cry. It will be a challenge at that point not to get so wrapped up with emotion that you can't get a sound out."
One of Dupuis's favourite moments is a tiny arietta where his character asks Sister Helen if she's ever been with a man. "He recalls that he's by the lake with a woman, and sings 'Everything is going to be all right' in a soft voice," said Dupuis. "It's very interesting." What is the moral of the story? "The question at the end is, 'Should he be killed or not.' "
"Being someone else, giving meaning to words by putting them to music, and using music a certain way is the ultimate. I like playing the mean evil guy because it's so far away from who I am," Dupuis concluded.
---
Étienne Dupuis et invites, Lion d'Or, Feb. 8,
› reservationem(à)radio-canada.ca
Dead Man Walking, March 9, 12, 14, 16,
› operademontreal.com
---
Version française...
---