Spotlight on The Flying Dutchman

by Joseph So / November 1, 2012

---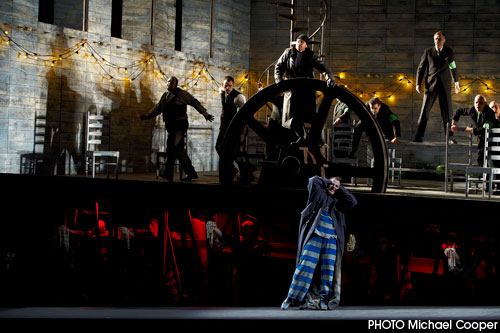 Given that the 2012-13 season coincides with the 200th anniversary of the birth of Richard Wagner, his operas figure prominently on the agendas of many opera companies. Opera de Montréal is offering The Flying Dutchman for a four-performance run. Based on statistics from 2007 to 2012, Dutchman claimed the top spot as Wagner's most popular work with 173 performances worldwide, beating out Die Walküre (153), Das Rheingold (145) and Tristan und Isolde (144). In 2012 alone, there are 93 planned performances of Dutchman in 18 cities, with the vast majority in Europe.
OdeM is the only North American house staging this work, with a very impressive cast, led by the beautiful and warm bass-baritone of Thomas Gazheli as Dutchman. Jugendlich Dramatischer Maida Hundeling is Senta, Bayreuth tenor Endrik Wottrich is Erik, and bass Reinhard Hagen sings Daland. All four principals are well represented on Youtube. Rounding out the cast are Canadian tenor Kurt Lehmann (Steersman) and Bulgarian-Canadian mezzo Emilia Boteva (Mary). Canadian conductor Keri-Lynn Wilson is at the helm.
Premiered in Dresden in 1843, Der fliegende Holländer marks the composer's first genuine success after his three earlier works (Die Feen, Das Liebesverbot, Rienzi) failed to enter the standard repertoire. In his autobiography Mein Leben, Wagner wrote that he got the idea for Dutchman during a particularly difficult crossing of the Baltic Sea from Riga to London in 1839. Buffeted by violent storms, the one-week journey stretched into a three-week ordeal. Wagner was also going through a particularly difficult period in his personal life. Heavily in debt, he was escaping Riga with his wife Minna to avoid creditors. Wagner also got his inspiration from Heinrich Heine's Aus den Memoiren des Herrn von Schnabelewopski, in which a captain is condemned to roam the seas for eternity, a fate from which he can only escape through the love of a faithful woman. This "Redemption through Love" motif is a recurring theme in Wagner's Tannhäuser and Lohengrin.
Compared to Wagner's earlier operas, the novel harmonic language of Dutchman represents a departure from the more formal and traditional Italian grand opera style. Here Wagner finds a path that is uniquely his own, a style that continued to evolve throughout his creative life. Wagner stipulated that Dutchman be performed without an intermission. It typically lasts some two and a half hours, depending on tempo and allowances for short pauses necessitated by scene changes. The length is similar to Das Rheingold, the Prologue/Act One of Götterdämmerung, or Act Three of Die Meistersinger. This length is considered to be the maximum time a typical audience member can be expected to sit without succumbing to the call of nature. In the not too distant past, Dutchman was often staged in three acts with two intermissions, ostensibly to give the singers a rest. In recent years however, performances given without a break have become more or less the norm.
With its curious mixture of hyper-Romanticism and Supernaturalism, Dutchman is a prime candidate for the Regietheater treatment. Among noteworthy productions in 2012, the Jonathan Kent staging at the English National Opera framed the whole story as Senta's dream, an approach that actually has had various iterations in seasons past. More radical was Jan Philip Gloger's production in Bayreuth, with Canadian soprano Adrianne Pieczonka as Senta. With the action shifted to the present day, Gloger frames this piece as a social commentary on the excesses of contemporary capitalist society. As is often the case in Bayreuth, the reception of the production was largely negative, while musically it was ecstatically praised. OdeM has chosen the 1996 Canadian Opera Company production, originally directed by Christopher Alden and now restaged for Montreal by Marilyn Gronsdal. The production gives a strong nod to German Expressionist cinema. The unconventional set consists of a giant tilted box greatly enhanced by lighting effects that are at once atmospheric and oppressive, underscoring the turbulence of the sea and the emotional turmoil of the characters. It suggests that everyone is trapped in a nightmare from which there is no escape. With the striped prisoner garb and occasionally robotic movements of the chorus, it can be unsettling. Without giving too much away, the ending is significantly restaged. It created quite a stir at its COC premiere, and continues to generate divided opinions with each revival. Montreal audiences will likely find it provocative and challenging to most assumptions about this Wagnerian masterpiece.
---
Discography
One of the most frequently recorded of Wagner operas, there are over thirty commercial, private, studio, and live recordings of The Flying Dutchman. Sadly some are out of print, but given that we are in the internet age, used records or even sound files of these performances can usually be found somewhere. From the earlier generation, the great Hans Hotter (1944, conducted by Clemens Kraus) and Dietrich Fischer-Dieskau (1959, conducted by Franz Konwitschny) gave estimable performances as the Dutchman, but neither production had a particularly distinguished Senta. Canadian George London sang a deeply felt Dutchman even if he was, vocally, slightly past his prime. His Senta was the incandescent Leonie Rysanek (1961 RCA). The 1961 Philips recording live from Bayreuth had the fine Dutchman of Franz Crass opposite a 21-year-old Anja Silja as an exciting Senta, although the role was much too heavy for her. In the Solti recording from 1976, British bass-baritone Norman Bailey sang Dutchman with a nice tone but was dramatically inert. The 1981 Herbert von Karajan recording benefits from the excellent Erik of the late Peter Hofmann, as well as a fine Dutchman in José van Dam. A memorable live recording (issued as CD and DVD) was captured in Bayreuth in 1985, with American bass Simon Estes as a terrific Dutchman, and he had the benefit of superb colleagues in Lisbeth Balslev (Senta), Robert Schunk (Erik) and Matti Salminen (Daland). Also competitive is a 1994 studio version on Sony starring singers in their prime – James Morris (Dutchman), Deborah Voigt (Senta) and Ben Heppner (Erik), under the baton of James Levine. Finally, one mustn't forget the wonderful and touching Senta of Hildegard Behrens, in a 1991 studio recording conducted by Christoph von Dohnányi for Decca.
---
Version française...
---