Philippe Sly: A New Star

by Renée Banville / September 1, 2012

---
Flash version here.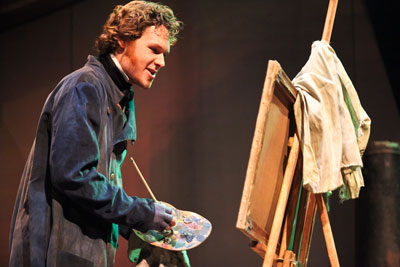 Philippe Sly in La Bohème. Photo Adam Scotti.
With his superb voice, leading man good looks and astounding charisma, bass-baritone Philippe Sly has rapidly seduced a considerable part of his Montreal International Musical Competition audience. Yet it still came as a surprise when the young singer walked away with almost all of the prizes.
This last year has been very fruitful for the 23-year-old artist. He was one of the 2011 winners of the famed Metropolitan Opera National Council Auditions, Radio-Canada's 2012-2013 "Révélations" in the classical music category, and the Radios francophones publiques' Young Soloist prize winner. For the MIMC, Sly picked different styles of works and sang them with restraint, hoping that his personality would shine through. He even closed his performance on a meditative note with an excerpt from Bach's St. Matthew Passion.
Voice and body language
When he was growing up in Ottawa, with a mother from Quebec's La Tuque and a father from Ontario's Gananoque, the singer was always fascinated by the combination of voice and body language. He was a showman from an early age. Dressed in black clothes, a hat, and gloves, he sang and danced like his idol, Michael Jackson. By age seven, he studied theatre as well as music while learning opera, but it wasn't until his studies at McGill that he immersed himself completely in the fabulous world of performing arts. Learning cinema had also fed his interest in the stage. Every Friday, the Sly children had to watch a movie their father had chosen and comment about it. He still remembers to this day how the baritone voices of Orson Welles and Laurence Olivier reciting Shakespeare inspired his imagination: it was "music to his ears."
The evolution of the singer and the actor
Philippe just completed his bachelor's degree in vocal performance. "My voice professor at McGill, Sanford Sylvan, is like no other. His approach is different with each student. Without imposing his method, he helps singers discover their personality and their voice's natural sound." When he started, four years ago, his vocal register alternated between counter-tenor and bass. The following year, he played Nick Shadow, the baritone in Stravinsky's The Rake's Progress, an enjoyable but demanding role. Critic Claude Gingras noted about the newcomer that "a performer broke from the pack and made the entire show worth seeing: Philippe Sly as Nick Shadow, donning a tricorne and shades and moving with the speed of a snake. The baritone's voice and composure on stage are that of a seasoned professional. Astonishing." Next, he played Marcello in La Bohème, a major challenge for him.
As soon as he walks on stage, it is difficult not to notice the importance he attaches to body language, which he carefully observed in theatre productions, movies, and on YouTube. "Every movement is discernible in films, which is not the case in theatre and opera," he said. "Managing to express an intended message by just raising an eyebrow requires a lot of concentration. There are no shortcuts. Whatever you've been taught, you have to always spend some time doing personal research."
Despite the experience he has gained with the Canadian Opera Company Ensemble Studio, Philippe prefers being conservative with regards to repertoire. He would first choose Mozart, Handel, Britten and Donizetti before Verdi. He dreams of one day playing the fleeting role of Don Giovanni, hoping to understand its particularities, as well as that of Billy Budd. In the meantime, Philippe will be part of the cast from Das Labyrinth at the Salzburg Festival, this summer and will make his debut with the San Francisco Opera in June 2013 in Mozart's Così fan tutte as Guglielmo. This nascent career looks promising!
Translation: John Delva
TO COME
Philippe Sly will record his first album in September with pianist Michael McMahon for Analekta Records. Among the pieces will be Dichterliebe; Quatre Poèmes d'après l'Intermezzo d'Heinrich Heine by French composer Guy Ropartz, based on the same Lyrisches Intermezzo by Heine that inspired Schumann; Ravel's Don Quichotte à Dulcinée, and Three Tennyson Songs, composed for Sly by his friend, the English composer Jonathan Dove. A second CD, of Rameau's Cantatas with soprano Hélène Guilmette, harpsichordist Luc Beauséjour and a small ensemble will follow the version performed in concert on September 30 at Bourgie Hall.
---
Version française...
---