Celebrating Kenneth Gilbert

by Philippe Gervais / June 1, 2012

---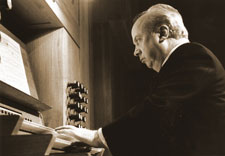 McGill University's Schulich School of Music is closing its Year of Early Music with a fresh initiative: "Autour du clavier d'autrefois: The Legacy of Kenneth Gilbert," a conference in honour of the professor emeritus. Gilbert's story is astounding. Born in Montreal in 1931, he went to Europe early on to discover the harpsichord and historic organs, of which he became a leading expert. He has held positions in the best schools, including the Paris Conservatory. Gilbert has achieved what very few have by combining his talent as a stellar composer with a successful career as a researcher and pedagogue. In addition to having recorded approximately fifty albums, including the pivotal The Well-Tempered Clavier and The Art of Fugue, he edited Scarlatti, Couperin, Rameau and d'Anglebert—gruelling work of which today's harpsichordists are enjoying the fruits. In 1959, as an organ specialist, he supervised the construction of the first instrument in Canada with mechanical tracker action, the Beckerath organ that is now installed in Westmount's Mountainside United Church. He also began collecting old harpsichords, such as a magnificent Italian one signed "FA" and dating back to 1677, which he is lending to McGill University. He sees musical instruments as precious links between times: his Blanchet-Taskin harpsichord, on which he has performed most of his Bach works, was used by Mozart in Paris and will be serviceable for a few more decades if not centuries.
Gilbert is not only a distinguished specialist, but also a courteous and modest man without any form of pedantry. He is a sight to behold in the 1990 Michel Follin short film, recently released again by Harmonia Mundi as part of the Private Music Lessons series. Gilbert, with meticulousness and discretion, teaches Olivier Baumont to examine works with respect to style while still employing the freedom necessary to create a vibrant interpretation. What makes him the most proud, he says, is seeing how all his protégés evolved differently and how they rapidly learned to develop their individual personalities. Throughout three concerts, the Montreal conference will provide the opportunity to prove this claim with performances by five of the master's students: Luc Beauséjour, Hank Knox, who is well known by the Montreal audience, English organist David Ponsford, and harpsichordists Olivier Baumont and Davitt Moroney, this being Moroney's Quebec debut. The event will take place from June 15 to 17 and comprises about twenty events, including a few in French.

---
514 398-8933 or www.music.mcgill.ca/kgc
Translation: John Delva
---
Version française...
---