Tim Brady premieres his 3rd symphony

by Crystal Chan / June 1, 2012

---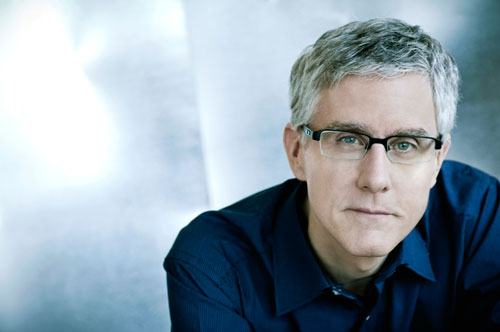 The key to composing, says Tim Brady, past Prix Opus "Composer of the Year" and current Canadian New Music Network president, is knowing when not to compose. "A lot of people on the planet have written music, and if I'm going to write some more music I have to be convinced that this music really, really needs to be written," he explains. He tries to tap into "the music that uniquely reflects what I am and what I hear and is not just the music that gets grants, wins prizes, gets on the radio." Only if an idea refuses to go away does he pay heed.
This might explain why his pieces gestate for so long. This June, Bradyworks—the ensemble dedicated to playing his works—and VivaVoce will premiere his third symphony, Atacama! – Modern Spanish Air(s), which will be recorded by ATMA for release next year. His first symphony came out on disc back in 2004, and Atacama!'s first movement is a piece Brady wrote for VivaVoce in 2007. He's already thinking about symphony no. 9. Working so far ahead allows pieces to not only mature but to be shaped to fit into his larger œuvre. The symphonies, for example, will be written as a cycle that invites listeners to draw connections between the works.
They also play with the form. Brady is fascinated with "the idea of a large scale narrative structure that creates this sense of unity, time and purpose without telling a specific story"—how he describes a symphony—but, for example, only the fourth symphony is scored for orchestra. Atacama!'s second movement includes drum kit.
Although it doesn't tell a specific story, Atacama! is based on a book aptly titled Symphony by the Chilean-Canadian poet Elias Letelier. "Elias uses this very large, dry, desolate desert as a metaphor for what life was like under General Pinochet," Brady explains. He was drawn to the texts within seconds. "They just seem so musical to me, the choice of the words, the structure of the poems, the sentiment," he says. It was Symphony's turn: Brady has around 70 poetry books that he collected as possible inspirations; he would often peruse used bookstores and buy anything that caught his eye.
His pieces are also a long time in the making as he works on so many things at the same time. In April Robert Uchida and Symphony Nova Scotia premiered a new violin concerto and Brady spent five days in Iqaluit (which he describes as "a very cosmopolitan city") as part of a National Arts Centre initiative, teaching composition and improvisation. In May, the Orchestre symphonique de Laval premiered not one but two of his electric guitar concertos; at five years, his tenure as the ensemble's resident composer is the longest it's ever had. Brady will soon gear up for a six-city U.S. tour in fall 2012 of his 24 Frames solo guitar and video show (available as a four-disc set), as well as 2013 orchestral commissions from both the Quebec City and Laval orchestras.
By then, he might have dreamed up yet another handful of symphonies.
---
Atacama! premieres June 12 at the Conservatoire de musique de Montréal. www.timbrady.ca
---
Version française...