Flash version here.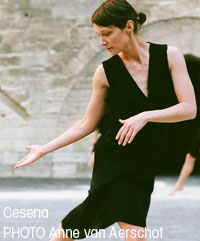 The NAC in Iqaluit
Thanks to a new broadband connection, Nunavut's Inuksuk High School will now have access to real-time video lessons recorded at the National Arts Centre's Hexagon music studio. The program is part of the NAC's Music Alive initiative, which aims to improve youth musical education while preserving and celebrating local cultures. The NAC hopes to establish strong links between its musicians and young students. CC
Éric Champagne: OM's new composer-in-residence
The Montreal composer Éric Champagne is the new composer-in-residence with Orchestre Métropolitain. The young musician was chosen for his keen artistic sense and uncommon passion. He will premiere two creations for the OM during their 2012-2013 season. PM
NMC's new radio artist-in-residence
The National Music Centre and Astral Radio have named Toronto's Kurt Swinghammer as their first radio artist-in-residence. Swinghammer is a multidisciplinary artist who has composed music for film and television. His composition, "Turpentine Wind," will be premiered on May 19 at the National Music Centre. It is a tribute to the Group of Seven painter Tom Thompson and will also feature visuals by Swinghammer. CC
Pulitzer goes to Kevin Puts
Kevin Puts, a composer and Peabody Institute faculty member from New York, has won the Pulitzer Prize for music. He was awarded for his first opera, Silent Night, which was premiered by Minnesota Opera in November. The work is based on an Oscar-nominated 2005 French film, Joyeux NöelCC
Harnoncourt receives RPS gold medal
Nikolaus Harnoncourt received the Royal Philharmonic Society's Gold Medal on April 22. Previous winners include Brahms, Strauss, and Stravinsky. The Austrian conductor and cellist is best known for his championing of the historically informed performance movement. CC
Universal launches classical music label
Universal Music has created Mercury Classics, a new classical music division. According to the managing director of the division, Alexander Buhr, " Mercury Classics will be a home for artists who are aware of classical music's great heritage and who are searching for their own way of approaching it and extending the tradition for our time." CC
The Menuhin Competition In Beijing
The Central Conservatory of Music has invited the 2012 Menuhin Competition, founded in England in 1983, to Beijing. With a record number of 230 applicants from 28 countries all over the world, the Junior Division has been won by the 11-year-old Kevin Zhu from the USA – the youngest winner in the competition's history – and the Senior one by 18-year-old American Kenneth Arthur Renshaw. LJA
The end of the Tokyo String Quartet
The Tokyo String Quartet's 2012-13 season will be its last. Its first was in 1969, when the players came together at JuillIard. Since then, they have recorded over 40 albums and won the Diaspon d'Or, a Gramophone Award, and seven Grammy nominations, among many other accolades. The announcement came several months after the two founding members, violinist Kikuei Ikeda and violist Kazuhide Isomura, had revealed they would retire in 2013. CC
Anne Teresa de Keermaeker at the FTA
She's one of the biggest contemporary dance choreographers, and Anne Teresa de Keermaeker will present two of her most recent productions at this year's Festival TransAmériques (May 24-June 9). Cesena and En Atendant see dancers perform to Ars subtilior music, the historical style prevalent in the Middle Ages. Keermaeker explained the musical choice, saying that the style gave her "the feeling of returning home."
---
Version française...