Northern Exposure: Concerto Della Donna

by Tiana Malone / May 1, 2012

---
Flash version here.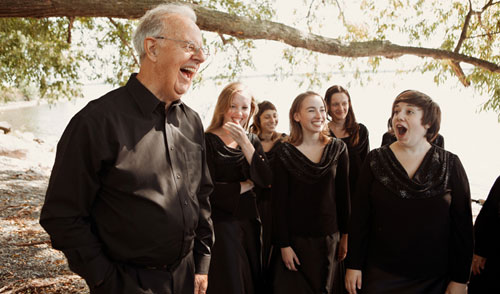 Montreal's Concerto Della Donna are no strangers to pushing the boundaries of "traditional" choirs. In addition to classical works, they have performed in Hebrew and Finnish and incorporated African languages and movement into their performances. Their upcoming concert, titled Northern Exposure, seeks to push those boundaries to include the frozen realms of Scandinavia and Canada.
"It's different than all the other concerts we've done with Concerto Della Donna up until now," says choir member Marie-Claire Saindon. "We are trying to break free of normal, traditional music, just so we see where we can go."
In addition to being a performer with Concerto Della Donna for the past three years, Marie-Claire Saindon has composed a new work specifically for the Northern Exposure concert: East of the Winds. Saindon, a graduate of McGill and composition student at Université de Montréal, was given free range to compose the work. "The director said 'let's do something with dancers!' and then left it at that."
Saindon, a violinist and composer by trade, has learned much from being a member of Concerto Della Donna. "It's not as much of a challenge [to compose for female voices] now that I'm in the choir," says Saindon. "I started writing for female voices and a mentor had suggested, 'why don't you just be in a female choir, just so you really know?' That was my ulterior motive when I joined Concerto Della Donna three years ago."
The work, which features female chorus, solo cello and violin, storytellers and dancers, is based on a Norwegian fairy tale about four winds that help the main character save her prince. "It's not a princess that needs saving, it's a prince," says Saindon, "I felt that might tickle the fancy of the girls in the choir."
The 30-minute work will be sung in Norwegian, with storytellers providing translations between the five movements. Saindon, who does not have a Norwegian background, fell in love with the language. "We've sung in Finnish before, and I really loved the colour. Since the story is in Norwegian, I wanted it to be in the same colour of the text… and the colour of the language is fantastic."
In addition to East of the Winds, the program will consist of works by Scandinavian composers and works by Canadian composers Malcolm Forsyth, Harry Somers and James Galaty.
"We've made sure there is a piece for each of the [inter-arts] aspects, where everything else will be introduced. We have one piece with the solo violinist, we have one with the solo cellist, and we have one where the dancers will also come and do something," says Saindon. Saindon's work will unify all the performers and close the show.
---
June 5, 8 p.m. Pollack Hall: Concerto Della Donna's Northern Exposure. A Benefit Concert for the Batshaw Youth and Family Centres Foundation; With Caroline Chéhadé (violin), Michael Nicolas (cello), Katie Ward dancers. www.concertodelladonna.ca
---
Version française...