A "Road Opera" Inspired by a Journey to Tibet

by Renée Banville / May 1, 2012

---
Flash version here.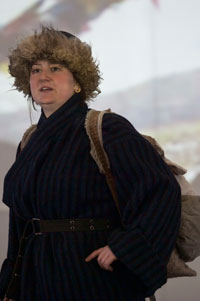 A passionate traveller, Alexandra David-Néel made a dangerous and clandestine expedition in 1924 to Lhassa, Tibet, the forbidden capital. Turned away many times, she eventually disguised herself as a beggar to enter, accompanied by a young monk she later adopted. She became the first western woman to enter the holy city. Having lived over a hundred years, from 1868 to 1969, she had been an opera singer, journalist, feminist, Buddhist, writer and philosopher. It's this impressive journey that Chants Libres, now celebrating its 20th anniversary, has chosen to depict with Alexandra, its 14th opera. Conceived and directed by Pauline Vaillancourt, it features original music by Zach Settel and is based on an unpublished libretto by Yan Muckle.
Chosing a Character
"Creating a work means bringing it to life, giving voice to a character," says Pauline Vaillancourt. She had already done this in 1997 with Frida Kahlo (Yo soy la desintegracion). "This time I chose Alexandra David-Néel, an astonishing figure. She always roused my curiosity by accomplishing, at the start of the 20th century, feats that no woman had achieved during the period. A woman in a man's world, she undertook her expeditions under extremely difficult conditions. Her travel in Tibet really shows her determination to accomplish her dreams."
As a feminist, David-Néel lived a free life. As an opera singer, she toured all over the world. Travel was always her main passion. She preferred the echo of Tibetan gongs to the sound of applause, so in 1911 she left her husband to go to the Far East and Central Asia. From there she wrote numerous letters, published after her death in Journal de voyage. She was not reunited with her family until 1925. She devoted her life principally to exploration and to the study of Asian peoples, their philosophies and their languages. She was thus able to translate Tibetan and Sanskrit manuscripts. She published numerous books, the last in 1964, five years before her death. Although she had difficulty travelling in her later years, David-Néel still renewed her passport when she was 100 years old. By comparison, "perseverance and effort are qualities often lacking in this generation," Vaillancourt remarks.
The important relationship between creators
In 2010, Vaillancourt spent seven weeks in Tibet accompanied by librettist Yan Muckle. Upon her return, she planned the concert while Muckle started the libretto. Composer Zack Settel joined the team shortly after. While the project was being developed, Jean Décarie, also known by his pseudonym Neam Cathod, was entrusted with the videography. A true multidisciplinary artist, he elaborated on the concept with images shot by Vaillancourt and Muckle. To situate the action, he had to create imagery that suggests the heights of the Himalayas. The work of artist Jocelyne Alloucherie explores, in a conceptual and poetic way, notions relating to image and place. Her scenic design for the show includes glaciers against which images are projected. True to the piece being billed as a "road opera," the cast is constantly moving. It's also a chamber opera with eight singers and six musicians are onstage. Vaillancourt cast herself in the role of the explorer, at 90 years old, telling us the story of the fabulous expedition.
Vaillancourt acknowledges the increasing difficulty of convincing people to take a risk and see a contemporary work. She wants to tell them: "Let yourself be destabilized, come see!" She wants to speak to people's imaginations, to fill them with emotions that differ from the everyday. Muckle told LSM last year that "Pauline really wants to explore, to cross into a new territory. She respects everyone's universe and unifies them in one vision."
Translation: Elisabeth Gillies
---
At l'Usine C, May 15 to 19 at 8 p.m.
www.chantslibres.org
• To familiarize oneself with Alexandra David-Néel, Pauline Vaillancourt recommends reading letters addressed to her husband from 1918 to 1940 in Journal de voyage (Paris: Plon, 1976; in two volumes) as well as Voyage d'une Parisienne à Lhassa (Paris: Plon, 1975).
• Numerous manuscripts brought back by the explorer are kept at the Musée Guimet in Paris, as well as at her home in Digne-Les-Bains, Provence, a cultural centre that carries her name. www.alexandra-david-neel.org
---
Version française...