Defending Music

by Wah Keung Chan / April 1, 2012

---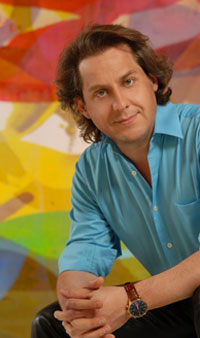 Pianist Alain Lefèvre is a man of many causes. Best known for promoting the legacy of Canadian composer André Mathieu, Lefèvre is starting a five-year project where he will defend a different composer each year. It's a good thing he sleeps only four to five hours a night, as his activities, including concert tours, a radio show on Espace musique, and a multitude of advocacy for music and young musicians, don't leave him much free time.
Last year, Lefèvre's main project was bringing to life the original 1926 version of Sergei Rachmaninoff's Piano Concerto No. 4, the recording of which has just been released on the Analekta label. When the work was first premiered in Philadelphia in 1927, the composer withdrew it after three performances and made extensive cuts in 1928. Still unhappy, the work was further revised and trimmed to its final 1941 version.
For Lefèvre, the story began five years ago, following a performance of Rachmaninoff's Piano Concerto No. 2 at London's Royal Albert Hall. A woman gave him a copy of the original manuscript, which the Rachmaninoff Estate had released in 2000. Three years ago, Kent Nagano approached Lefèvre to do a recording and the pianist suggested this unknown manuscript, along with Alexander Scriabin's Prometheus.
According to Lefèvre, the collaboration with Nagano was based on mutual respect. "We spent six hours, just the two of us, talking, and working, and I listened a lot. I have true admiration for him: the man, the musician and the soul."
For Lefèvre, the 1926 version, at 1,016 bars of music, is a completely different work than the 1941 version, at 824 bars. "The original is one of his best works," he says. "The 1941 score is very Hollywood and by then Rachmaninoff the pianist was older and he probably cut out the virtuosic parts to appease the public."
"In the first movement, there is an enormous crescendo, much like [in] a Bruckner symphony; in the 1941 version, it is over three or four pages, while in the original it is taken over 12 pages," says the pianist. "It's really tricky rhythmically between the orchestra and the pianist; there are lots of challenges, especially in the third movement." He manages to remember every detail by marking the fingerings over every note, as he showed me on the score.
Lefèvre's first performance with Nagano and the OSM took placed at Salle Wilfrid-Pelletier last May, but the recording was always planned to take place at the Maison symphonique. Thanks to Radio-Canada's 75th anniversary celebrations, the duo reprised the performance a second time live in concert in September, making this the first recording in the new hall. "It's a beauty," he says of the hall. "For a pianist, you need to hear everything."
Actually, there was a third performance, as Lefèvre performed the program twice in the same night separated by an intermission, and it's mostly the second performance of the evening that Analekta took for the recording.
Lefèvre is quite frank about the performances. "In May, I felt the stress of playing it for the first time," he says. "After a couple more times during the summer, I returned to it with more precision." Although Lefèvre has his own radio show, he hates to listen to himself, and prefers to leave the editing choices to sound engineer Carl Talbot. "I'm a fast recording guy, as I have almost no retakes," he explains.
Not one to only champion the unknown works of deceased composers (he is proud of selling 50,000 copies of his five Mathieu CDs and promoting the composer around the world), Lefèvre is turning to the contemporary. At this summer's Lanaudière Festival, he will premiere François Dompierre's 24 preludes for piano, a two-hour performance originally scheduled last year. He will then take it to Washington and five other cities. It's a project he's been living with for the last two years. In January 2013, he will premiere Walter Boudreau's Concerto de l'Asile with the OSM on a commission from Radio-Canada. "It's important to defend the composers of today," Lefèvre says, challenging other musicians to do the same. Does he influence the way composers write? "They know my reputation of being a populist. I would be able to defend the music better if the public likes it."
Recently, Lefèvre spoke out to improve public arts education. Lefèvre is concerned about the future of classical music. "We need to create the next generation of music and art lovers," he says. "There used to be five or six top piano competitions, now there are a hundred. What are 300 first-, second-, and third-prize winners going to do to survive? When the celebrations for Canada Day and Saint-Jean-Baptiste come around, classical artists are rarely represented. Audiences are getting old, and governments need to invest in the arts to improve civilization."
For his part, Lefèvre is thrilled to show classical music to 20,000 kids every year. He plays in schools for free. Next year, he will be putting together a series of concerts for young musicians with the Orchestre symphonique de Québec, "trying to make a difference."
---
Version française...
---