Lara St. John goes Back to Bach

by Crystal Chan / March 1, 2012

---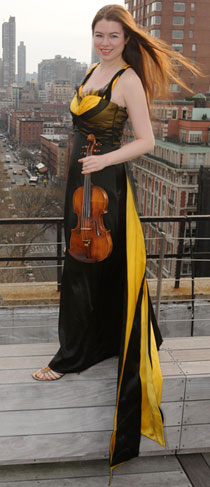 When I ask her what draws her to Bach, Lara St. John laughs before adding, "What doesn't?" St. John started Suzuki violin at two. At four she performed Bach's Concerto for Two Violins. She cherished the family LP of the Mass in B Minor. "I remember playing [the Partita No. 3 in E Major] at four or five [and] thinking: 'Wow! This is so much better than all these other little pieces that I had to play,'" she says. By thirteen, St. John had learned all Bach's sonatas and partitas for solo violin. That same year she was accepted to Curtis.
St. John then launched her career with a series of Bach recordings, but she hasn't done one since 2007. After recording Hindson, Corigliano, Liszt, Vivaldi, Piazzolla, Mozart, and even polka dances she's back to Bach with an album of sonatas played with Berlin Philharmonic principal harpist Marie-Pierre Langlamet. There's the twist: the harpsichord parts are filled by harp, note for note. "There's more nuance possible with harp," St. John insists. "I don't think I'll ever be able to do those again with keyboard." Harpsichord players won't be the only ones up in arms; the record also includes three flute sonatas. "Flute players have very little repertoire so they're going to say: 'Why are you violinists stealing our sonatas?" St. John predicts with another laugh.
Those sonatas were chosen because their harpsichord parts, written with a wind instrument partner in mind, are less contrapuntal and more natural to play for Langlamet, who has played the Sonata in G Minor in concert several times (including at her 1990 New York City recital debut with Sandra Miller on flute). St. John also cites period practices: "Flute and violin at that time were pretty much interchangeable." She says she is interested in historically informed performance but doesn't play with gut strings or at 415 Hz on the record. She finds the latter tough due to her perfect pitch.
Ultimately, "to make what you do stand out is the problem," she says. "Everybody and their sister and brother and dog has an album now." Replacing the harpsichord provided the fresh take on these standards that St. John looks for to justify a release.
This is a far cry from why St. John's early albums garnered attention. Her 1996 debut—with its cover showing St. John with a well-placed violin and nothing else—ruffled feathers. The monochrome image is tasteful, but nevertheless, at six feet tall and with long dirty-blonde hair, her looks and outfits attracted media commentary as if she were a pop instead of a classical music star. "The point was that it was a violin and a person and nothing else," says St. John. "What's inside the CD didn't have anything to do with a ball gown! But it got the record listened to, which was all I really wanted. There's no sense in being creative if nobody hears it." That album sold 30,000 copies. Several subsequent covers were also deemed provocative and she was often described as a wild card in the world of classical music: in 1998, she married a European pianist, a union that lasted three weeks; on her website, she posted about how to sneak into concerts without tickets.
In the end, being in the spotlight gave St. John a chance to show off her impressive skills and ensured her a long-standing career. She's now recognized for her talent and still in high demand: in 2011, St. John was only home fifty-seven days. She juggles many commissions. Next year there will be a Matthew Hindson concerto, an orchestration of John Corigliano's Sonata for Violin and Piano, and several reimaginings of her favourite Eastern European tunes by young composers, including one by Montreal jazz pianist Matt Herskowitz. She performed in Hungary several times as a teenager before studying at the Moscow Conservatory in 1988. She then travelled the region after her professors defected. She's already recorded Eastern European music for Gypsy and Apolkalypse Now and plans to record the new pieces for Ancalagon, the label she owns. Her love for the style runs deep: "I remember hearing fantastic gypsy musicians in a restaurant at 12 years old. All of a sudden I thought: 'Oh my God, maybe I was born here and they stole me and took me to Canada!'"
---
Hear Lara St. John this month on:
• March 4th with Marie-Pierre Langlamet, Glenn Crombie Theatre, Lindsay, ON
www.lindsayconcertfoundation.com
• March 5th with Langlamet on 96.3 FM in Toronto, Ontario, (10 a.m.)
• March 8th on Q with Jian Ghomeshi, live from the Grand Theatre, London, ON www.cbc.ca/qc
• March 10th with the Windsor Symphony, Windsor, ON www.windsorsymphony.com
• March 15th with pianist Matt Herskowitz, Salle Bourgie, Montreal, QC www.smcq.qc.ca
See our Reviews for a review of Lara St. John and Marie-Pierre Langlamet's Bach Sonatas.
---
Version française...