Yin/Yang: Montreal's Musical Entrepreneurs

by Crystal Chan / March 1, 2012

---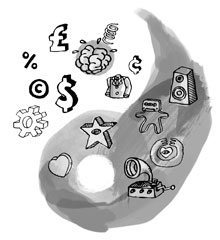 Their paths crossed while growing up in Ottawa and studying at McGill University, but it was not until years after graduation that they reconnected at a gig. By then, Pemi Paull and John Corban had racked up years of experience playing with orchestras and established ensembles as well as founding some of their own. After this meeting, Corban became a regular participant in Paull's Magic Castle Chamber Music Festival and the two started playing together in such groups as Ensemble KORE, a pioneering new-music ensemble in Montreal. They began talking about starting an ensemble together. Their goal: bringing ideas fostered by alternative music into the mainstream.
Warhol Dervish played their first show in 2006 at an art gallery. Alongside Philip Glass's Fifth Quartet, the set included Christopher Fox's Blank, a microtonal drone piece, and Solitude, a work based on elements of Pink Floyd's Shine On You Crazy Diamond by Canadian composer Scott Godin.
Dervish Café, Paull and Corban's favourite hangout in those days, was only part of the inspiration for their name. They wanted to evoke "the whirling dervishes, whose aspiration to transcend the material into the spiritual dimension is much like our aim as musicians," Paull says. On the other hand, "It's so easy for classically-trained musicians to fall into the trap of thinking that their work needs perpetual improvement before it can be presented. Whereas Andy Warhol's philosophy of work was that you just keep creating, producing, and selling your art, as with any other vocation. Warhol represents a perspective on being an artist that is aware of and thrives on the demands of the marketplace—and yet he was still a 100% unique artistic voice." As a result, "the name Warhol Dervish represents the yin and the yang of being an artist" today.
Many groups have recently started in Montreal with origin stories similar to Warhol Dervish's. Their programming, number of members, and missions may differ, but these emerging ensembles describe shared ideals, such as moving beyond conservatory habits and repertoire and sharing music by other young, often Canadian, composers. What pushed these musicians to combine music with entrepreneurship and start ensembles? How do they combine business and art to tackle the yin and yang of being a musician today?
---
Portmantô has a musical open-door policy. The ensemble is a rotating cast of performers recruited to fill specific parts. Artistic director Mark Bradley says this "society model" allows them to "present a greater variety of unusual chamber music works than fixed-instrumentation ensembles." Having not yet won or having no interest in winning an audition for a major ensemble, it's practically impossible for these musicians to pay the bills without taking on a variety of gigs. This model puts the bank of potential colleagues that they meet through varied gigs (or, for those fresher from school, the classroom) to good use.
Emerging ensembles also rely on musical peers to spread the word. "It's really difficult to bring the public to our concerts," explains David Lapierre, the general director and president of Ensemble Kô. "We can propose a partial solution if we work in collaboration with other ensembles." As they are small, these ensembles have to put more effort into publicity. Shared networks matter. Dina Gilbert, artistic director of Ensemble Arkea, says that they wouldn't even have been able to present most of their concerts without collaboration.
As under-publicized as they are, it seems that getting noticed is less of a concern than showcasing other musicians. Before they speak of much else, these performers refer to a raison d'être that only indirectly has to do with self-promotion: the recognition of young composers. This is not entirely altruistic, of course; the works of less-established composers are often more accessible to these groups, financially and otherwise. But in their quest to get performance material, these groups are also unearthing new talent that established ensembles might pass over—at least, for now.
It is vital, Trio '86 co-founder Krista Martynes insists, to "treat contemporary music as we do the classics." Arkea started a composition contest this year with the help of Codes d'accès; the finalists had their works performed and judged, in part, by audience vote in mid-February. Kô's tenor, François-Hugues Leclair, recruits promising composers through his job as a Université de Montréal composition professor. Portmantô takes their composers so seriously that Bradley describes them as "as much a part of the band as we are… From the start, we invited composers to join us in charting the course of the ensemble, by writing original music for us to play but also by advising on the nitty gritty day-to-day operations of the group." These groups are in an especially good place to discover and showcase local talent. Ensemble Paramirabo is not only dedicated to becoming "a trampoline for young Canadian composers," but, according to artistic director Jeffrey Stonehouse, would like to "act as their ambassadors in other countries."
After "maximizing opportunities for publicity," Bradley says that "finding the appropriate venues" is Portmantô's biggest challenge. Here, the groups have once again turned difficulty into opportunity. The cost of renting venues is steep, and the cost of high-profile ones even steeper. Instead of grumbling about the cafés, galleries, small churches, and other spaces (even private homes) more easily available to them, these musicians have incorporated them into their mandates. Trio '86 aims "to bring [their] following to a diversity of venues throughout the city." Martynes says it is undeniable that "space-related performance has become important, as music is being taken to cafés, bookstores, old factories and loft spaces."
Ensemble Allogène pianist Daniel Áñez recounts how the difficulty of "finding spaces to play with a piano" while keeping on budget pushed them to play "concerts in places that reach different types of public, places not necessarily conceived for classical music." All this echoes many recent initiatives, from the international Classical Revolution movement to the national Canadian Music Centre's New Music in New Places program and Montreal-based Chamber Music Without Borders.
Which is not to say that these ensembles are using these venues only out of necessity. They are also using them to artistic effect. "Our programming follows a few important principles and the first is to tie the programme to the venue as much as possible," says Bradley. Similarly, Lapierre says that they "like to take advantage of the places where we sing, mainly churches, where the acoustic is great most of the time." Kô even creates choreographed performances—for example, two walking choruses singing through different parts and heights of the church.
The end goal is to reach their audience more directly. "We choose venues which invite discussion," says Stonehouse, who is also artistic director of Productions Berrisque, which organizes "performances in intimate and surprising settings." Paramirabo's home this season is Café l'Artère, where, Stonehouse explains, their "audience can have a drink and discover music they've never heard before. We always stay after the show for questions, comments, and to share opinions on the pieces we've played."
To draw in diverse audiences, these ensembles might present a mix of old and new music—what Martynes elegantly describes as "classical concerts with a complementary splash of contemporary or improvised music." They also orchestrate multidisciplinary events. Arkea is preparing a project with films for next year as part of its desire, as Gilbert puts it, to be "available for many different projects that other classical ensembles would not plan to do." Portmantô even performs interactive pieces. Or rather, their audiences do—one commissioned piece by Marielle Groven has audience volunteers play wine glasses at the instruction of ensemble members; it will formally premiere next season. In another new piece, Nick Norton's "And the Band Gets Played," audience members are invited to direct the musicians using flash cards.
Such quirky and creative forms of musical outreach seem to be working. "I know at least two regular audience members who have started buying symphony tickets and checking the listings for other groups since coming to our shows," says Bradley. Gilbert agrees that she is continually "impressed by the amount of people telling us they came for the first time and finally found out that they like classical music. From Vivaldi to new works, they felt we had something to say and they could understand more than what they were expecting. Some of them write us emails or meet us after concerts." Martynes describes a similar reaction from her family members, many of whom "have mentioned that, although their initial reason for coming to the concert was to support [Trio '86], they were surprised at how much they enjoyed it. Some say it feels like they are traveling: they don't necessarily know the language, but they make their own impressions." It seems that the trio has more than succeeded at fulfilling their mission to "break any invisible wall between music and the listener."
Converts have even evolved into promoters. Áñez describes a friend's reaction to his concerts: "He's a cineaste, but had never heard contemporary music. He fell in love instantly. After seeing me play in Montreal, he moved back to Vancouver. He started getting to know the Vancouver contemporary music milieu, met the most prominent composers, and even made a short documentary on Hildegard Westerkamp!"
They may be keeping classical music relevant, and they make great test labs for programming and presentation ideas that could rejuvenate the mainstream classical music industry, but these groups have not found many ways to tackle the industry's financial woes. These musicians are resourceful; they are willing to adapt to lower-cost venues and publicity. However, just like the more established ensembles whose struggles to stay afloat make up classical music headlines, money is of great concern.
It is true that, compared to the U.S., Canada is fertile ground when it comes to grants and foundations that support musicians. There are restrictions, however, and many work against newer groups. "As a young ensemble, we are not eligible for most of the grants," explains Gilbert. "We have many ideas, but we also need someone to finance them." Although music business courses are offered through some conservatories, Stonehouse believes they are not common enough: "No class during our schooling taught us how to profit from our ensemble or manage it." Although the group is lucky enough to have gotten some support from Jeunes Volontaires, he says "money is an issue that remains a source of worry, a constant stress." This stress even pushed Kô to create a specific finance committee. Time will tell whether the traditional committee strategy will work for these ensembles, or whether they will adopt sustainable solutions yet unknown to classical music.
Regardless, these performers may give us the best vantage point on how to bridge a much-discussed gap. While it's often lamented that the classical music audience is aging, there are plenty of young classical music performers. They have friends that make up that demographic so elusive to the large symphonies' marketing teams: younger people uninterested in classical music. These performers have a personal interest in winning them over.
That seemed, in the end, to be the common impetus for the musicians to start an ensemble: a desire to share their music more widely, more easily, and with greater control. They're conservatory trained but eager to experiment. Almost all stressed a commitment to showcasing music written by other young Canadians.
Driven by this desire to share, they are charting new markets even though their profit margins are slim. Perhaps these musicians will seduce enough listeners to shift the tide. They seem better poised to connect with unconverted audiences than large symphonies, established opera houses, or big name quartets.
Far from insular or doggedly alternative, these ensembles acknowledge their part in the bigger classical music culture. "What we are aiming for is to create events that have meaning to the greater culture," Paull says. "With new media it has become easier to get out of our own bubble, see where we fit into the greater musical scheme of things. We have more awareness of what's out there and have an easier time of getting our own contributions out there."
Of course, this is but a tiny cluster of ensembles forming a case study for what might be going on elsewhere. Dozens of parallel groups are doing exciting things with new music or new presentations across Canada. Take away the criterion of experience and the list grows longer still; the oldest of these particular groups started around five years ago and their performers are neither all music school students nor well-established in the music business (Ensemble Transmission, for example, is a group that started recently but whose members are not 'emerging artists').
Will these groups turn the tide? We will have to wait and see.
---
www.facebook.com/pages/Warhol-Dervish/92139405675
www.portmanto.ca
www.ensembleko.com
www.ensemblearkea.com
www.trio86.com
www.ensembleparamirabo.com
www.myspace.com/ensembleallogene
Pemi Paull and Krista Martynes have written for LSM.
---
Version française...