Louise Bessette: Looking Onwards

by Lucie Renaud / March 1, 2012

---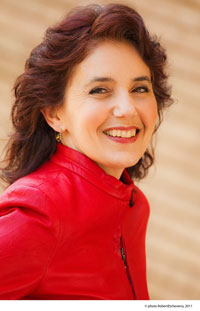 There are few performers who so seriously and irreproachably defend contemporary music as pianist Louise Bessette. She will be soon celebrating her thirty-year career by offering us not one, not two, but three different concerts—all in a single day, March 31st. Having amassed an impressive résumé, received laudatory reviews, recorded a rich discography of over twenty titles and organized the well-received event, Automne Messiaen 2008, her seemingly faultless trajectory easily intimidates.
However, it took only two minutes in her presence to understand that, even if she lives and breathes a rare creativity, she has absolutely no problem with staying grounded in the real world. There is no pretense, no empty words. She has a contagious energy: her eyes smile like those of a child about to blow out the candles on a birthday cake and her honest laugh sweeps up everything in its wake.
She doesn't look a day older than 40, and yet, the Encyclopedia of Music in Canada tells us she was born in Montreal in 1959. Because her mother and her mother's mother had both been organists at the Église de La Visitation, it is not surprising that Louise was taught to play the piano at five years old. In 1971, she was accepted at the Montreal Conservatory of Music where, working with Georges Savaria and, later, Raoul Sosa, she would win five first prizes. Under Sosa, she would seamlessly shift from Berg's Sonata to Messiaen's "Première communion de la Vièrge" from Vingt regards sur l'Enfant-Jésus.
"I could not see the complexity," she says, as if that had been a self-evident choice. She was nonetheless aware, at that time, that other pianists already envied the ease with which she tamed those pieces.
A string of successes followed, including wins at the Eckhardt-Gramatté National Music Competition, Concours International de Musique Contemporaine in Saint-Germain-en-Laye, France, International Gaudeamus Competition for Contemporary Music in Rotterdam, Netherlands, and Québec-Flanders Contemporary Music Award. "Not once did I question the path that I took or what I wanted to accomplish. I did what I liked to do," she says. "I enjoy discovering off the beaten path." Her peers have also recognized her virtuosity and her vision numerous times. She has been awarded several Opus awards in such categories as "Best performer" and "Musical event of the year." The latter was awarded for Automne Messiaen 2008, for which no less than fifty musicians, ensembles and organizations took part. These included the Quatuor pour la fin du temps, now ARTefact, an ensemble in which Louise Bessette is joined by Simon Aldrich, Yegor Dyachkov, and Jonathan Crow. ARTefact will perform during this year's thirty-year celebrations, at the first concert.
Four pieces will be heard for the first time on March 31st. "The creators are the voice of a nation and each creation is an important moment of music," she tells us, believing that the premiere of any work allows for a second moment of creation. Michel Boivin's Les Cinq Éléments for solo piano will be performed, as well as Ana Sokolović's City Songs (performed with Olga Ranzenhofer), a new work from Michael Oesterle, and Serge Arcuri's Les Sabliers de la mémoire. Bessette discovered Arcuri in 2004 through Fragments, which is on the ATMA album Migrations, which won an Opus award last January.
The pianist will then present a solo recital based around Scelsi's Suite No.9 (Ttai) and Walter Boudreau's Les Planètes. "Scelsi is a composer I relate well with. His world is very private, quite the opposite of Boudreau, who has written a rather explosive piece. After a violent start, the music slowly bares itself, progressing into a magical flourish." The final program, a first-time collaboration with Peter Hill, is centred around the outstanding four-hand version of Stravinsky's The Rite of Spring and, naturally, Messiaen's Visions de l'Amen.
"I really appreciate working with composers," says Bessette, who has played many commissioned works. "The performer's work is very rich and we put a lot of ourselves in it. When we can share with the composer, it's a real treat. Does the performer not take part in the emotion? All composers come with their questions, their fears, their joys, and their own world. It is always very rewarding to talk with them. All that is left to do is to integrate what the composers have brought into the work."
When she is not trying to decipher new works, she teaches at the Conservatory, takes care of her 12-year-old son, or reads or practices Tai-Chi, which she has integrated into her approach to the keyboard. "There is a lot of depth in Tai-Chi: hand movements, breathing, relaxation, concentration, memory and the inner self. When I'm at the piano, I always have to be conscious of the importance of the body, of its relaxedness, if I want to produce a beautiful sound. Tai-Chi helped me to be more consciously aware of that."
One might also find her attending a concert—to "hear her collegues"—or travelling, which is one of her true passions. "It doesn't matter where I am, music is always with me; I hear things in my mind, I think of pieces and their performance." Once she gets back behind the piano, images surge, assimilate themselves into the page, and take on another life. "It is important to see the beauty of our world. Though it may be filled with horrible things, we must never, ever lose sight of its beauty."
---
Chapelle historique du Bon-Pasteur, March 31st
www.smcq.qc.ca, www.louisebessette.com
Translation: David-Marc Newman
---
Version française...
---