Antoine Tamestit: Heart, Soul, Instrument

by Lucie Renaud / February 1, 2012

---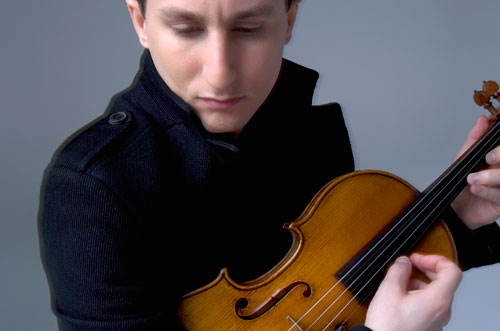 Considered one of the top three violists on the international scene, Antoine Tamestit collects first prizes the way others accumulate CDs or travel destinations: the Concours Maurice Vieux in Paris in 2000 and William Primrose in 2001, Young Concert Artists Auditions in New York in 2003, the ARD International Music Competition in Munich in 2004 (when he also took the people's choice award and both special prizes). During the 2005/06 and 2006/07 seasons, he was chosen as the New Generation Artist by the BBC and was crowned Révélation Instrumentale de l'année at the Victoires de la Musique in 2007. He was awarded the Föderpreis Deutschlandfunk and the Prix du Jeune Artiste by the Crédit Suisse the following year.
In February 2007, however, in a radio interview with Mario Paquet, Tamestit confessed that the challenges of a violist beginning his career remain to make a name for himself as a recitalist, chamber, and concert musician, without neglecting the works of the 20th century and today, which constitutes an essential part of the instrument's repertoire. "You have to be willing to try your hand at all different kinds of music, to meet all sorts of musicians who come from different schools and different countries. It's difficult to keep up this pace and to continue to work, to have an ideal in your head and to always achieve it," he explains.
Five years later, he has an impressive track record that has brought him to numerous chamber music festivals, from Domaine Forget to Jerusalem, notably with his colleagues in the Trio Zimmermann: Swiss cellist Christian Poltera and German violinist Frank-Peter Zimmermann. He seems to have come a long way from his beginnings with the Vienna Philharmonic under the direction of Riccardo Muti in 2008. He has been teaching for four years at the Musikhochschule in Cologne, and has to his credit a solo debut album, in addition to Bach's Second Partita and Ligeti's Sonata, a double Schnittke and Shostakovich, as well as a project combining the Arpeggione with Schubert's lieder. It's impossible to tell him that the viola, the butt of many musical jokes, is limited.
"We've realized that the audience is always very open to discovering new things if they are presented in a way that's exciting, interesting, unique or original," he explains from his Paris residence, having just returned from China. "Audiences don't necessarily demand that we always replay the same works, but organizers are often afraid of their reaction. I don't really know why. Often, organizers tell us, 'Yes, we'd love to invite you, but what could you play for us?' or 'A viola, that's not an easy sell.' However, there's quite a varied repertoire, even if there's no major work by Beethoven, Tchaikovsky, or Dvořák, except for chamber music. However, the viola can fit all sorts of roles. The biggest challenge is to show organizers how exciting it can be."
This excitement brings him back to the early years of his studies, when he was still playing the violin: "As a child, I felt uncomfortable with the upper strings of the violin and had a strong attraction to the bass of the cello. I said that it made my body vibrate. When I tried the viola for the first time, around the age of ten, I felt like the C string resonated all the way down to my toes. I felt like it passed through my body."
He doesn't hesitate to call it love at first sight. "I felt like it was an instrument that united the worlds of the cello and the violin, that it could do everything I wanted. I didn't know then how to explain it, but today I am entirely convinced of it," he says. The viola has all the attraction of the medium register of the human voice. "It's meant to be very warm, immediately evoke very direct feelings. I feel it is an instrument that is very easily expressive, one that allows me to be myself on stage."
Lyrical playing also lies at the heart of the violist's technique, an idea primarily instilled in him by his professor at Yale, Jesse Levine. "Even in a rapid or virtuoso phrase, there is the beauty of singing. Practically from the first months, that's all he talked to me about, to carry my sound with my vibrato, to have a bow that sings," he recalls. After both student and professor attended a masterclass given by Marilyn Horne, the younger speaks of a revelation: "I could just replace 'breathing' with 'bow', supported by vibrato; it fit exactly."
Fascinated by voice, he took Italian opera classes and met his musical partner, pianist Markus Hadulla, who works almost exclusively with singers. "His way of seeing music is very original," he says. "He never looks at the technical side, always demands more, in terms of breathing or sound, to achieve his vision." For the Schubert project especially, this meant months of research and translation work, accentuation and differentiation, with his bow, vowels, and consonants.
Firmly refusing to be pigeonholed in a single repertoire or era, he takes on Bach and new works with the same conviction. He recorded Bruno Mantovani's Concerto for Two Violas, composed for Tabea Zimmermann (who supervised him for four years in Berlin) and himself. In Berlin, Vienna, and Graz, he also created a concerto dedicated to him by Olga Neuwirth during the 2009/10 season.
"I've always thought that 'music' means all of music. I think I owe this conviction to the education provided by my parents, who, even before we began lessons, made us listen to Pergolesi's Stabat Mater, Mahler's First Symphony, Ravel's Boléro, Berio's Folk Songs and even Jacques Brel and Barbara. My body and my mind responded with similar enthusiasm to all this music. For example, the music of Luciano Berio, which my father (himself a composer) loved, could touch me or make me laugh as much as Ravel or Pergolesi. The fact that my professors were all very open intensified this feeling and now, I'm a person who adores mixing genres. I feel like it opens one's ears. For example, when you juxtapose Bach and Ligeti, you can see that Bach is more complex and more avant-garde than you might have thought and that Ligeti is touching in a way that is more simple and primal. At some point, you don't know who wrote what anymore."
When you listen to Tamestit's recordings, two things stand out: the natural way he sculpts the sound and the particular, velvet tone of his instrument, the "Mahler"—the first viola made by Stradivarius when he was 28 years old. (Tamestit also has a modern viola, custom-made for him by renowned luthier Étienne Vatelot.) The artist recalls a certain nervous excitement upon his first contact with the "Mahler", a loan from the Swiss Habisreutinger Foundation.
"They left me in a room, alone with this viola, for an hour or two. The first meeting was very intense. The instrument was well-preserved in boxes, which explains why it's almost perfectly intact, but having been boxed up, the sound was not very good. During those first hours, I experienced different emotions. It was as though I could feel all it had to give, but nothing would come out. Several people have talked to me about their relationship with their Italian instruments in a very personified way, which I didn't believe in at the time. Today I subscribe to it wholeheartedly."
For a moment, he considered returning the instrument to the foundation, but Yuri Bashmet dissuaded him, saying, "A viola is like a woman. Be patient, and it will soon reveal all its charms."
Today, Tamestit can't help but admit that he was right: "Just as in a relationship, it's necessary to get to know each other. I gave of myself to it, sacrificing a lot, and little by little, it opened up more and more, got to know me and my playing and how it should sound. We met each other, though at the cost of difficult beginnings. However, behind all that, it had a smooth, mellifluous quality, a mezzo-soprano voice. Moreover, there are two mezzos with whom I particularly like working: the Dutch Christianne Stotijn and of course, your own famous Marie-Nicole Lemieux. When I play with singers like them, my viola melts into their voices and the voice of the mezzo into that of the viola. Then we get the impression that the C chord is dissimilar to that of a cello, or that the A is unlike that of the violin. The "Mahler" possesses a unique colour on the four chords, very defined. In my opinion, it is unlike any other."
Since then, he has lavished attentive care on the instrument, the way one might care for an elderly loved one. After three years of acclimation—for both of them, in his opinion—viola and violist now express themselves easily. "In concert, it will come out with these colours that I didn't expect, which will then give me musical ideas." He admits living for the intensity of these instances: "I'm not religious, but a certain spirituality emerges when I'm on stage. I feel that something is created, something greater than the sum of the performer, the composer (who is the most important), and the audience. I love the excitement of a concert. Of course, I work hard to control what happens, but I like to be surprised, to take advantage of the moment when things are drawn out or become a bit dangerous, that I might feel this link with the audience. I always find that magical."
Translation: Rebecca Anne Clark
---
» Ladies' Morning Musical Club, Pollack Hall, Feb. 12 www.lmmc.ca
» Masterclass at the Conservatoire de musique de Montréal, Feb. 13 www.tamestit.org
MONTREAL LINEUP
Tamestit and pianist Markus Hadulla play Brahms' Sonata No. 2, opus 120, Schumann's Märchenbilder (Fairy Tales), the flagship Romantic work for viola and piano, and Shostakovich's Sonata, opus 147, recorded by the duo in 2007. The LMMC having insisted that original works for viola and piano be presented, Tamestit and Hadulla first decided on Schumann and Shostakovich for the program, "two of the greatest sonatas in the repertoire." Realizing that they were both written late in the lives of their composers (Shostakovich's Sonata was in fact his last work, finished one month before his death), they naturally decided to add Brahms's sonata, the composer's transcription, which was also completed in the last months of his life. "It's a bit of a crepuscular program, though the works are not somber," Tamestit explains. "Moreover, each of the movements is extremely varied and this aspect interests us a lot. It allows us to appreciate the repertoire of an instrument often, and rightly, criticized for its lack of repertoire."
---
Version française...
---