A family that plays together stays together

by Laura Bates / February 1, 2012

---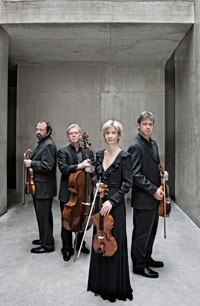 "From the very beginning, I was always treated as a member of the family," recalls violinist Rainer Schmidt, reflecting upon when he joined the Hagen String Quartet in 1987. "That was very helpful, since those years were also my first as a professional." The quartet had already been around for six years and had proven to be a chamber music tour de force; however, their roots go much further back. Since the 1970s, Hagen siblings Lukas (violin), Veronika (viola), and Clemens (cello) have played together, and have studied at Salzburg's prestigious Mozarteum University. In 1981, what began as a family affair turned into a professional venture when they were invited by none other than violinist Gidon Kremer to perform in his Lockenhaus Chamber Music Festival.
Recent winners of the ECHO Klassik 2011 for "Ensemble of the Year", Austria's Hagen Quartet is not new to the attention. Their 30-year career has garnered numerous accolades and prizes at chamber music competitions (including Canada's own Banff International String Quartet Competition in 1983), and a wealth of recordings with Deutsche Grammophon (approximately 45 to date) and more to come on the Myrios Classics label.
Touring is par for the course for the Hagens, who have an active season that takes them from concert and festival performances to teaching. "We have a regular rehearsal location which is in the Mozarteum University in Salzburg. All four of us have teaching posts at that institution," explains Schmidt. "On tour we always rehearse in the hall before the concert and in the hotels if the travel allows for it." The quartet's rehearsal methods have not drastically changed over the years. "The rehearsal priorities have changed. Not the concentration or intensity though," he says. Efficiency is important, but not at the sacrifice of the music. It is essential to find a balance between discussion and practice. "I don't think too much discussion can get in the way of music making, but it can reduce effectiveness and the quality of a rehearsal," he says.
The evolution of the Hagen Quartet has been as individual as it has been shared. "Each member's personal evolution is very much appreciated in the group. We don't plan our collective evolution—it is a by-product of the work we do on the music at hand." The way they play together demonstrates a passion for musical exploration that spans the string quartet repertoire, from pre-Haydn to György Kurtág. This includes working with respected early music specialist Nikolaus Harnoncourt. "The 'historically informed performance practice' has offered fantastic insights in the quest into present 'old music' in our own time," Schmidt explains.
The quartet's Montreal concert features a quintessential string quartet program: Beethoven's Quartet in F minor, Op. 95, Haydn's Quartet Op. 33, No. 2 and Mozart's Quartet K. 575. Not only is this a program that follows the ancestry of the string quartet genre that began with Papa Haydn, but one that demonstrates the evolutionary progression of the genre through each composer's individual period. Each work is from the respective composer's middle period.
Published in 1781, Haydn's Opus 33 quartets mark a significant turning point in the development of the genre. Whereas his previous quartets are written mainly for melody with accompaniment, his Opus 33 works are more conversational. The first violin still dominates, but not exclusively. The second quartet in this set, "The Joke", is just that, and false endings abound!
The democratic writing for the instruments was developed throughout Haydn's many quartets and continued with Mozart. Commissioned by the cello-playing King of Prussia Friedrich Wilhelm II, Mozart's Prussian Quartets (1789-90) are known for their prominent cello writing and their conversational nature. His K. 575 in D major is the first of the set.
Written in 1810 and nicknamed the "Serioso", Beethoven's Quartet in f minor Op. 95 was finally premiered in 1814 and published in 1816. It is one of his shortest quartets and the last before his illustrious Late String Quartets. It is said that the composer did not intend the work for public performance, but rather as an exploration of compositional techniques.
The Hagen's historically informed approach to this music further traces the development of the string quartet genre; however, it is more through the perspective of historical performance conventions as opposed to performance on period instruments. "We don't attempt to be 'authentic', and we play on modern instruments, but we learned very carefully from all sides of interpretation," Schmidt says. Interpretational influences extend beyond the realms of classical music. The experiences of thirty years of chamber music making are one part of the equation. Rainer Schmidt confides, "I personally find that one can learn from anything, absolutely anything. Music, for me, very often has a connection with life in general which cannot be separated."
---
Hear the Hagen Quartet LIVE!
» playing Beethoven's Quartet in F minor, Op. 95, Haydn's Quartet Op. 33, No. 2 and Mozart's Quartet K. 575. February 27, 7:30 p.m., at La Maison symphonique as a part of Pro Musica's Emerald Series. www.promusica.qc.ca
---
Version française...