Yannick Nézet-Séguin's Musical Journey

by Wah Keung Chan / December 1, 2011

---
Flash version here.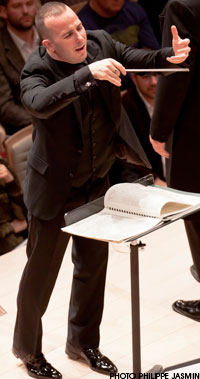 Yannick Nézet-Séguin has made it to the top. He was recently named the youngest recipient of Quebec's highest prize for an artist, the Prix du Québec's Denise Pelletier award, usually given for lifetime achievement. The 36-year-old conductor, however, says: "I still feel that I'm at the beginning of my musical journey." But it's not only this prize; the true measure of success for an artist is international demand, and on December 10th, Nézet-Séguin will be doing a double header normally reserved for the likes of Gergiev and Maazel. In the afternoon, Nézet-Séguin will be conducting Gounod's Faust live at the Met, broadcast to millions on the radio and in HD cinemas, and then immediately driven by car to Philadelphia for an evening concert (Tchaikovsky's Second Symphony will be on the program).
With Nézet-Seguin at the helm, reviews have been superb for the financially troubled Philadelphia Orchestra. Less than a year from officially taking over as Music Director, Nézet-Séguin is full of optimism. "The energy is really great," said the young maestro. "I believe now that in a few months' time, we'll be forgetting those financial troubles." It helps that the orchestra's home, the Kimmel Centre (an Artec hall) has undergone a recent refurbishment that has improved the way the orchestra can hear itself on stage. It has made a noticeable difference.
However, nothing seems to beat the Maison symphonique de Montréal (another Artec hall), in Nézet-Séguin's opinion. He conducted his Orchestre Metropolitain in two different programs at Montreal's new concert hall for the first time in October 2011. And he has only good things to say. "I have been in many Artec halls recently, and I feel this one is quite special. It's such a pleasure to play on stage and I was in the audience a lot during the rehearsals, listening and adjusting," said Nézet-Séguin, who believes once the adjustments have been made in a few years, this will be one of the finest halls in North America.
How does it feel? "It's very rare to say that an orchestra is able to hear themselves and each other so well. You don't have to make up for the lack of clarity on stage. This is really rare. In special halls like Amsterdam and Vienna, it's not so easy on stage. They are wonderful [in] their own right because they create a magnificent sound, but it's also a little bit capricious. Walt Disney Hall is praised as a great hall, but to me it is a bit too clear and clinical. In Montreal, I felt that there is always a certain resonance to the sound and atmosphere, which is also something I like.
"We hope to connect with the audience with much less effort compared to playing in Salle Wilfrid-Pelletier," Nézet-Séguin explained. "We have to learn to [perform] at pianissimo and piano level. The quality has to be very different because we have to play softer. So there is a learning curve for every musician that will [perform] in this hall. In the second rehearsal, everyone said that if they played a wrong or imperfect intonation, they would hear it so much that it became intimidating individually. This is in a way a good thing, but it's a bad thing if it starts to have a thinner sound, so I had to encourage them to play slightly more, instead of being more timid with the playing."
Those two concerts in October showed Nézet-Séguin and the OM in perfect accord. The performance of Strauss's Alpine Symphony showed a sumptuous orchestra sound, almost equaled in Nézet-Seguin's new recording of Bruckner's Fourth Symphony on ATMA. What's the secret? "Nothing replaces time," said Nézet-Séguin. "There still are many areas when I come to my players in OM, they already know what I want. I have developed [a relationship] with the musicians and it's beautiful to see how a partnership and relationship over time is better."
For a young conductor, it seems odd that Nézet-Séguin would excel in the colossal works of Mahler and Bruckner. "I sometimes ask myself why I'm so attracted to and comfortable with these end-of-life and end-of-civilization works. I was attracted to Mahler's Second and Bruckner's Ninth and I decided to go with what I love most. In order to one day do them justice, it would be a good idea to start and have a fresh take on the way I did them when I was still in my 20s. Zubin Mehta did the same. The way I did them 10 years ago is different from the way I would do them now, and hopefully very different in 20 years' time."
---
Yannick-Nézet Séguin conducts l'Orchestre Métropolitain in Bach's Christmas Oratorio: December 11, 16, 17, 18 and 21. www.orchestremetropolitain.com
Nézet-Séguin on Bach's Christmas Oratorio
"I think the Christmas Oratorio is a mixture of music that is folkloric, not spiritual. The opening chorus in unison is almost a vulgar effect for Bach. It's something that really represents all the people rejoicing. Yet you have so many numbers where the intimacy of the soloists is really extreme. I'm thinking about many of the mezzo arias, and the fourth cantata has two of my most favourite arias. There is a soprano aria with an echo of oboe. It's such a pure manner of expressing the music and yet it creates such a big effect. The other is the tenor aria with two violins. We go to a more varied emotional journey than [with Handel's] Messiah because of the contrasts, which are so wide with the intimacies and the big chorus and the trumpets. Once we are immersed in the world of Bach, I think you can get every human emotion."
---
Version française...