Behind the Tradition of Salute to Vienna

by Wah Keung Chan / December 1, 2011

---
Flash version here.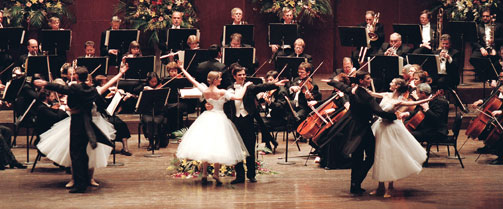 It takes a lot of hard work and dedication to organize 17 concerts in 16 cities, all happening within the span of four days around New Year's. For the last 18 years, Attila Glatz Concert Productions has managed this feat through its highly successful Salute to Vienna concerts. The key to the success of Salute to Vienna is offering top-quality singing and dancing to the light-hearted music of 19th century Vienna (healthy helpings of the waltzes of Johann Strauss and Von Suppé).
In each city, Glatz uses the best local orchestra and brings in the conductor, two singers and dancers from Europe. Auditioning and coordinating 120 soloists as well as multiple orchestras and venues is a huge undertaking. "We believe in presenting good singers, and we never repeat the same cast in the same market," boasted Glatz, the Hungarian-born Canadian, who, with his wife Marion, has been the series' driving force.
It all began in 1995 with a concert in Toronto at the 1,000-seat Toronto Centre for the Arts. Both Marion and Attila had experienced the Viennese New Year celebration in their youth, and they wanted to bring that idea to Toronto. At that time, Attila already had over 10 years of concert production experience, having founded the Huntsville Festival of the Arts in 1993 and was on the board of the North York Symphony. "We thought nobody would come on January 1 and that it would be a big financial risk to hold it in Roy Thomson Hall, so we held the concert in North York, with the North York Symphony," said Glatz.
That first concert must have tapped into a hidden demand, as it sold out almost immediately. "It was such a big success that Charles Cutts, president of Roy Thomson Hall, suggested we bring it to that bigger hall," said Glatz. In its second year, Salute to Vienna not only expanded to a second city, it moved permanently to Roy Thomson Hall, selling out that venue every year.
The third year of Salute to Vienna was expanded to five cities, including Vancouver and New York. "It was so risky I had to borrow the venue deposit for Lincoln Center from a friend—and thank god he gave it to me," said Glatz. All five concerts sold out. "We now thought we had something, that this was a tradition," Glatz explained. Encouraged, he then brought the idea to 15 cities in the fourth year, reaching a high of 33 cities at one point.
A love of music, traced back to his youth, is evident when one talks to Glatz. At age four, he started playing the piano. "I just sat down and played a song, and then my parents took me to a teacher," explained Glatz. At four and a half, he became a bit of a prodigy, giving concerts and studying piano and composition at the Franz Liszt Academy in Budapest. In his teens, Glatz took a liking to jazz. Through his music, he "was able to leave Hungary; because of communism, we all wanted to leave." Glatz joined a group that left to play in West Germany for two years. Later, he signed a contract to play in Canada and he immigrated. Glatz subsequently became the national concert organist for the Hammond Organ Company and toured all over Canada.
Glatz was performing when he met Marion. "I was playing piano in a ski resort in Switzerland, and she was just on holiday there," said Glatz. Born in Berlin to a Viennese father and a Polish mother, Marion grew up with a passion for both business (receiving a Master of Business diploma in Nuremburg) and the arts. In Munich, Marion worked in the recording and publishing industry for 19 years. "She was a really big classical music fan and we went to a lot of concerts," said Glatz. "I started to like classical music again and I felt I was going back to my roots." In 1983, after going back and forth between Canada and Munich, Marion joined Glatz permanently in Toronto to start their concert production business.
According to Glatz, the New Year's concert has always been a tradition in Europe. "The concert in Vienna is televised to 1.3 billion people all over the world," said Glatz. Aside from Japan, where visiting Viennese orchestras have developed a following, that tradition was non-existent outside of Europe. The Glatz's saw an opportunity, but rejected franchising out the idea. So far, he has had a monopoly on North America, establishing Salute to Vienna in all the major markets, such as Los Angeles, New York, Chicago, Washington, Philadelphia, Florida and San Diego. "It's all over Canada, from Montreal to Vancouver; last year, we added Quebec City, which was sold out," he confirmed. Although they don't receive any financial support from Vienna or the Austrian government, Glatz has the endorsement of the city's mayor, as well as the president and chancellor of Austria. Glatz is now looking to expand to Australia, South America and, possibly, Asia.
Although organizing Salute to Vienna is already a yearlong undertaking, Glatz also promotes other concerts. Five years ago, Glatz teamed up with Roy Thomson Hall for Bravissimo!, an annual opera gala in Toronto modeled on the millennium opera gala that took place in 2000. "When we moved it to New Year's Eve two years ago, it became really popular," said Glatz. Last month, Glatz presented Canadian composer Zane Zalis's Holocaust oratorio i believe to a sold-out Roy Thomson Hall, and he hopes to take it to other cities. "Business is one thing and music is another. In my heart, I'm still a musician."
---
Salute to Vienna, Dec. 30 to Jan. 2. Vancouver, Calgary, Edmonton, Toronto, Montreal, Quebec City
www.salutetovienna.com


---
Version française...