Spotlight on Il Trovatore

by Joseph So / December 1, 2011

---
Flash version here.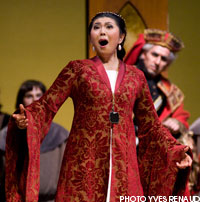 Warhorse, potboiler, over-the-top—these are common descriptors of Verdi's Il Trovatore. One of the most parodied of operas, the Marx Brothers had a field day with it in A Night at the Opera, as did Gilbert and Sullivan in The Pirates of Penzance. Il Trovatore is one of the three most popular operas from Verdi's "middle period," the others being Rigoletto and La traviata. Based on attendance figures worldwide from 2005-2010, Il Trovatore ranks 5th in popularity among 29 operas by Verdi, who in turn tops the list as the most frequently performed opera composer with a total of 2259 performances, beating out Mozart, Puccini, and Wagner, according to Operabase.com.
Detractors of Il Trovatore love to poke fun at its outrageously improbable plot, "oom-pah-pah" orchestration, stand-and-deliver principals, and one-dimensional characterizations. Indeed, Il Trovatore has everything but the kitchen sink—a love triangle, mistaken identity, kidnapping, filial piety, revenge, murder, poison, suicide, burning at the stake, beheading—you get the idea!
Why then is Il Trovatore so popular? For starters, it has some of the catchiest tunes in all of opera—who can resist the rousing Anvil Chorus, or remain unmoved by a thrilling high C that caps Manrico's Di quella pira? Il Trovatore is above all a singer's opera, requiring four great voices. Leonora must have a beautiful lirico-spinto with great flexibility and an exquisite high pianissimo. Fans expect Manrico to have a ringing high C for Di quella pira, never mind that Verdi never wrote it! When Riccardo Muti prohibited the late Sicilian tenor Salvatore Licitra from singing the C at La Scala, poor Licitra was almost booed off the stage by the rowdy loggionisti. As the bad guy, the baritone (Di Luna) should have the big, beefy, menacing sound of a Verdi baritone. A memorable Azucena is expected to tear up the stage with Strida la vampa.
The Opéra de Montréal has assembled a strong cast of principals. Japanese soprano Hiromi Omura, a fabulous Butterfly and Amelia from seasons past, returns as Leonora. She is partnered with Australian tenor Julian Gavin, who has the right Italianate spinto sound for Manrico. It'll be an exciting evening in the theatre.
On disc
This Verdi warhorse is well represented on disc, with nearly thirty audio and ten video recordings. Not to disparage contemporary singers, but the golden age of Il Trovatore is between 1950 and 1980. The legendary 1952 RCA set with the magnificent Jussi Björling (Manrico), Zinka Milanov (Leonora), Leonard Warren (Di Luna), and Fedora Barbieri (Azucena) remains a top choice after 60 years, despite the very dated sound. Leontyne Price, arguably the greatest Leonora of all time, is represented on disc four times! You can't do better than either her 1959 RCA studio recording with Richard Tucker, Rosalind Elias, and Leonard Warren, or the 1962 live performance from Salzburg with Franco Corelli, Giulietta Simionato, and Ettore Bastianini, under the baton of Karajan. Those who find the non-Italian Björling too polite-sounding may prefer Corelli. Price's second RCA recording in 1969 with a young Sherrill Milnes and an even younger Placido Domingo is also a winner. Domingo recorded it two more times—1984 with Rosalind Plowright on DG and 1991 with Aprile Millo on Sony, but his earlier recording is preferable. Pavarotti recorded Manrico beautifully for Decca in 1976 under Richard Bonynge; the rest of the cast (Sutherland, Horne, Wixell, Ghiaurov) is good if not exactly idiomatic. Jose Carreras unwisely took on Manrico, a role too heavy for his lyric tenor, in the 1980 Philips recording under Sir Colin Davis. His Leonora (Katia Ricciarelli) is equally wan. The more recent recordings are Bocelli and Villaroel on Decca (2004), Licitra and Frittoli on Sony (2000), and Alagna and Gheorghiu on EMI (2001)—I'm sorry to say none of these compares well with the best in the catalogue.
There isn't a clear winner on video, as all the versions have strengths and liabilities. Domingo fans will love the 1978 Vienna State Opera performance on TDK conducted by Karajan. Raina Kabaivanska (Leonora) is lovely if a bit underpowered. Pavarotti and Dolora Zajick are both wonderful in the Met 1988 performance on DG, but Sherrill Milnes is past his prime and Eva Marton's unwieldy soprano and no high pianissimo are not ideal. The 1983 Opera Australia performance conducted by Richard Bonynge is strictly for fans of Dame Joan. The 1985 Verona performance has a fine Di Luna in Giorgio Zancanaro, but Franco Bonisolli and Rosalind Plowright are merely all right. The most recent videos are also a mixed bag. The 2002 Covent Garden performance benefits from a spectacular Di Luna by Dmitri Hvorostovsky, and Carlo Rizzi conducts well, but Jose Cura is vocally uneven. If you are dying to see Manrico carrying a machine gun and the story set in some sort of oil refinery, then the 2007 Bregenz performance on Opus Arte is for you. The singing by Carl Tanner and Iano Tamar is indifferent. The 2000 La Scala performance with Licitra and Frittoli conducted by Muti is a good choice, although, sadly, it is currently not available commercially. So the best version is the 1978 Domingo/Kabaivanska/Karajan with the Vienna forces.


---
Version française...