Jazz: Different Perspectives, La Médiathèque Jazz of the MIJF, Off the Record

by Marc Chénard / November 1, 2011

---
Flash version here.
Different perspectives
More often than not, the coverage of music in print is geared primarily towards an audience of converts. Journalists specializing in a given genre, for instance, assume that they and their readers share common interests and values, even if they recognize that viewpoints vary greatly in accordance to individual experiences and knowledge. But since everyone is not of the same musical persuasion, how then do we deal with the views of others, performers and listeners, whose preferences simply lay elsewhere? Have they not something of value to say to devotees of a given genre when they offer differering opinions that may well shed new light on truths taken for granted?
La Scena Musicale recently decided to test these waters by talking to three musicians of our city about jazz. The following three questions were asked, each of these reminding us that music, unlike science, is a matter of conjectures rather than absolutes.
1. What is (or are) its strengths?
2. What is (or are) its weaknesses?
3. Does this music have any influence on your way of making music?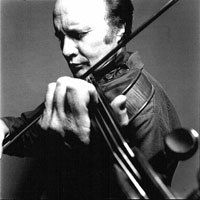 Malcolm Goldstein
Violinist, improviser, performer and composer
1. Jazz music remains vibrant and vital, and it still produces musicians who embody these qualities. However, this depends on how you define jazz. What's taught at Berklee or in music conservatories is not jazz, because these institutions stifle creativity rather than encouraging it.
2. Personally, I don't think it has any.
3. I have to admit that jazz does not influence me. "To influence", what does that mean? Like so many other types of music — Western or other — it is just part of my life. I worked once with Ornette Coleman, he wrote a piece for me. I've lived in Montreal for 20 years, and I must mention that this city has a particularly good environment for music making. I see here a degree of fluiidty between the different musical communities, which sets it apart from other places, like Europe, where everything is so much more compartementalized.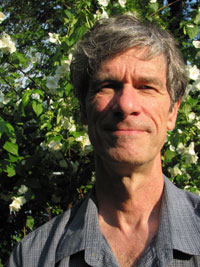 Michel Gonneville
Composer, professor at the Montreal Conservatory of Music and Drama
1. Jazz's strength is that there has always been someone who comes along and surprises us, who shakes up our listening habits. Sometimes, it might be a single piece or a series of them, a subtle detail or a well thought-out harmonic scheme, maybe an unusual rhythm, a distinct instrumental timbre or a neatly crafted arrangement. It openness to other styles has at times allowed it to follow new paths, renewing itself in the process. But once absorbed these influences are quickly imitated in a makeshift way, and melt away in a din of musical sounds.
2. The weaknesses of jazz are found in how it has standardized itself, in its institutionalization, with all of its fixed forms that lack both imagination and a spirit of renewal, routines, if you will. At times it lacks subtlety and true craftsmanship, with a tendancy to fall back on technical or instrumental virtuosity dependant on pre-prepared riffs devoid of any "feeling". Mind you, no genre is immune from such pitfalls, not even written contemporary music., are certainly not vocal, folk and other world musics. Jazz is a bit like the church, it has strayed from its origins. It too bears a history of its own, with its classics, masters an so on. You see, classical music does not have the exclusive preserve of such terminology, and jazz has also found its way into higher education with its codified recipes, and what not. Academia, therefore, threatens jazz as much as it does all the other genres. The weakness of jazz is in the mind, in the ideas held by some of its representatives, and no "instinct" whatsoever can fully save it from that fate.
3. As a listener, I always like to discover what's new, whether in jazz or elsewhere. Since I am a professional composer by trade, and not a performer, I have brought in something of jazz in one of my pieces, perhaps naively, drawing on progressive rock elsewhere, or simply remaining "traditional" in others. The important thing for me was not to copy the source of inspiration to the letter precisely capture, but to absorb and integrate within the piece and in accordance with my feelings.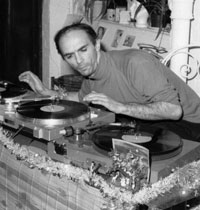 Martin Tétreault
Turntablist, sound experimenter and improviser
1. When I use turntables, my relationship to jazz comes from the playing and mixing of sounds from vinyl records, not from musicians, styles or eras. I mostly appreciate the solos because they are easy to pick out for use. Drummers come out on top for me in this regard.
2. I'm hesitant to say if it's a weakness, a mistake or a lack of taste, but I have a lot of difficulty with arrangements that "jazzify" classical works, not even those that Don Sebesky did at one time (like the Concerto for Aranjuez). I' m rather uncomfortable with that. It might have to do with Moe Koffman's version of Vivaldi's Four Seasons, but at least there's a drum solo in it.
3. Improvisation is the main influence of jazz on me. I discovered this by working with the Ambiances Magnétiques crowd. Once you have improvised alongside Jean Derome, René Lussier, Michel-F. Côté, Diane Labrosse, this way of making music leaves its mark on you forever.
Interviews by Marc Chénard
Translation: Lynn Travers
---
La Médiathèque Jazz of the MIJF: One year later
by Marc Chénard
La Médiathèque Jazz of Montreal's jazz festival (aka the FIJM) which opened its doors in June 2010, recently concluded an agreement with the family of the late Len Dobbin to acquire his extensive collection. (For those who may may not know, the departed was known as the long-time jazz friend of Montreal, and his death coincidentailly occurred in July 2009 during the festival).The Mediathèeque's director, Serge Lafortune, states that his heirs have agreed to donate the bulk of his considerable collection, which includes some:
12,000 CDs
400 tape recordings of concerts and interviews
600 books (biographies, monographs, musicological studies)
3,200 copies of some 40 periodicals, some dating from the 1950s
5 boxes of archival documents and business communications
3 boxes of manuscripts and typescripts
Hundreds of artefacts, among them show tickets and souvenir concert programs
Impressive as this amount of material is, there is a Herculean task ahead. "We received everything all jumbled up together in about 120 boxes," notes Mr. Lafortune. "So far we have sorted out and organized the magazines, but a complete indexing of the collection and the online information will not be happening soon, believe me." At the moment the vast majority of items are stored in its vault, alongside the festival's own archives, but a number of Dobbin's treasures are on display in showcases its reading room.
Available for on-site public consultation are some 800 books, shelves of compact disc recordings and 11 viewing stations giving access to the festival's filmed concerts. . As well, one can now view, for free, a selection of unabridged concerts on a big screen in the Stevie Wonder Room (on the second floor of the same buliding), the showings taking place on Wednesday evenings at 7 p.m. (see link to website below for information on dates and concerts). For all the festival's current commercial success, it has also left us with a great legacy of outstanding music, all of which are not just mere passive memories, but active assets within our cultural heritage.
Third floor, Maison du Festival Rio Tinto Alcan (305 St. Catherine Street East )
Library hours: Tues 11:30 am to 6 pm, Wed-Sat 11:30 am to 9 pm, Sun 11:30 am to 5 pm.
Information: 514-288-8882, ext. 4.
www.montrealjazzfest.com (Tab "Maison du Festival Rio Tinto Alcan" at right.)
Translation: Lynn Travers
---
Off the record
by Marc Chénard & Mark Chodan
Montreal adventures
Thom Gossage Other Voices : In Other Words
Songlines SGL 1591-2 (www.songlines.com)


Drummer Thom Gossage is among the more forward-looking musical thinkers on our local scene today, and his very original and fresh-sounding music is proof of that. Over the last ten years he has produced five CDs as leader of the Other Voices quintet, including this newly released title on Vancouver's Songlines label. In the past this group would always push the envelope with each recording,, and this new one takes a couple of more steps ahead. The music — which is of a truly collective spirit without ever falling completely into free-form improvisation — brilliantly blurs the traditional dividing line between composing (the charts all written by the leader ) and improvisational playing, resulting in a chamber-like music that oversteps all conventional forms of jazz. The drummer is to be congratulated for having explained this approach in the liner notes (and listeners should also read a longer interview with him posted on the label's website). Aiding and abetting Gossage are saxophonists Rémi Bolduc (alto) and Frank Lozano (tenor and soprano) and rhythm section partners Steve Reagele (guitar) and Miles Perkin (bass), all of whom are fully engaged in the cause. While this music may confuse some at first, it requires very close and repeated listenings., something of rarity in jazz nowadays, where conventional formulas abound.As for highlights, it is almost impossible to single any one throughtout the nine tracks on this 58-minute album that is at once well-reorded and well-mixed to enhance everydetail and nuance in it. The sum is simply greater than its constituent parts, and this album merits a good half star more on the merits of its concept and performance. MChé

Tilting: February 9, 2011
Autoproduction de l'artiste


As a musician heavily involved in the city's current contemporary jazz scene, bassist Nicolas Caloia is an organizer of musical projects, the most ambitious of these being his 30-piece ensemble, the Ratchet Orchestra. More modest, however, is his quartet Tilting that comprises such Montreal stalwarts as Jean Derome (alto and baritone saxes, bass flute), pianist Guillaume Dostaler, and drummer Isaiah Ceccarelli. While imbued with a certain edge, reminiscent in some ways of the 1960s, this music is neither nostalgic nor backward-looking. Caloia's musical aesthetic places him at the crossroads of late hard bop — with its simply crafted themes and rhythmic instensity — and early free jazz, characterized by long exploratory solos (mainly by Derome), albeit not quite over the top. Underpinned by an insistent bass, the saxophonist gets feisty in spots, but there's some respit as well, as in the-the third of the four pieces of this side, the ballad-like,"Stare",. Recorded last February in one of Montreal's Maisons de la culture, this ensemble is devoid of the habitual veneer that characterizes so many jazz performances nowadays, a strength that makes this group qualify as a direct descendant of the best free bop bands of yore. As a result, this music is never slick, but full of vital energy. Self-produced by the leader, this album might be hard to locate in stores, but do make a point of catching this band at their next show. MChé

New-york pianos
Matthew Shipp: The Art of the Improviser
Thirsty Ear THI 57197 (www.thirstyear.com)


Ever since the early days of his career in the 80s, pianist Matthew Shipp has frequently been compared to Cecil Taylor. Beyond the fact of being both ferociously outspoken when discussing what they do and uncompromising as leaders, further parallels are generally weak, especially in terms of style. Both musicians have split their careers equally between ensemble and solo playing, and that may be where the comparisons should end. This 2 CD set documents Shipp live, in both of his favourite settings. The first disc showcases him in a trio with Michael Bisio (bass) and ex-David S. Ware Quartet colleague Whit Dickey (drums), while the second is a solo performance. Much of Shipp's music comes across as dense blocks of sound, his improvising cast as a dialogue with the masses of sounds. The solo performance is essentially a suite of some of Shipp's best known pieces linked by improvisations that the pianist himself describes as a kind of channeling of the cosmos. It is a strong performance with fewer tendencies toward getting tied up in musical knots as Shipp sometimes does. His music is very complex and navigating it can understandably be a feat in itself. The trio disc for its part is no less declaratory. Dickey is a sympathetic partner for Shipp with his own intricate sound space. Although Bisio is a new addition to the trio, he sounds at home offering lyrical support, especially while Shipp has the low end covered. As usual, the leader asserts his voice in unquestionable terms. I can think of another musician with the same disposition… C.T. MCho

Craig Taborn: Avenging Angel
ECM 2207 (www.ecmrecords.com)



Every once in a while a recording comes along that is refreshingly original, not only in a given genre but even by the artist's own standards. Craig Taborn is best known as the pianist in James Carter's quartet of the 1990s. His activity since moving to NY in the last decade has been conspicuously more adventurous, but mostly in the capacity of a sideman. After two piano trio recordings and a quartet with heavy electronic influences, his fourth release Avenging Angel is a solo performance, gorgeously recorded up to the ECM label's usual standards. Taborn is an extraordinarily gifted pianist and musician, blessed with such facility on his instrument that he often runs the risk of falling back on his technical skills at the expense of musical exploration. The beauty of this performance is its capriciousness and its conscious retreat from unnecessary virtuosity. Several of the pieces are sparse and give the impression that he is playing only the crests of some monumental but unstated underlying movement. Others explore the heavily contrapuntal approach found on earlier recordings (improvising over rhythmically complex vamps). The overall mood is introspective but there is a sense of great depth below the serene surface. I hear traces of Lennie Tristano's phrasing, and some use of the harmonic language of Messaien and Ligeti, but, most importantly, I hear Taborn. Highly recommended. MCho

Toronto tones
by Alain Londes
Fern Lindzon: Two Kites
Iatros 2011 (fernlindzon.com)


Vocalist Fern Lindzon's album exudes a feeling of lyrical relaxation as she canvasses a well-rounded collection of songs. The mood is conveyed from the first chord of the opening piece "Distance". Lindzon is perfectly in tune with her band, especially Mike Murley's tenor sax. Of the many numbers penned by Antonio Carlos Jobim, "Two Kites" is a hidden gem with English lyrics. It is a fitting title track that evokes space, air, and freedom, an uncluttered zone suffused with the' sense that "we can fly." Lindzon takes care of the lyrics while a background chorus soars with the rest of the band, undulating on the wind along a melody line not unlike Miles Davis's "Four". The bossa nova surfaces again with an original composition "All Fall Down" and João Donato's "At Quem Sabe", sung in Portuguese. Lindzon's delicate pianisms backed by George Koller's bass lead the way for the vocalist to add her own lyrics to "Moon In the Sky", which segues smoothly into an easy 4/4 swing of Rodgers & Hart's "My Romance". An extended 11/4 meter underpins the Yiddish art song "Dona Dona", supported by some beautifully lyrical soprano sax from Murley. Bill Evans is a big inspiration for Lindzon, as we hear in her piano work on "Grey Green". Even if it conjures up "Blue and Green", she fingers it with a personal touch. Next is an infectious musical blend of old Klezmer and contemporary jazz in the "Yam Lid" medley, a prelude to the closing bonus track, the 70s pop tune "If He's Ever Near". Overall this disc achieves a fine balance between Lindzon's lyrical voice and the backing of her talented band. Its upbeat feel is like a fresh message of love very much needed for the times we live in.

Mark Segger Sextet: The Beginning
18th Note Records 2011 (marksegger.com)


By definition the avant-garde presents itself outside of the mainstream; listeners are invited to focus on music that evolves in unpredictable ways. Drummer Mark Segger has assembled diverse musicians who draw upon a wide range of textures, giving stamp to their sound without ever becoming cacophonous. With this debut Segger, a native of Edmonton, now seems poised to assert his authority in Toronto. The band's frontline is made up of Jim Lewis (trumpet), Chris Willes (tenor or clarinet), and Heather Segger (trombone), with able backing provided by Segger, bassist Andrew Downing, and Tania Gill on piano and occasionally a wistful melodica. As the ear is naturally drawn to structure, "Steam Engine" rewards its listeners with repetitions of its signature chugging sound. Most of the pieces, however, eschew sameness by incorporating a number of abstract vignettes. "Part III" includes snippets slightly reminiscent of some of the old James Bond soundtracks but with a jazzier level of complexity: it's as if the band were putting together a Rubik's cube of sidestepping melodies and countermelodies. Drawing on the rhythmic soca beats of Trinidad and Tobago, Segger allows his musicians to explore freely on "Soca You Play It", whether in Jim Lewis's solo or when the horns play in both parallel and countering directions. In contrast, the title track is a long, contemplative study in sustained tones from the bass and piano, punctuated by horns that enter independently of one another. This track develops into a dreamy sequence of distinctive instrumental combinations and wide-ranging soundscapes. Taken as a whole, this disc marks a true 'beginning' for Segger, a talented young Canadian instrumentalist and composer who presented this project at Montreal's Off Jazz Festival only last month.


---
Version française...
---