Pinchas Zukerman and the Next Generation of Music

by Crystal Chan / October 1, 2011

---
Flash version here.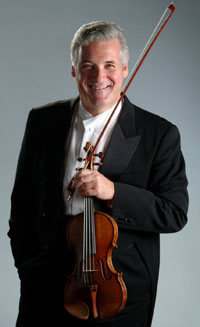 Pinchas Zukerman has been presented the National Medal of Arts by then-American president Ronald Reagan, the Leventritt Competition Award, the King Solomon Award, the Isaac Stern Award for Artistic Excellence, two Grammys (out of 21 nominations), an honorary doctorate, and many other prizes. But today he is eagerly anticipating holding another type of reward: "Today is a very auspicious day," he says giddily. "In about three hours, I'm going to have a little baba in my hands!" He is driving with his daughter Natalia, a folk musician, to visit his daughter Arianna, a soprano. And he will meet her new daughter, born on September 8, 2011, for the very first time.
Zukerman has been Canada's National Arts Centre Orchestra conductor since 1998 and is also principal guest conductor of the Royal Philharmonic Orchestra. He has recorded well over 100 works. Continuing to perform on violin and viola, he has played with top orchestras and famed musicians including fellow string players Itzhak Perlman, Yo-Yo Ma, Lynn Harrell, and Jacqueline du Pré (including conducting her last ever public performances). He also has a string quintet named the Zukerman Chamber Players.
Born in Tel Aviv in 1948—the same year Israel was born as a country—Zukerman started on clarinet before switching to the violin at age eight. Isaac Stern and Pablo Casals heard him play on a trip to Israel in 1962 and were so impressed by the teenager that they arranged for him to begin studying at Juilliard that same year. By age 21, his playing could be heard on a disc of Tchaikovsky concerti with the London Symphony Orchestra under Antal Doráti as well as a disc of Mendelssohn with the New York Philharmonic under Leonard Bernstein. In 1970, he made his conducting debut with the English Chamber Orchestra.
What Ottawa Needs
National Arts Centre Orchestra conductor Pinchas Zukerman loves Ottawa, his adopted hometown. But he does have a wish list for change. At its top: "What we need is what [Montreal] just got: a new hall, a new education centre. It's a question of putting four or five federal institutions and individuals together to come up with a good civic artistic plan. [This is] not only for Ottawa, but for the country, since Ottawa should represent—it must represent—the country because of its capital existence." What does the current hall need improvement on? "It needs to be refurbished, allocated in a different way; it needs a ceiling, it needs everything! It needs lighting, it needs better parking conditions. It should be part of a whole arts complex. There are some political problems, financial problems, but mainly vision. Now I think all three elements are beginning to work together. So hopefully by 2017, for the 125th anniversary, there will be a real refurbishing of the capital city and the capital region."
Forty years later, Zukerman is still in high demand. His 2010-2011 season included over 100 performances all over North America, Europe, and Asia. His wife, NACO principal cellist Amanda Forsyth, has described how Zukerman makes use of all his travel time... rather eccentrically: he waves his hands wildly, conducting to music on his headphones, all while loudly humming. (Amanda is the daughter of composer Malcolm Forsyth; Zukerman's daughters are from a marriage to flutist Eugenia Zukerman; and Zukerman was also married to Oscar-nominated actress Tuesday Weld.) He studies a score intermittently over several months before a performance. "Preparing to be a conductor is a life journey," he says. "You have to give yourself an enormous lead time to absorb the notes." For him, you "have to be able to lead, you have to be able to absorb, you have to be able to also get out of the way as a conductor. These are all elements that have to do with humanity, actually—not just conducting. Learning to beat is not a difficult thing; it's like learning how to drive. But the question is: how do you drive? What car do you have?"
Heavily involved in music education—he founded the National Arts Centre Young Artists Program and the Manhattan School of Music's Zukerman Performance Program and participates in the Rolex Artistic Mentorship program—Zukerman emphasizes that "until we convince the government and the private sector that the arts must continue to be the resource of the life cycle, we're going to become a jungle. You've got to have the next generation learn the arts in the schools." He is at his most passionate while describing this better future for the next generation; perhaps he has his new granddaughter in mind. He believes in the power of outreach (such as NACO's school concerts) and the potential of technology to not just reach the young, but also the isolated elderly and everyone in between. "Sooner or later, instead of just 1,500 people sitting in a venue in a given city we might have 15,000 or 25,000 that are able to hook up just from pushing a button on their PC," he says. "I hope that happens soon. Music does unite us as a power like nothing else."
---
Pinchas Zukerman in concert:
• On violin with pianist Angela Chang. Mozart's Sonata in G major, Beethoven's Spring Sonata, Brahms's Sonatensatz and Sonata in D minor, Montreal: Oct. 10, 8:00 p.m. promusica.qc.ca
• On violin, viola, and conducting the NACO in Ottawa. Russian Festival until Oct. 6; after Oct. 6: 15 other concerts as part of the 2011-2012 season
• On violin, viola, and conducting the NACO on tour in Atlantic Canada: Nov. 14-25 nac-cna.ca
Classical music can still thrive
by Pinchas Zukerman
This June, I spent three weeks with incredible young classical performers, conductors and composers who came to the National Arts Centre's Summer Music Institute from across Canada and around the world to learn from me and a world-class, international faculty. And you know what? Before they even set foot in my office, these kids already knew every single thing I've ever done.
How, you might ask?
One word. YouTube.
"Why are you doing that on the downbow?" I said in a lesson with a young violinist.
"Because you did it on the downbow with the Berlin Philharmonic in 1982," she replied.
We can argue about whether that's good or bad that students now experience learning this way, and it's probably a little bit of both. But it is a perfect illustration of how fast information moves, how badly people want it, and how quickly they can get it. These students grew up in the information age.
Scientists are studying how the information that floods our screens each day is affecting our brains, with some already suggesting that our quick-clicking addiction is changing the way our brains actually work.
What will never change, however, is our need to come together in a place and experience something that is beyond us, and for me that thing has always been music. Music is my connection to life, and above everything else—upbow or downbow - that is what I try to communicate to my students. In the Summer Music Institute and in all the teaching I do, I'm not trying to find the next great concertmaster, or the next great soloist. I'm there to help them make beautiful music, because it gives them better lives and makes them better people. This is what all of the performing arts do for us as a society.
---
Version française...
---